Coleman Power Steel Swim Vista Series 18' x 48" Frame Swimming Pool Set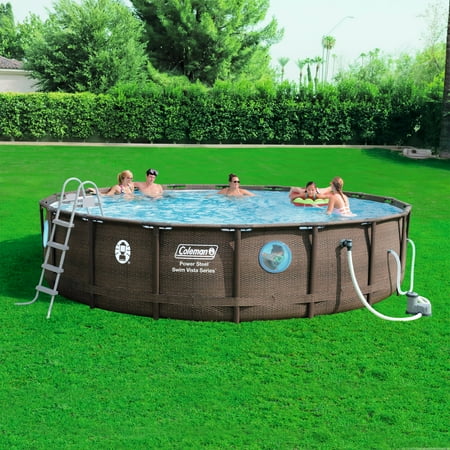 MSRP :

$384





Sale :

$383

Sold & shipped by Walmart
Product Description

Additional Information

Reviews
Product Description
The Coleman Power Steel Swim Vista Series 18' x 48" Pool Set is the prime choice for families because of its superior steel frame design engineered for maximum strength and durability. Plus minimal-tool assembly makes this the easy answer for your backyard pool needs. The Coleman Power Steel Swim Vista Series is unique in that it has 4 windows allowing swimmers to see out of the pool while underwater! The pool also features a natural looking rattan print on the outside and a mosaic print on the bottom. Additional features are corrosion resistant metal frames and a flow control drain valve for easy draining. The extra strong side walls of this pool are constructed with Tritech, a 3 layer reinforced material with a polyester mesh core encased between two layers of high gauge PVC material. This creates a total thickness of 0.40-0.80mm (16-32 gauge) depending on the size of the pool, offering superior strength and durability. The pool is also equipped with a Seal & Lock System for a safe a
Additional Information
* Water capacity (90%): 6,092 gal. (23,062 L)
* Easy setup!
* Pool equipped with Seal & Lock System for a safe and secure pipe connection!
* Give an underwater wave to your friends and family through one of the 4 see-through windows!
* Corrosion resistant metal frames keeps the fun times going for a long time!
* Built-in flow control drain valve makes drainage easy. Just attach the valve to a garden hose (with included adapter) to drain away water!
* Heavy-duty PVC and polyester 3-ply side walls provide true reliability!
* The extra strong side walls of this pool are constructed with Tritech, a 3 layer reinforced material with a polyester mesh core encased between two layers of high gauge PVC material. This creates a total thickness of 0.40-0.80mm (16-32 gauge) depending on the size of the pool, offering superior strength and durability.
* 3-ply band provides additional wall support.
* Printed mosaic inner liner on the bottom of the pool for that classic pool look.
* Flow control connectors for easy and rapid connection.
* The round shape of the pool provides for easy installation, enhanced stability, and less wasted space due to the fact that the pool doesnt require lateral support.
* Underwater adhesive repair included
* Contents: one pool, one filter pump (110-120V~, 1500 gal pump water flow rate, 1050 gal integrated pool system water flow rate), one ladder, one pool cover, one ground cloth, one Maintenance Kit, and it is compatible with cartridge 58012() 110-120V
Reviews
Mayra
Windows gave out
We purchased this pool on 6/19/18 and the window seal started to crack on 8/02/18 :( The pool was great until that point, the set up took about 2 hours or so, the instructions are not the best. We did upgrade our pump since the one it came with was too small for the pool. We had 2 window seals that started to give out, we were able to seal it but it was temporary fix (a week) finally we just decided to take the whole thing back to walmart. The windows are great feature and the wicker look too, but if it didn't have the windows we would still be enjoying this pool. We did buy the warranty, but Walmart advised us to contact Coleman to get it repaired or replaced since it was still under the manufacturer's warranty, um there is no way they can repair it and we didn't want a replacement. Plus we heard many others that had difficulties with Coleman's customer service. We are looking into another pool.
Butterfly1183
Do not buy
I have had this pool since the end of June . It has been up for 2 months and already has a leak.The windows in the pool leak.I have called Walmart and Coleman no help.Coleman told me to fill out the form in the link they were sending to my email I have not received an email.Im out a lot of money and no pool.If you want a pool to use temporarily this one would be fine but don't expect it to last a summer.
DONTBUYIT
LEAKS LEAKS LEAKS
One month and leaking like crazy. Does anyone care? No. Go online and fill out the warranty but no reply. Call them and sit on hold for half hour. Then tge person that answers ask's if he could put me on a brief hold. Are you serious? Then once he looks up my warranty claim I'm told that i need to re submit my pictures of the leak and a bunch of numbers and the receipt. I don't have the stinking receipt. So now gotta go to Walmart and try to get a copy of a receipt. Wow. Where is the customer service. All the wasted water and chemicals getting our pool water cleaned up, all the gas going to Walmart. Think they will reimburse me for that? Sure they will. Not. Don't buy it. DONT BUY IT
JON
LEAKS LEAKS LEAKS
WORST POOL EVER!!! RECIEVED A REPLACEMENT FROM THE MANUFACTURE WARRANTY AND THE WINDOWS STARTED LEAKING AGAIN!!! I WASTED SO MUCH MONEY ON MY WATER BILL HAVING TO REILL IT TWICE! I'M SO UPSET THEY NEED TO STOP SELLING THIS POOL OR GIVE US A CREDIT FOR THIS GARBAGE !!! I NEVER WRITE A REVIEW BUT THIS ISN'T FAIR THAT I'M PAYING OUT OF MY POCKET TO PAY FOR MORE WATER TO REFILL IT OVER AND OVER AGAIN!!
Katt
Fun while it lasted
The set up for this was fairly easy, set up and filled in one day. The kids played in it for about 4 weeks. One night while coming home from dinner we seen the leak. No one has been in it for about 16 hours when this happened. So I contacted walmart, was told to drain and bring back. So I spent another day draining and taking back the pool. My money was put on a gift card. Still haven't been able to find another 18 foot pool at Wal-Mart without windows. Not to mention my time wasted, money wasted on a $60 water bill, chemicals and everything else.