SaluSpa Realtree MAX-5 AirJet 4-Person Portable Inflatable Hot Tub Spa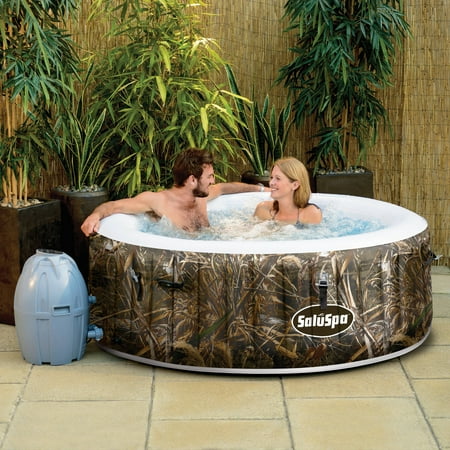 MSRP :

$379.99





Sale :

$309

Sold & shipped by Walmart
Product Description

Additional Information

Reviews
Product Description
The SaluSpa Realtree MAX-5 AirJet inflatable spa is a great choice for an affordable, go-anywhere spa. It will look perfect set up on wooden decking or on the lawn. The SaluSpa does not require tools or professional installation. With its soothing 104 degrees Fahrenheit (40 degrees C) water temperature and a relaxing AirJet system, this hot tub is perfect for soaking sore muscles or unwinding after a long, hard day of work or play. It even conveniently inflates using the spa's pump. The SaluSpa Realtree MAX-5 comes supplied with an insulated floor with a convenient drain valve. The two easy lift handles help to move the spa when it is empty and the reinforced cover with safety locks and built-in air chamber provides insulation when the spa is not in use. With mosaic print inside, and Realtree MAX-5 print outside, this spa is the perfect way to disguise and hide away from the rest of the world. *This item does not ship to California at this time*
Additional Information
*This item does not ship to California at this time*SaluSpa Realtree MAX-5 AirJet 4-Person Portable Inflatable Hot Tub Spa:Inflated Size: 71" x 71" x 26"Filled and Assembled Weight: About 1,534 lbs.Sturdy I-Beam construction for superior structural stabilityOuter walls are made of fabric-coated Realtree MAX-5 materialSoothing AirJet systemPower Saving System: Automatic start/stop timer-controlled heating systemHeats up to 104 degrees F (40 degrees C)Integrated water filtration systemFast, easy setup — inflates using the spa's pumpSoft, insulated floor with convenient drain valveMosaic print inside, and Realtree MAX-5 print outside2 easy-lift handles to help move the spa pool (when empty)Reinforced cover with safety lock clips and built-in air chamber for insulationDigitally-controlled pump with soft-touch control panel and LED displayPump is supplied with a ground fault circuit interrupter (GFCI) — ground fault trip current not exceeding 6mAIncluded in the set is 1 inflatable spa, 1 inflatable cover, 1 spa pump equipped with an AirJet system, 1 chemical floater, 2 filter cartridges (VI) and a repair patchFilled and Assembled Weight: About 1,534 lbs.Inflated Size: 71" x 71" x 26"
Reviews
Candy
SuLuSpa
So far sooo great! We have only had this spa for about a week now and we have really enjoyed soaking in it. My husband and my son set it up in about 45 minutes outside near the back patio but we soon had to move it to the garage because the weather was about to get really cold. After having it in the garage for a couple of days we think that it's even better and more convenient in that location at least for the remainder of the winter. The materials that it's made out of seem very sturdy. We owned a large hard shell spa for many years that was great, but in many ways this one has many of the same features and for a much smaller price tag. Took the advice of another reviewer and bought two 8x4 sheets of housing insulation and cut them to a 71 1/2 in circle and wrapped the raw edges in duck tape. (YouTube) This makes a great pad for the spa to sit on. I am thinking of repeating a smaller version of it for the top of the spa so I don't have to take the spa cover off and on all the time which can be cumbersome and is a bit of a pain. Negative: The only negative that we can come up with is that the instruction booklet has numbered pictures but should also have written explanations that correspond to those pictures/numbers. This could save time and bad words when assembling for the first time. All in all though, the end product when all the cussing is over is pretty sweet! A
SherrieDee
Believe the reviews!
Wow...I saw this had good reviews which led me to purchase this and I feel I've already gotten my money's worth after having it just a few short weeks. I got it at the $299 sale price and delivery was quick by FedEx. I planned to set it up on a Saturday morning and it went quite smoothly, although the directions are pretty much pictures only. It took me alone about 30 minutes to lay the tub out and inflate it. The only part I had some confusion with was where they showed the cover being blown up. I did not realize this cover has an air pillow that is inflated to provide even more insulation to keep the heat in the water. The thickness of this hot tub is commercial grade and very sturdy. The pump was easy to setup and operate. It took about three hours to fill and a good 24 hours to get to 104 degrees. I like it hot and the temp does go down significantly (about 4 degrees per 30 minutes for me) when the bubbles are blowing. The massage action is much better than expected and not having seats is not even an issue for me. I placed my tub inside a popup screen room on a sheet of thermal insulation that you use to put on the walls of the house so, in addition to the padded flooring of this tub, it is quite comfortable. I live in South Texas and the screen keeps the bugs out. Ironically, I have an inground pool with a hot tub feature but having to fire up the heater and the expense involved led me to find another alternative for the colder months and this fit the bill perfectly. My pool guy came to provide the chemical treatments and couldn't believe what he was seeing; he was impressed with the quality and output. You can't beat it for the price. If it lasts one season, I'll be happy. I've read other reviews of persons who have had these 2-3 seasons. I believe it. Very happy, and relaxed, customer.
master84
very relaxing, works great
I received this product at a discounted price in return for my unbiased review. This is my first hot-tub/spa and its completely worth every penny. Its extremely relaxing, especially after a hard day at work. This spa can fit 4 people of average size pretty easily and comfortably. It comes with almost everything that you'll need to get going. You can very comfortably sit on the spa floor (i.e. wont need to buy sitting cushions). You'll have to purchase a chemical kit (to maintain pH and alkalinity levels) – these typically would cost another $100 or so. Make sure you pick up some test strips to know the pH, alkalinity, and chlorine/bromine levels. This spa might cost around $5 to get it initially going and then depending on what temperature you set it, it could continue costing $4/day or $1/day. Setup: This spa was really easy to setup, it took me roughly 15 minutes to setup of which 7 were spent inflating the thing. Few tips: follow the instructions; make sure you fill the cover while its inside the seam (you'll know what I mean once you see it); lastly – the digital panel locks itself in a few minutes, so make sure you know how to unlock it – else you'll over inflate the spa. Prior to filling it with water, I would also recommend putting it on some temperature insulation pad. This will minimize the cooling impact from the ground. Filling this tub with water can take anywhere from 2-4 hours. If you are filling this with cold water, it might take the spa anywhere from 12 hours to 25 hours to heat the water to 104 degress. Given that the heating element on the spa runs on 120V, the max it can pull is around 1200 Watts which turns to heating the water by around 1-2 Fahrenheit an hour. This SPA gets pretty heavy once filled. So don't plan to move it post filling or don't put it on your deck that cant support heavy loads. Usage: The functions on the digital panel are pretty easy. One is to turn on the water recirc, one to turn on heat, one to turn on bubbles. The bubbles are great, but typically cool the water down really fast as the pump pulls ambient air and throw it in. So use it cautiously. The air pump is as loud as a vacuum cleaner, while the water recirc is pretty silent - wont even hear it. If this is placed outdoors, you can easily have conversation while the pump is on. Maintenance: Its pretty easy. I would recommend taking a shower before going in and making sure your bathing suite is free from chemicals. Have your pH measuring strip, pH up and pH down ready, some bromine/chlorine tablets/granules ready. Bromine typically has less odor, but you can read up more online and figure out what works for you. Also, if using bromine, try to get the granules with shock to convert it to free bromine. The bubbles feature is great to mix all the chemicals. If you aren't using the Spa, I'd recommend keeping the temperature between 95F and 100F. Will help reduce your energy bill dramatically. Lastly – try to clean the filters regularly and buy some spare filters. Will help in smoother running of the spa.
HMAN
Good portable spa that sets up in no time!
I have used the SaluSpa twice now and really like it. I am interested to see how it holds up to weather and will post updates to this review, so stay tuned. I purchased the spa on sale through walmart.com for $299 with free shipping in January 2017. I live in Missouri and our weather is constantly changing. One day it will be mid 60's then the next day 20 degrees. My initial though was to set this up in the garage, but after a weekend of clearing out my garage, I changed my mind. I thought about the humidity this would cause in the garage and then asked myself, do i really want to relax in this spa and look up at the bikes hanging above me? So I pulled the trigger and set it up on the deck. I went to home depot and purchased 2 sheets of 4x8 insulation to put underneath the spa(each piece cost roughly $13). I highly recommend this since it will provide a little insulation and create a cushy base. Setting up the spa took less than 20 minutes and the instructions were easy to understand. I started filling the spa around 5pm and it was full in a couple of hours with a temperature around 50 degrees. I set the heater temperature to 104 degrees and about 24 hours later it had reached max temperature. The first night my wife and I gave it shot and we loved it. I noticed that within 5 minutes the temperature dropped 2 degrees. We turned on the bubbles and the temperature dropped another 2 degrees, but held steady at 100 degrees for the next 10 minutes. I'm around 6'2" and was able to sit comfortably in this spa with my legs fully extended. The next night we got in with the kiddos and they absolutely loved it; however the temperature seemed to drop a lot faster with them in it. Kids like to move around a lot and hop in and out which will probably cause the temperature to drop quicker. I purchased some chlorinated chlorine from a local pool store and use that every other day. I have test strips coming to help regulate the chemical usage. I picked up a 2lb bottle of granulated Di-Chlor by ProTeam and it cost me around $19 after taxes. I would give it 5 stars but would like to see a unit that can get to temperatures higher than 104 degrees. Not sure if there is a legal issue with that or not, but if I were able to set the temperature higher, I wouldn't worry about the drop in temperature during usage. Please comment and let me know if anyone has any tips or tricks with their spas. Enjoy!
BigYing
Can't beat it for the money
I bought a Coleman inflatable spa last year at this time for $300.00. Loved it. But the seams went bad after 6 months and it couldn't be repaired. I'm in Southwest Florida and only use a spa like this during the cooler months. I still thought it was worth the money for 6 months of use. That model was not available for $300.00 this year, but this product was. I had it set up in about a half hour and have used it for a couple weeks. Very happy. Again, if it lasts 6 months I will be satisfied for $300.00. If if I get two seasons out of it, even more wonderful. This spa is comfortable and a little less loud when running the bubbles than the Coleman. I actually like that this model is a little smaller because it seems to heat up faster and should use less energy. Two people is about the max for this spa, unless you are using midgets. But that's fine. There is never more than 1 or 2 of our family using it at the same time anyway.