Bestway® SleepLux Queen Size Airbed w/ Built-in Electric Pump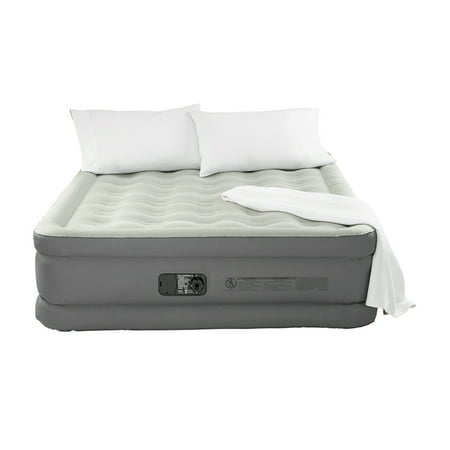 Sale :

$59.98

Sold & shipped by Walmart
Product Description

Additional Information

Reviews
Product Description
The Bestway® SleepLux Queen Size Airbed is ideal for all portable sleep needs. This airbed is built to last. Itâs made with Tough Guard⢠Fortech⢠material, a fusion of polyester mesh and durable PVC which provides superiors strength and durability. The material provides a soft and comfortable feel yet remains lightweight and puncture resistant. Tough Guard Fortech also regulates temperature so that you don't get too hot or cold during the night, youâll enjoy a full night of peaceful and and uninterrupted sleep. For convenience, the bed has a built-in pump that inflate the bed in minutes. The Sleeplux is great for accommodating guests, on-the-go needs or as a permanent bed option for small spaces. It is a standard sized queen mattress equipped to fit your standard size bed sheets from home. A storage bag and repair patch are also included.
Additional Information
Standard Queen Size Mattress 80in. x 60in. x 18in. Weight Capacity: 771 Lbs. Made with Tough Guard Fortech™ Material that provides superior strength, durability and comfort. Comfort ribs and surrounding frame support helps to prevent roll offs during the night Built-in 110-120V~ electric air pump (ETL approved) Inflates in 5 minutes Great for indoor use or for your next outdoor adventure (with a power source) Storage bag and repair patch included Contents: One airbed, one storage bag, repair patch
Reviews
AverageJose
RestlessLux
To say it was uncomfortable would be unjust to my couch. I needed an airbed to sleep on while the fam bam was in town for the long weekend and to not have to sleep on the couch until my family left but boy was that a mistake. To be completely honest though, I didn't expect much at this price point but with everything being made in China now a days, products surprise every now and then in regards to quality at a low cost. This, as you've probably figured from what you've read above, was not one of those products. In fact it was the complete opposite. You get what you pay for. I had DDD, degenerative disc disease, and usually the firmer the bed the better my back feels in the A M. That was not the case with this one. I honestly felt as if I had slept on a pile of softballs. And not the good brand either, more like old beat up ones you would probably find at a thrift store. Glad my family is gone and wont have to sleep on it any more. Glad I opened it carefully so that I can package it back up and gift it to my secret santa, so it will be his or her problem now. LOL
mszjo
RestlessLux
Definitely not a queen size more like a twin bed to me
rdgreer
Very comfortable
This bed is very comfortable and convenient to use with the built in air pump
UnsatisifiedNana
Nana2Many
How to air it up is the best. The curved edges keeps you from rolling off.
Nortz
Not worth the pain
I really wanted to like this airbed, especially at this price point. However, after only 2-3 hours with 2 adults (less than 330 lbs total) the airbed feels like it starts to deflate and you basically keep rolling/sinking towards the middle of the airbed. Really unpleasant feeling plus you wake up feeling super sore from the lack of support. I definitely wouldn't recommend it as a long-term, permanent bed option. Honestly, anything longer than 1-2 nights on this is too long in my opinion.