MD Sports 48 Inch 3-In-1 Combo Game Table, 3 Games with Billiards, Hockey and Foosball, accessories included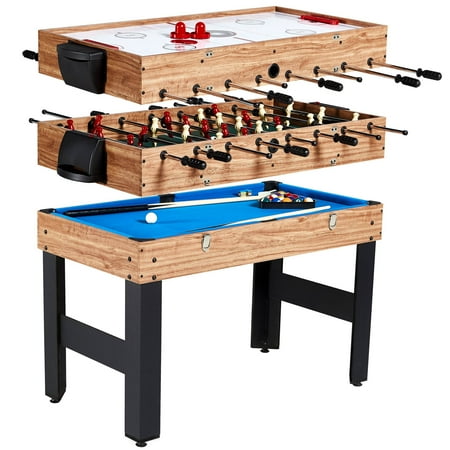 MSRP :

$99.99





Sale :

$99.95

Sold & shipped by Walmart
Product Description

Additional Information

Reviews
Product Description
The MD Sports 48 inch three-in-one combo game table includes billiards, slide hockey and soccer, all in once compact footprint. The unique design features re-enforced legs for additional durability. Easily converts between games and all of the accessories needed to play are included. MD Sports 48-inch three-in-one combo game table is the top selling item every year, don't miss out this year. The accessories included: 2 pushers, 2 pucks, 2 billiard cues, 1 billiard ball set, 1 triangle, 2 chalks, 1 brush and 2 soccer balls.
Additional Information
Reviews
JessiePA
Works well and hrs of fun!
despite the many negative reviews, im very happy. It was very easy to assemble. screws and holes all align and no problem screwing. the legs have height adjusters for leveling. the games lock for stability on the sides. the pool ball do feel like real pools balls, only smaller. half the diameter size of the real ones. the pool pockets are small but shallow enough to get the balls out with fingers. pool sticks are good quality. i got it for a party and both the teens and college students played for hours. perfect size for medium size room. the pool sticks dont hit the wall. a 6'ft player was able to manage without hitting the walls with pool sticks. the only dislike i have is the difficulty in screwing the beams between the foosball board and airhockey board. the beams keep the boards from bending. however, tightening the screw causes the beams to rotate. upon discovering it, i squeezed the two boards together while screwing the beam's screws. i'm happy and it's fun.
LMG168
Assembly of this is not for the faint of heart!
Firstly, I HIGHLY RECOMMEND using a drill. I used a regular screwdriver and I kid you not, it took me 5 hours total to assemble this thing...and I've built bookshelves from scratch before, so I'm handy with tools. This is without a doubt the most frustrating thing I've ever put together in my life, and half of my furniture is from IKEA. Those seem like a walk in the park compared to this. If you use a drill it might take you about 2-4 hours depending on how long it takes you to put things together. If I had bought this table already set up and ready to go, then I would definitely give it 5 stars because this thing is awesome! But it didn't, so I'm giving this product 1 star for assembly and 5 stars for the end result, so my overall rating is a 3. Negative points: I got all of the correct pieces, which I was really happy about because after reading the reviews I was worried that some pieces would be missing. However, most of the pilot holes for the screws weren't actually holes, but rather shallow dents (see picture for example). I don't have a working drill, so I had to make the holes (48 to be exact) myself using a small flathead screwdriver, and there was nothing at all where the corner baskets go. So I had to mark spots for the screws there and make the holes myself. I don't know if this was just a mess up on the table a received or if all of them are like this, but either way have a drill ready just in case. The foosball table was the most difficult thing to put together. The boards for the foosball and glide hockey table didn't want line up in the slots correctly and kept bending and falling out. I'd say the foosball table alone took me about 3.5 hours to finally get together correctly. If you have someone to help you it'll be much easier, but assembling this alone is extremely difficult. Once you get one side set up and go to the other side, the board on the first side falls out. It's kind of like trying to dress twin babies at the same time, and equally as frustrating. Also, the support braces between the glide hockey board and the foosball board kept twisting so I have to push on it through one of the boards to keep it still. The length that is listed is incorrect. The table is actually 42" in length instead of 48" (see pictures), but honestly that actually works out better for me since we don't have a ton of space. But if you're looking for a table that's 48", be aware that this isn't it. The pool ball pockets are really small. I am a woman with small hands and and I can just barely get them out. So if you have big hands, you won't be able to get them out. The air hockey goals are cheap and the puck doesn't actually go all the way in. Positive points: Now, with all that in mind, I will say that after hours of pain and misery trying to get this thing together, I am happy with the finished product. I paid $85 for this table (on clearance at Walmart) and I feel like I got my $85 worth. The foosball table feels sturdy, and the pool is fun to play. The pool balls are just a little over 1" in diameter, so don't expect them to be as big as most miniature pool table pool balls. The wood is particle board so this product is not good for rough play. But I bought this for my girlfriend and me to play with as something fun in our little apartment and we love it! Even when we have friends over they enjoy playing with it. After assembly everything feels really sturdy. The locking mechanisms for attaching the foosball/glide hockey part is very secure. The instructions are easy to read and everything is in English and Español. So if you're okay with spending hours putting this together or if you can get someone to help you or do it for you, then I recommend this product. But if you're someone who doesn't have the patience for spending half a day frustratingly putting together a bunch of pieces, then this product is not for you. To me the hours of painfully assembling this is worth the months, even years of fun play! It's definitely worth the price I paid. I'm happy with this purchase and I do not regret buying it!
Sshrestha
Terrible
Did anyone who gave 4 or 5 stars for this product have ever measured it? I guess not. It is not 48 inch, just 42. This product is a completely junk. The pool table is a joke. The diameter of pool ball is slightly bigger than a quarter. The hockey table doesn't have a goal post. The foosball goal post is already broken after playing one game. The product is made of hollow materials, looks so cheap. Please see pictures. I would not recommend this product to anyone, not even to my worst enemy. This is my second review. The first one never posted.
Elieber
Small but perfect for kids
The pool table came in many pieces but My Twinn seven year olds have fun putting it together with their dad it's kind of small but good for little hands and they've had tons of fun so far
Dalog
Small but perfect for kids
"Some assembly required" would be an understatement for this thing. Yes I finally did get it together (and for the record, I have built houses and commercial projects). The legs are essentially two pieces of particle board that are connected at the corner by only the imitation wood grained vinyl applied to the outside edge. Two of mine were warped enough that when I bent them to form the right angle the vinyl split the length of the leg. The rods for the Foosball were bent as well and no amount of effort will get them back to straight. The design also requires the pockets for the billiards to help support the legs, which makes getting the pool balls out of the pockets near impossible for anyone with a hand larger than a 5 year old. Once assembled (and with additional brackets fabricated and installed to make the legs solid) it is functional and for the money about what you might expect but if I had known about the issues with the design and assembly I might have looked elsewhere.