Hyper Tough 86-Piece All-Purpose Tool Set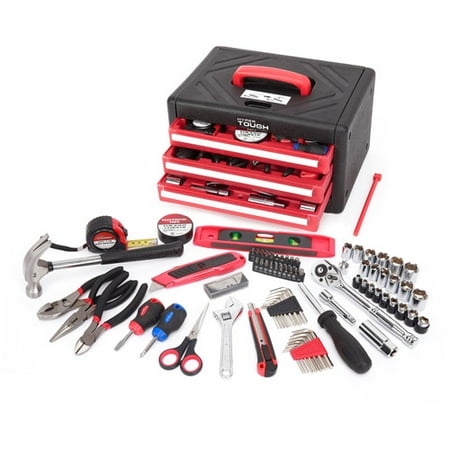 MSRP :

$39.97





Sale :

$37.84

Sold & shipped by Walmart
Product Description

Additional Information

Reviews
Product Description
Hyper Tough 86-piece All Purpose Tool Set with 3-Drawer Case:
Additional Information
Everything you need in a tool set! This blow molded tool case will help keep your tools neatly in order with a slot specified for each tool. Three drawers properly separate the kit into easy to an easy to find tool experience. The Hyper Tough 86-Piece All Purpose Tool Set is the tough and dependable tool set for all your needs!
Hyper Tough 86-Piece All Purpose Tool Set with 3-Drawer Case:
The tool storage case with 3-drawer case includes:
(1) 8-Ounce Claw Hammer
(1)12-Foot Tape Measure
(1) 9-Inch Magnetic Torpedo level (3 vials)
(2) Stubby Screwdrivers: 1/4 * 1-1/2-Inch, PH1* 1-1/2-Inch.
(1) 5-1/2-Inch Scissors
(1) 3/4-Inch 30-Foot Electrical Tape
(1) 6-Inch Long Nose Pliers
(1) 6-Inch Diagonal Pliers
(1) 6-Inch Slip-Joint Pliers
(1) Magnetic Bit Driver
(19) 1-Inch Bits
(1) 1/4-Inch Adapter
(1) Retractable Utility Knife
(1) 9mm Snap-Off Knife
(10) Knife Blades With Plastic Dispenser
(8) Metric Hex Keys
(8) SAE Hex Keys
(1) 3/8-Inch Drive Ratchet handle
(1) 3/8-Inch Drive Extension Bar 3-Inch.
(1) 3/8-Inch Drive Spark Plug Socket 5/8-Inch
(1) 3/8-Inch Female * 1/4-Inch Male Adapter
(9) 1/4-Inch Drive 6-Point SAE sockets
(12) 3/8-Inch Drive 6-Point Sockets (SAE and MM)
(1) 6-Inch Adjustable Wrench
(1) Durable 3-Drawer Case
Reviews
Squirrel
Ok for the price
Maybe the set I got was just a substandard one but this is what I found when I opened the box. The socket wrench isn't chromed just bare steel and can already see pitting on the handle. Same goes for the sockets, this isn't an issue for me though as I really didn't need another socket wrench or sockets. The handle on the nose pliers is missing part of the grip, it looks like they just missed the QC check when putting it in the kit or didn't care. There were no scissors, but like the sockets I didn't care. The level is cheap and inaccurate. According to the level from this kit my table is slightly off level, according to every other level I own it is perfect. With all of that being said, its decent for the price. I really only wanted the allen wrench and socket driver which are both good and worth the price of the whole kit.
rwu87
Nifty All-In-One Tool Set
My first impression when I got this item was "this is a really compact tool set." But don't let the size fool you! Inside the drawers are all the tools you really need to get any job done (screwdrivers, wrenches, sockets, and even a measuring tape). It's nice to have all your tools in one spot and be able to carry it around where ever you go. Overall, I was really impressed with this nifty tool set and would recommend this to anyone as an all-in-one solution for any situation!
mjej2
Well made, great design
This tool kit is so well made. I immediately noticed the details that will ensure this product lasts! I have had plenty of tool drawers that work great at first then brake too soon. Like the metal pulls on the drawers. and the convenient handle on top and the locking pin so the drawers don't open when transporting. I LOVE that the tools each have their own spot. It keeps it all neat and easy to find which tool you want. It has all the tools that you need for simple home projects, but well made enough to use on the job. Overall I felt like it was a great product that will last and last.
HelloKittyMaria
Everything you need.
I got this as a gift which was perfect timing as I just bought furniture that needed to be assembled. This had everything I needed. What I liked best is that each tool has a place in the tray and there's molds for each tool. LOVE IT!
RaePC
Greater starter tool box
This was a gift for my friends 12 year old grandson. He was delighted when he opened it. Each tool has a preset place within the kit that makes it easy to track if anything is missing. Has a locking mechanism to prevent the drawers from opening when carrying it around. Great starter kit and contains everything imaginable that would be needed.