Hisense 49" Class 4K Ultra HD (2160p) HDR Smart LED TV (49H6E)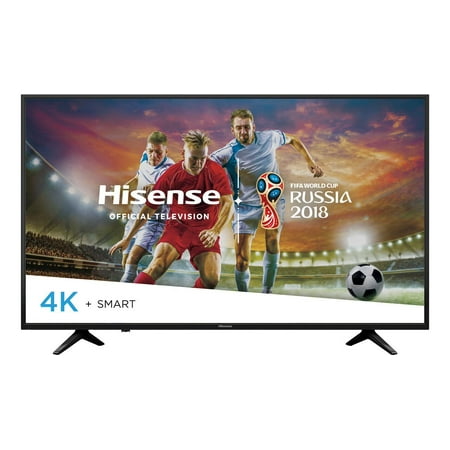 MSRP :

$349.99





Sale :

$258.66

Sold & shipped by NBdeals
Product Description

Additional Information

Reviews
Product Description
Have you ever seen a 4K Ultra HD TV like this? We're guessing that if you did, it wasn't this affordable. With four times more pixels (8.3 million) than standard high-definition TV, the Hisense H6 Series 4K Ultra HD Smart TV is built to deliver bright colors and rich contrast. HDR* technology maximizes brightness, the UHD Upscaler brings lower resolution content as close to 4K as possible, and Motion Rate 120 keeps up with the fastest sports, movies and 4K gaming. This series also features award-winning sound from dbx-tv® digital audio technology and comes with tons of built-in apps via the Hisense Smart Platform, making it easier than ever to personalize your entertainment.*HDR viewing experience will vary by model, content availability and internet connection.
Additional Information
Key Features:Screen Size (Diag.): 48.5"Backlight Type: LEDResolution: 4K (2160p)Effective Refresh Rate: 60HzSmart Functionality: yesHDR: YesAspect Ratio: 16:9OSD Language: English, Spanish, FrenchAudio: dbx-tvAudio Output: 8W x 8WConnectivity:HDMI Inputs: 3USB: 1Composite Audio/Video: Input: 1Digital Optical Audio Output: 1Headphone Jack: 1RF Antenna Input: 1Built-in WiFi: yesWhat's In The Box:Remote ControlWall-mountable:Mount Pattern: VESA standardSupport and Warranty:1yr Warranty
Reviews
Sarah
Feeling betrayed by other reviewers
I've had this tv for about a week. The sound is alright and the 4k was alright also. Definitely not as good as I was expecting, (moving water and waves looked terrible) but it's cheap so I wasn't really mad. The black.. ugh. It looks grainy and pixely on dark screens. I tested this on ps4, apple tv and the Netflix app on the tv. The black is annoying and noticeable. I also noticed little "fuzzies" on the tv- Attaching a picture. I don't have ps4 pro, just good ole ps4. I ran all my usual games on here to play with settings. I like the settings, and the menu. But the picture, even when the sharpness is very low, all edges look sharp and have ugly white outlines. One other thing that annoyed me was icons were.. jagged- Attaching a picture of this also. Returning this within the next few days and getting something better.
CookieMonster
Please fix buggy apps!
Yeah apps are buggy and Netflix needs to be reset quite often (at least on WiFi)... annoying. Youtube lags a lot when watching 4K video. I wish they would push updates to fix these... hence why 1 start off. Because otherwise it's a really nice display, especially for this price. The other displays I use is Dell 4K 27" IPS monitor at work, MacBook Pro 2017 IPS and OLED on a smartphone. This is not IPS but looks nice if you're in front of the TV and not to the sides. Sure, blacks are not OLED blacks. To get most out of this TV I found you need to disable tons of "enhancements" that IMO ruin the picture. Press Home, Settings, set Picture Mode to "Calibrated". Picture Mode Settings: I set Sharpness 0 (but you can leave it on some low value like 10 because 1080p looks nicer with that), Dig Noise Reduction: Low or Off, Active Contrast: Off. Planet Earth 2 4k HDR on Netflix looks pretty good with this. For testing use "test" video on Netflix, photos attached. I don't see any artifacts with my settings that others complained.
CookieMonster
Defective products.
The first tv I orderd starting freezing on me about 2 1/2 weeks of using it. The volume would stop working and I would have to unplug the tv from the wall and plug it back in for it to work again. I called and they sent me a replacement Tv. When I opened the box the screen was broken! Then I call and they tell me they are out of stock and would have to refund me my money. I will never buy a tv from Walmart again.
Chris
Cracked screen
After reading tons of reviews and seeing a lot of them pertained to cracked screens, I was not surprised after unpacking that it had a cracked screen. I took back to local wal mart and got my money back and just bought a different TV, brand and all. Maybe it's just hisense TVs that are not packed just right or what, but no problem with my new TV which seemed to be packaged a little more securely....Thanks anyway.
FatMasters11
Amazing budget tv
I bought this tv a week ago and I am absolutely blown away. The picture quality is almost perfect. When playing 4k content, the picture looks bright and super sharp compared to my 50 inch 1080p tv. I haven't been able to give this tv a rest break yet. With the PS4 Pro hooked to it, the games look amazing.I am so glad I bought this tv.I don't know what in the world these other reviewers are talking about, because I'm enjoying this tv. Mines is the Hisense 50H6E. I almost fell like I stole this tv because it's just so good of a deal. I posted photos but my tablet is only 2 megapixel.