Refurbished Verizon Preapid Apple iPhone 6 16GB, Space Gray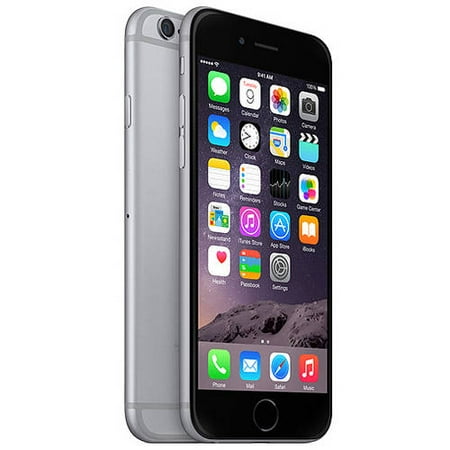 MSRP :

$698





Sale :

$334.92

Sold & shipped by VIPOUTLET
Product Description

Additional Information

Reviews
Product Description
The Apple iPhone 6 is larger, yet thinner and more powerful, yet more power-efficient than previous models. It features a 4.7" Retina HD touchscreen display, rear 8-megapixel iSight camera with autofocus and 1.2-megapixel FaceTime camera. This Verizon iPhone 6 is also equipped with a M8 motion coprocessor that efficiently measures your activity using advanced sensors. It runs on a lithium-ion battery that provides up to 24 hours of talk time and up to 384 hours of standby time.
This refurbished iPhone 6 is locked to the Verizon network. You will be required to activate this device with Verizon.
Additional Information
Apple iPhone 6 Refurbished Verizon (Locked):Sound and Music:
MP3/WAV player
Siri
Voice over LTE
Mobile Features:
3G network
Bluetooth v.4.0 technology
microUSB 2.0 port
WLAN: 802.11a/b/g/n/ac
iOS 8
Rear 8-megapixel iSight camera with autofocus
1.2-megapixel FaceTime camera
1080p Full HD video capable
A8 chip with M8 motion coprocessor
Assisted GPS
iCloud Drive
Control Center
Built-in apps
Technical Profile:
Talk time: up to 24 h
Standby time: up to 384 h
Battery: Lithium-ion
Display:
4.7" Retina HD touchscreen display
Resolution: 750 x 1334
Messaging:
SMS and MMS
Email
Instant messaging
Reviews
123Shop
Perfect and UNLOCKED!
I do work for Walmart (get that out of the way) but I'm also the biggest critic when it comes to the business and the product - especially wireless! I just bought two refurbished Verizon iPhones as gifts and one was this iPhone 6 64GB and the other was a 5s 16GB. According to the site both were locked to Verizon. I expected a good experience but even I was surprised that both phones were indistinguishable from new. The box was factory new, shrink wrapped, and came with all the original accessories - even the screen came protected with a film. And even better both Phones were UNLOCKED!!! That means it will work with most any carrier (Verizon, AT&T, T-Mobile, any world wide GSM service that uses a SIM card, but I'm not sure about Sprint). I took out my T-Mobile SIM from my iPhone 6 Plus and inserted it into each phone and powered them on and both instantly recognized the service and was working! The phones work perfectly (and I am a power user), no scratches, blemishes, dings, or dents. I am very happy that we offer these and will be back for more! I have uploaded images so you can see but we only allow 2 images at 1.5mb max so I had to group them. If you are considering getting one of these refurb iPhones - go for it! I know you will be happy with it.
Jimmy5252
iPhone Housing Scratched!
Pros: -Phone came in original iPhone box that matched IMEI with all accessories. -Screen was flawless -Phone seemed to make calls, no other problem besides the scratches Cons: -Scratch on top of aluminum housing -Scratch on top right corner of housing -Head phones were used Other thoughts: -UPC code on box was marked out with sharpie
ASUGrad1999
Like new condition
Arrived in the original box (one of the bar codes blacked out - assuming the original SIM number [ships without a SIM]). Contained what appears to be brand new charging block, cable and headphones. The screen looks brand new (maybe that is what was refurbished on my particular phone?). The only evidence of wear was a small scuff on the white antenna band which is not a big deal! Because this is a Verizon phone it is unlocked and was able to plug in my ATT SIM and get service with no problems. Very happy overall!!
Yardman18
Great purchase
So far, I'm very happy with my purchase of the iPhone 6. If it was refurbished, they did a great job of making sure that it was ready to go. Came in a box that looked like the one that I'd bought, new, for my daughter. Plastic was on outside just like the new one. Took it to Verizon and had them put a SIM card in and switch it over from my old phone. No issues at all. I'll never purchase from the dealer again and pay those monthly or huge payments again. Paid hundreds less by buying through Walmart.com
Shell
It is UNLOCKED!!!!
I hope this review helps others. I had many questions and was skeptical before purchase. I know that the website says it is a locked phone but when it arrived I inserted my Tmobile nano chip from my iPhone 5 and activated and it worked without a flaw. YOU CAN use this phone with other carriers!