iPhone 6 16GB Refurbished AT (Locked)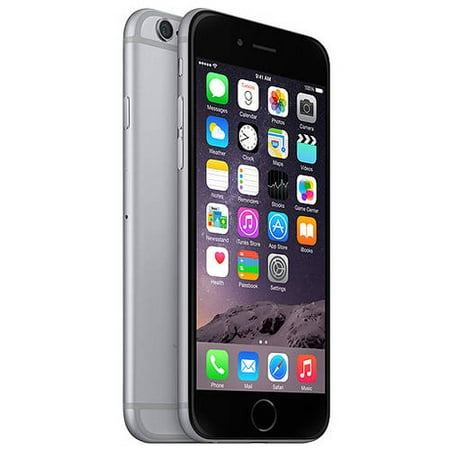 MSRP :

$598





Sale :

$209.09

Sold & shipped by JemJem
Product Description

Additional Information

Reviews
Product Description
The Apple iPhone 6 is bigger and has more features than previous models. The device is larger, yet thinner. It is more powerful, while also being power-efficient, which makes it a new generation of the familiar technology. This refurbished AT&T iPhone gives you many options, including an MP3/WAV player and voice over LTE. There is also a rear 8 megapixel iSight camera with autofocus and a 1.2 megapixel FaceTime camera. This locked iPhone 6 comes with built-in apps, as well as a talk time of a full day and 384 hours for standby. It has a beautiful 4.7" retina HD touchscreen display with a 750x1334 resolution for brilliant visuals. This Apple iPhone 6 makes an ideal gift for technology lovers.
This device is locked to AT&T network. You will be required to activate this device with AT&T.
Additional Information
Apple iPhone 6 Refurbished AT&T (Locked):Sound and Music:
MP3/WAV player
Siri
Voice over LTE
Mobile Features:
3G network
Bluetooth v.4.0 technology
microUSB 2.0 port
WLAN: 802.11a/b/g/n/ac
iOS 8
Rear 8 megapixel iSight camera with autofocus
1.2 megapixel FaceTime camera
1080p Full HD video capable
A8 chip with M8 motion coprocessor
Assisted GPS
iCloud Drive
Control Center
Locked iPhone 6 has built-in apps
Technical Profile:
Talk time: Up to 24 h
Standby time: Up to 384 h
Battery: Lithium-ion
Display:
4.7" Retina HD touchscreen display
Resolution: 750 x 1334
Messaging:
SMS and MMS
Email
Instant messaging
Reviews
MunyaMunya
Like new with 11 mo Apple warranty
I bought this phone when the price was $498, and I'm very pleased. Popped in my Straight Talk SIM card and it worked perfect! It arrived in "as-new" condition. It just looks like everything was repackaged, although the headphones were sealed & untouched. What a great savings over new ones that are $650! This phone definitely was a "refurb" and not an "open box return" though. There still might be something wrong with this phone because it gets really hot and the battery drains rapidly. No sweat! I just looked up on the Apple website and I have 11 months left of the factory warranty. I'll just swap it for another at the Apple Store! So overall I'm happy with my purchase. I'm still giving this a 5-star rating because it's such a great value over buying a new one. Although I will likely be bringing my phone back to Apple to exchange for another, it's an easygoing process. So i think this is a NO-BRAINER. If you need to buy a new iPhone, save $150 over a new unlocked and buy one of these Walmart refurbs
sgalam
A++ phone plus can be unlock
i bought this phone so i wont have to pay att extra 25 $ on my bill and another reason is that i travel alot so i need a phone that is not under contract . i know it stated that the phone is locked but if you are an att customer you can unlock it because it have no contact . just go to https://www.att.com/deviceunlock and start the process that takes exactly 5 minutes (even that they say it will take up to 2 business days to unlock it)
JosephS
JemJem Refurbished With Wrong Battery
Mine was from JemJem Cosmetic quality of the phone is 5/5 any scratches on the screen cant be seen unless you really look. the body has 0 scratches so yay. BUT one thing I have found is you refurbished the battery with a 6S battery and not am iPhone 6 battery. There is about a 100Mah difference between the two with the 6s being lesser. Not a big difference but means the phone will turn off at about 6-7% battery life. Disappointing I'm going to have to fix the battery in something I just bought due to your mistake JemJem.
Heather
Like new
I was nervous to purchase a refurbished phone that is this expensive but my fears were unfounded. I have had the phone two days and It works great so far. The phone looks brand new and has no scratches at all. Not on the screen or anywhere else on the phone. Also came in an apple box with accessories. Perfect condition and very satisfied. I use my iPhone with straight talk using the att compatible nano sim. Hopefully the phone continues to be problem free.
TexasHW
Excellent deal!!!
We recently purchased this for our son and could not be happier with it. It appears brand-new and although we were a little leery about buying a refurbished iPhone, someone at the AT&T store told us that refurbished phones are actually better because all the bugs have been worked out. I believe this is true! It works wonderfully and does not have a scratch or mark on it. If you don't want to pay the ridiculously high price for a new iPhone then you should definitely check out the refurbished ones at Walmart. You won't regret it!