SmartBiotics ProbioSlim, Probiotic Supplement + Weight Loss, 30 Count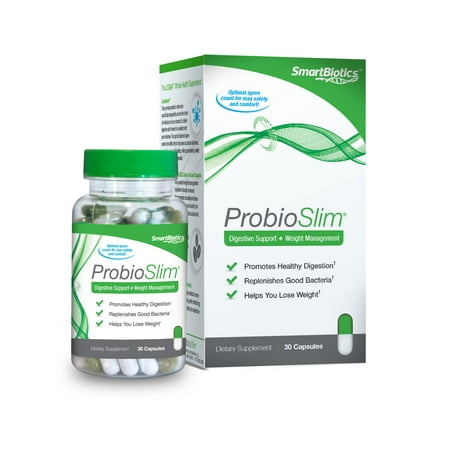 MSRP :

$22.88





Sale :

$19.88

Sold & shipped by Walmart
Product Description

Additional Information

Reviews
Product Description
ProbioSlim is an innovative probiotic supplement with ingredients for comprehensive digestive support, plus distinct ingredients to help you lose weight safely and effectively. The primary two benefits of ProbioSlim are perfect complements. Choosing ProbioSlim is a great way to lose weight, not just because it is both safe and effective, but because supporting your digestive system while you work to drop pounds is a smart decision for overall health. Less bloating means you?ll look slimmer, too! Don?t leave your health up to chance. Take control of your digestion and your weight with ProbioSlim. A Unique Combination of Powerful and Natural Ingredients The team of researchers behind ProbioSlim left no stone unturned in their quest for the most effective weight loss and digestive health formula. The result is the unique and effective LS3664? Whole Health Superblend. LactoSpore? This probiotic strain promotes healthy digestion, and helps relieve gas, bloating, constipation, and occasional diarrhea. It can also promote clearer skin by helping to balance the body?s pH levels. Green Tea Leaf Extract The naturally occurring compound EGCG helps increase thermogenesis and fat oxidation to help burn more calories. Caffeine provides energy so you can support weight loss goals with exercise, and also helps control appetite as part of a reduced-calorie diet. Fruit Extracts Kiwi, fig, and papaya extracts work as prebiotics, providing energy and vital nourishment to the probiotics produced by LactoSpore. See What People are saying about ProbioSlim ?I have been using ProbioSlim for just over 15 days. I have lost 4 lbs and do not have the stomach problems I?ve had for most of my life!? -Christie B. ?I started using ProbioSlim just a couple of weeks ago, and I?ve had no stomach discomfort from gas or bloating ever since. I have also lost a few pounds so far with it!? -Dan O.
Additional Information
• Improve Digestion with Premium Probiotic LactoSpore• Increase Energy and Replenish Good Bacteria• Lose Weight with the Help of a Powerful Green Tea Leaf Extract
Reviews
Amanda
Love it!
I've tried probiotics for awhile due to my various digestive issues, but it can be tricky when I travel since they often need to be refrigerated. For that reason alone I was excited to find ProbioSlim - it's easy to tuck away in my bag since I travel a lot for work. After a few weeks of evaluation, I'd say it definitely works! It's gotten rid of my constant bloat, which makes me feel and look a whole lot better. Even if you don't have stomach troubles, I would definitely recommend this product to help you feel better, digest better, and look trim!
Birdy
Came Recommended
A friend of my BFs was over a couple of weeks ago and I knew that she had stomach issues in the past and I was asking her how things were going, since I had been having some weird digestive things happening lately. She told me she had been using ProbioSlim and pretty much wouldn't leave until I said I would at least try it. She recommended getting it via walmart as well because of the price. So happy I took her up on it, because ProbioSlim has been nothing short of awesome for my stomach issues. Very happy and I have been recommending it to people in my family and other friends lately as well.
Almost50
Price
Just for all the comments on price! Yes it is a better price. But the GNC bottle is 60 count. Just to keep everyone on the right page. We all need to save these days. But it isn't 1/3 of the price. I am happy to see this savings. Cause it is great. I have been taking it for 4 months and have lost 20 lbs. Give it a try. You'll be happy you did.
LaylaT
Wonderful product!
I've been dealing with stomach problems and digestive system issues all my life. I've tried many different things to help me with this, but the only thing that has worked in years has been this product. In the past weeks, my stomach has felt so much better. I haven't felt bloated at all and my indigestions seem like a thing from the past now. Plus, I have lost some significant weight! One of the best things about this product, besides fixing my problem, is that it hasn't had any side effects at all, which is always a good thing. I'm so happy I bought this.
Greatful
Probioslim is wonderful!
I have had digestive issues most of my life. By taking ProbioSlim for the past 8 months I have found comfort in my everyday life. I am able to now do activities that I have not been able to do for years without the concern of digestive flair ups. I have also experienced some weight-loss (what a bonus). The current Walmart price of this product is affordable for the average consumer (compared to other suppliers) and is well worth the benefits you will receive. I feel this is a top rated product and I am so glad that I tried it. Submitting reviews is something I do not do; however, people need to know how good this product really is.