Skywalker 14`Trampoline (Box 1/2)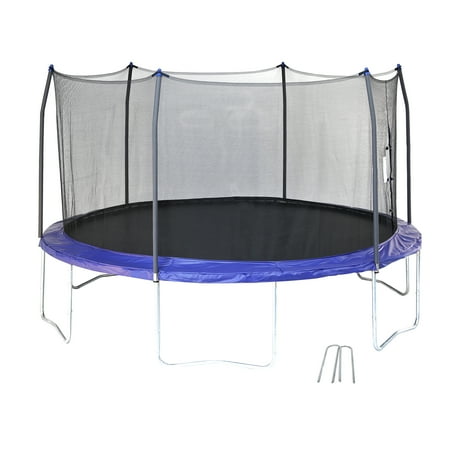 MSRP :

$449.99





Sale :

$129.5

Sold & shipped by Walmart
Product Description

Additional Information

Reviews
Product Description
Enjoy the outdoors right in your own backyard with the Skywalker 14' Trampoline. Fun and safe, it has many safety features that are designed to protect jumpers. The Skywalker trampoline is made with a durable heavy-gauge steel construction and reinforced welded t-sockets at each joint to ensure added safety. It also has a patented enclosure design with buttonhole closures that connect directly to the jumping mat, eliminating any gaps. The trampoline pad itself is designed to be UV-resistant and contains an inch of foam filling for comfort.
Additional Information
Skywalker 14' Trampoline (Box 1/2)
:
Fun and safe
Includes bonus wind stakes
14 feet in diameter
Heavy gauged steel frame construction
Round trampoline has reinforced welded T-sockets
Patented stay-put enclosure design
Buttonhole closure connects enclosure directly to jumping mat
Extra-wide UV resistant trampoline pad filled with 1" of foam
Reviews
Mary
Awesome
This is amazing! It was so easy to put together and my 3 and 11 year old love it! Definitely recommend this to a friend!
Jennnny
Skywalker 14'
Was very easy to set up, took abt 2hrs. My kids love it, it's like a giant playpen. The netting is secure, the kids cannot get their feet in the springs because of where the netting is placed! I love that not only does it zip closed but also has hooks, my. 9yo cannot unhook them which is great for any little neighbor kids that may wander into my yard. It's nice to know they can't get in when I'm not home! You will get a lot of bang for your buck with this trampoline! I even enjoy it!
Kaitlyn
So much fun!
Really glad i listened to the good reviews instead of the bad and got this as a birthday gift for my niece and nephew. Nothing was missing from the box. It is well made. The kids (age 10 and 6) love it. Im 23 and us adults had fun on it as well. We messed up putting it together in the beginning due to accidently skipping a step in the instructions, so we got all the way to the end and had to take it apart and start over which SUCKED so just follow the instructions unlike me and setup really isnt that bad. The more people you have to help, the better. If anything changes i'll update this review but for now i definitely recommend it!!
GeorgeH
Going back to this trampoline after buying a dud
We've had 2 different brands of trampolines for my daughter. The first one we bought was this 14' from Skywalker. I thought it was very easy to assemble and it lasted my daughter about 4 years. It would've lasted longer but the last year I got lazy and didn't disassemble it for the winter and it just couldn't survive through the harsh winter we had (the enclosure netting and safety pad...the metal parts and springs never failed!) So we got rid of it and bought her a new one from a different brand...what a piece of junk. It lasted less than 1 year before the springs started breaking off. Also the assembly was extremely difficult. The new trampoline wouldn't stay together so I had to drill and install sheet metal crews in all of the legs and enclosure uprights...it just continued to break every week or so after that (my daughter uses her trampolines every day). So after only 1 year we have to buy her a new trampoline and we're going back to Skywalker...I would definitely recommend this trampoline.
lovemynewoldhouse
Going back to this trampoline after buying a dud
After reviewing different trampolines, I spent a little more & went with this one because I thought it was well built & it had more springs than some of the other trampolines. Glad we went with the 14 foot & not the 12 foot. The 12 foot, I think would have been too small for older kids like our daughter & her friends!! It arrived on time. Everything was in the boxes. Went together fairly quickly, took several people to do it. because of attaching the springs! they were tight! It said the net was pre-attached at the factory to the floor but it wasn't. But it wasn't that difficult to do it ourselves because of the buttonhole feature that skywalker has. Only had it for a couple of days but our daughter, age 13 (who wanted one to practice her gymnastics on) loves it!! & so do her friends. Seems well built, & we are happy with it so far! Will update if anything changes!! A piece of advice, do not attach the pad until you attach the net!!!! the pad gets in the way if you get one like we did that did not come pre-attached!!!