Skywalker Trampolines 3-Rung Ladder Accessory Kit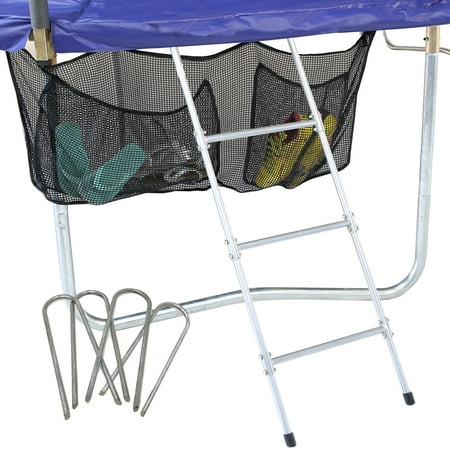 MSRP :

$30.67





Sale :

$30.49

Sold & shipped by Walmart
Product Description

Additional Information

Reviews
Product Description
The Skywalker Trampolines Trampoline Accessory Kit has everything you need to fully enjoy a fun bouncing experience in your unit. It includes a ladder that is made of galvanized rust-resistant steel and a storage bag that easily attaches to the main frame underneath the spring pad. You can store shoes and personal items before coming in. This trampoline accessory pack also comes with a set of four steel wind stakes, which are compatible with all legs up to 2" in diameter. It assembles easily with three rungs.
Additional Information
Skywalker Trampolines 3-Rung Ladder Accessory Kit:
Ladder is made of weather and rust resistant galvanized steel
Ladder fits trampoline rails up to 4" in diameter
Shoe bag easily attaches to the side of the trampoline for convenient storage
4 wind stakes anchor the trampoline to the ground, fit any trampoline with leg diameter up to 2"
Reviews
Amanda
Great Trampoline
Easy to put together. Fun accessories. Bounces great. I haven't seen my kids since I put it together!. Enclosure is really nice and also very easy to install. This was a great buy!
retaWV
Needed accessary
Pricey accessory. Very helpful for getting into the trampoline. However, the ladder footing is made with round metal which causes foot pain/bruising. Flatten out the foot rails and enlarge a little to earn five stars. The anchors haven't been put to the test yet. I am hopeful that they will hold.
Obeconobe
Skywalker Trampoline Accessory Pack
The quality of the items in this kit/pack are good. The value is likewise good, considering four wind stakes alone will cost you more than half of what this kit/pack itself will cost you. We do however have two complaints/issues with the kit. 1. The attachment method for the shoe bag could be simpler and easier by use of a male and female buckle that just snaps together instead of the one used. This isn't nothing major. 2. The ladder is very strong for it's size; however, and this is a big however in my book. Plan on wearing shoes that can be taken off easily to climb the rungs... otherwise due to them being small and round instead of flat, they will be unbearable to climb for an adult. OUCH! They hurt the bottoms of your feet no matter how you try to climb them. They in my opinion are unusable. Likewise, don't plan to use the trampoline unless someone else is present to give you your shoes back before descending the ladder or you'll be in pain. My wife and I will be looking for another method to access the trampoline.
Hbryant
Must have addition to a trampoline
This is a necessary addition to a trampoline IMO. The stakes have already been tested in a tornadic storm and the trampoline didn't budge. The ladder is sturdy and the net is so handy to keep shoes, electronics, even my daughters doll safe and secure while they jump. Highly recommend.
Turtle19
It's ok
Just got this kit after purchasing the trampoline at the store. I should have done more research before settling, but was in a hurry. It took awhile to get here and the ladder hurts my kids' feet. I wouldn't purchase this ladder again. I do like the shoe holder it came with.