Viair 85P Portable 12V, 60 PSI Sport Air Compressor Kit for Tires up to 31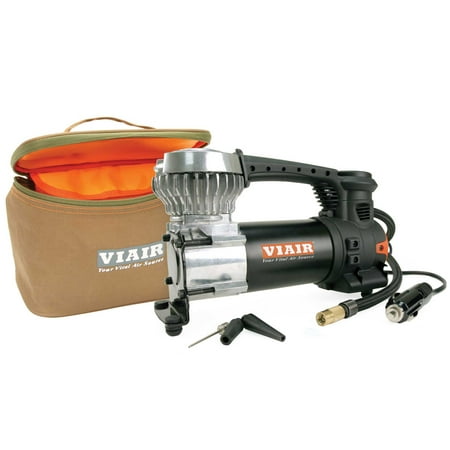 MSRP :

$69.99





Sale :

$48.7

Sold & shipped by Walmart
Product Description

Additional Information

Reviews
Product Description
This portable tire inflator is great for daily drivers. It connects to the auxiliary power outlet.
Additional Information
For tires up to 31 inches big
Powerful portable compressor
60 PSI / 1.26 CFM
Comes with deluxe carry bag, pressure gauge, brass twist-on tire chuck, accessory power plug, 3 inflation tips, and LED work light/ power indicator
Plugs into your cigarette lighter power port, connects to valve stem, and turns on
Requires power port rated for 15 amps
Monitor tire pressure with 120 PSI mounted gauge
12 V
Permanent magnet motor
Maximum ambient temperature: 158°F
Minimum ambient temperature: -4°F
Maximum amp draw: 15 amps
Duty cycle: 20 minutes @ 30 PSI
Ingress protection rating: IP53
Power cord length: 10 feet
Air hose length: 3 feet
Dimensions: 9 x 3.1 x 5.6 inches
Weight: 4.30 pounds
Reviews
Marshall
Small, quick and quiet. Quality materials.
You can feel the quality when you pick it up. Comes with a nice tan canvas bag with bright orange interior. It has a quiet and muffled operation when run, and does not vibrate on the ground as other plastic air pumps would. You can turn it on and off via the switch. Also has an LED light so you can see in the dark. The chuck (connector for the tire stem) is screwed onto the stem vs a quick release method. This can bleed the tire of air for the brief second you unscrew it to take it off the valve stem. The built-in tire pressure guage is accurate and handy. It will jump up a few PSI while pumping. So to get an accurate reading turn the pump off.
DaveFromNJ
Compact, powerful, quality produxt
Small form factor, lightweight, quiet yet powerful air compressor. I have 22" rims on my Caddy that need to be topped off often. I replaced a noisy, bulky and heavy portable compressor with the 85P Viair. It met and exceeded my expectations. Takes less than 2 minutes to go from 20psi to 35psi. It would take 10 minutes or more with my old compressor. There are some negative comments about the pressure gauge on the unit. Don't believe them. The pressure gauge is appropriately accurate. Too bad Walmart doesn't stock these in their stores but if you need a portable air compressor, order this product. It's worth the wait and it will exceed your expectations. Absolutely love this.
Sherryzuba
Portable air compressor
I tried it out the same day I recieved it. The guage isn't accurate on it, dial was reading 70 psi, and no way to tell what the actual tire pressure is unless the coupling is removed and tire is tested with a manual tire pressure guage. I had to do this several times. On the plus side, it did inflate my tire (Jeep Commander, big tires!) from 29 psi to 35 psi in about 4 minutes. It's going to take a couple of uses for me to feel confident using it. I would recommend it as an essential emergency kit component for all cars and trucks.
Carl
Viair Portable Compressor
Worked very fast and easy to use but need car with motor running to use it
mcteager
my 3rd Viair 85P compressor
the best portable compressor I have found. Inflates VERY quickly and is rather heavy duty...BUT... beware.. DO NOT coil the air supply hose for storage. My first one broke just inside the compressor housing making it useless. My second was lent to a neighbor, which , as expected, was never returned, so I am now on my third, which will NEVER be lent to anyone..You can't go wrong with this compressor