Whirlpool Stainless Steel Bottom-Load Water Dispenser Water Cooler with Self Clean and 5-LED Function Indicator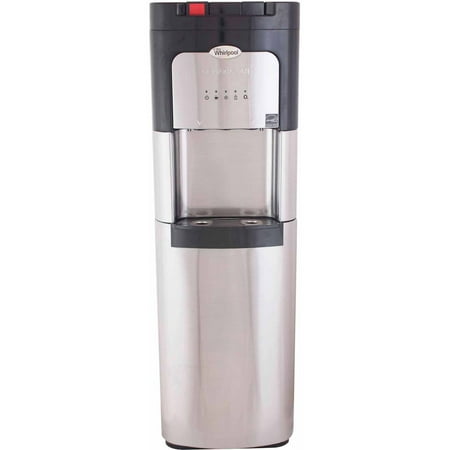 MSRP :

$229





Sale :

$197

Sold & shipped by Walmart
Product Description

Additional Information

Reviews
Product Description
If you want a classy, stainless steel look for your high-end kitchen, this Whirlpool Stainless Steel Water Cooler delivers. The exterior cabinet is a beautiful sparkling stainless steel, giving it an upscale look. Bottom-Loading technology hides the ugly bottle from sight. Complementing the upscale look is internal technology as sophisticated as the outside. In normal coolers, water becomes contaminated by bacteria. They are not cleaned regularly, and the damp environment lets bacteria multiply quickly. Oxy3 Self Clean technology uses reactive oxygen to kill bacteria, keeping the water fresh tasting and sanitary. Glacial Chill technology uses ice to keep the water steadily icy cold. HotBoost technology injects preheated water into the hot water tank so a steaming hot temperature is steadily maintained.
Additional Information
Whirlpool Stainless Steel Bottom-Load Water Dispenser Water Cooler with Self Clean and 5-LED Function Indicator:Stainless steel exterior with black trimA showpiece in any kitchen or officeIceChill technology uses a ring of ice to keep water at a steady temperature just above freezing, making a refreshingly chilly glass of waterProduces 1.6 gal (6 L) of icy cold waterHotBoost technology injects preheated water into the hot tank, maintaining a very high average temperatureProduces 1.4 gal (5.4 L) of piping hot waterPatented external heating disk prevents calcium buildup that occurs on internal heating elements, leading to failure or making unappetizing white flakes in your waterDurable heating technology allows dry operation, so there's no danger when you run out of waterProfessional-grade compressor technology switches on about 30 times less than the average commercial grade coolerSanitary recessed faucet outlets prevent touching while filling bottleDeep drip tray holds a full 2 cups of waterEnergy Saver technology uses less than 1/2 the electricity of a regular water coolerBPA free
Reviews
LyndaS
We love it!
I bought this Whirlpool hot and cold Water Dispenser for my son at Christmas. He had been concerned about their local water quality for quite a while. He was THRILLED with this Whirlpool! We love the hot water Child Safety feature as it comes out pretty hot. The cold is refreshingly cold as well. The heat and/or cooling lights flash until the corresponding water has reached optimal temperature(s). It is quiet and looks very nice. It is easy to change the bottles and would suggest putting a towel on the floor especially the 1st time you change bottles as some water remains in the intake/upload hose and may spill on the floor if you are not aware of this fact. Great purchase, absolutely love it!!!!!
CDam
Great cooler
This cooler is great! Being whirlpool, it matches all of our major appliances in our house so it fits in perfectly. Was incredibly easy to set up as well
LASN
Christmas Present
I bought this Whirlpool hot & cold water Dispenser for my son at Christmas. He had been expressing concern for quite some time about their local water quality. He was absolutely thrilled. We love the hot water Child Safety feature because the hot water dispenses pretty hot. The cold water comes out refreshingly cold! Ease of changing bottles is another great feature. Just place a towel on the floor the 1st time you change bottles due to residual water remaining in the intake/upload hose...not a big deal at all but you might get water on the floor the especially the 1st time.
Pearl
Nice & Refreshing!!!
I recently bought this Whirlpool water dispenser because the Sunbeam water cooler that I had for more than 13 years started to leak water from the bottom all over my floor. After receiving my new Whirlpool water cooler, putting it into place and turning it on with a filled 5-gallon bottle of filtered water from my home, I am very, very pleased with this water cooler!!! I placed this water cooler on the mat that came with it and the water cooler runs very, very quietly!!! The cold water that comes from this cooler is very cold and very tasty!!! I have not used the hot water from this unit as of yet. I love the idea that this water cooler self-cleans itself every 4 hours!!! This water cooler also has night lights which stay on, helping you see when getting water from the cooler, especially at night. I am very happy with my purchase of this Whirlpool water cooler and I would highly recommend it to everyone!!!
Jelly
It would've been 5 stars but...
I really like this dispenser because it's easy to set up and it looks very nice. I really like that I can easily dispense hot water and make cup o noodles in no time. However, the cold button for the cold water dispenser does not push smoothly like the hot one does. It stays stuck half way and I would have to pull it back up or else it might not stop pouring, which ironically happened just a few days ago when my boyfriend pushed it a bit more down to pour water. It flooded our floors and made a complete mess. We also noticed on the very first day we received the item, it looked as if it had been used before due to some wear on the top part and also the tubes were a bit wet. We tried to like it and tried to ignore the fact that the button doesn't work properly and that we might have gotten a re-packaged item but this time we got fed up and talked to Walmart customer service and asked for a replacement. I am currently waiting for the delivery and i will update and see if the one i get works properly. So, 4 stars for now.