Booster Bath Indoor Outdoor Grooming Bath Blue - X-Large - Pets up to 175 lbs - (50"L x 21.5"W x 15"D - 19" Off Floor)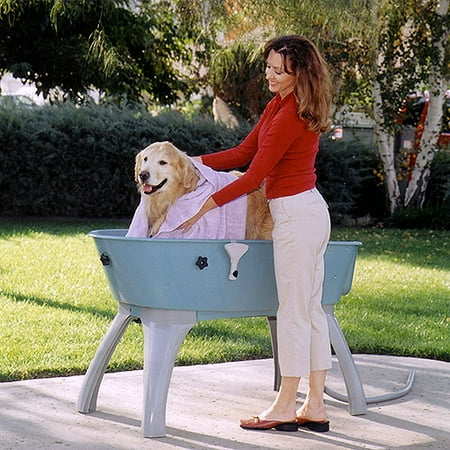 MSRP :

$396.99





Sale :

$188.99

Sold & shipped by AlotOfHome
Product Description

Additional Information

Reviews
Product Description
Created and designed with care so you are dazzled and delighted with a product you can trust. The manufacturing process starts with durable components that will meet your needs and keep you satisfied. Every product is made and inspected with the safety of your pet in mind.Brand new from the manufacturerExpert customer serviceFast shippingEasy returns
Additional Information
Booster Bath Indoor Outdoor Grooming Bath Blue - X-Large - Pets up to 175 lbs - (50"L x 21.5"W x 15"D - 19" Off Floor)
Reviews
imaginesunshine
Wow! No more breaking backs!
This product seemed like it would do as stated if it would actually hold my 85 pound dogs without collapsing (rated for 150 pounds)....And it lives up to all statements made in the ad. It is very sturdy, easy to assemble, and very easy to use. I didn't use the sprayer that came with it because it is still mostly summer and the sprayer on my outside garden hose worked well (not too much pressure - just right.) I am going to rig the hose up to my washer spigots with a y connector for both warm and cold and use this in the basement in the winter - let it drain to the floor drain. I let the dogs walk in and out of it on the kitchen floor before putting on the legs so they were not afraid of it. Once I helped them just a tad to hop up into it outside and connected the restraint, they stood patiently because the design is just right - the mat on the bottom made sure they didn't lose their footing which would have been a disaster - they would have wanted to bolt. But all is well - two 85 pound Labs washed thoroughly and rinsed thoroughly in under 20 minutes. I used the hose to rinse the remaining hairs and let the sun dry the tub. It took two people to carry it downstairs for storage but only because it is big - it can be lifted at the side by one person and carried across the patio for best position. I got a little wet but that was because I let the dogs lean against me when washing their opposite side but compared to the drinching I get in the bathtub and the back ache of leaning over in the tub....this product is worth its weight in gold!
kennelgirl
Worth every penny!
I have owned this tub for 3 years. No more strained back, no more torn muscles, no more swollen knees from washing the mutts in the people tub. My Belgian Sheepdog easily gets in and out of the tub. It is not a problem lifting my smaller dog. I love the shampoo caddie. The flooring is slip resistant. The sprayer is nice. And I like the attached tether. My dogs are secure. It is great. Bottom line, my dogs are comfortable in the tub. And if they are not comfortable, I would not use this. They are safe and bath time is injury free for me and comforting for both of my dogs.
StdSchnauz
Kind of cheaply made for the price
This is still lower than I had expected, I'm 5'11" and I still have to stoop, but it's better than bending over the bathtub. It is made out of much thinner plastic than I expected and when you lift it, it will bend, so it's very flexible. All of the "accessories" for the tub are very expensive (as is this tub).
hcwildcat
Good Outdoor Tub
Nice piece of equipment for large and small dogs. A little chilly to use in winter, even in Fla., as water is cold. Studry tub, nice sprayer attachment, large basin. Good height saves on back stress! A little pricey, but compared to other tubs sold on the market, it is a pretty good value.
Inches
Love the tub
With two show Irish Setters this is a fantastic tub. I do think it is a little high but is a great height, dogs are secure and it makes the bath slick.