RhinoGear 11909ABMI RhinoRamps Vehicle Ramp - Pair (12,000lb. GVW Capacity)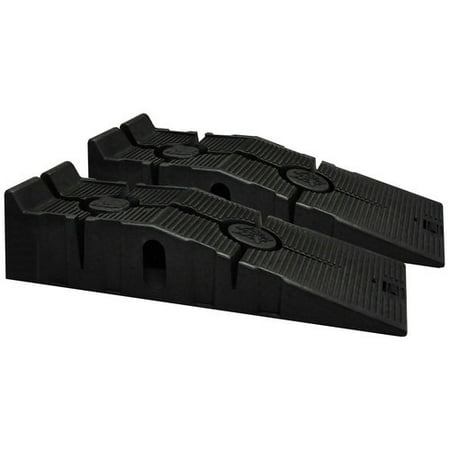 Sale :

$39.42

Sold & shipped by Walmart
Product Description

Additional Information

Reviews
Product Description
This set of Black RhinoRamps is a handy accessory for those doing work on vehicles at home or elsewhere. This product allows for easy lifting of the front of a car or truck for greater clearance and easier access when changing oil or performing other tasks. It is made of durable plastic and has a a 12,000 lb GVW capacity and a 17-degree incline for accommodating low-clearance vehicles. A nesting design makes these plastic ramps easy to store while skid-resistant feet keep them firmly in place.
Additional Information
RhinoRamps, Black:
Skid-resistant feet
RhinoGear ramps have a 12,000-lb GVW capacity
17-degree incline for low-clearance vehicles
Strong plastic design
Plastic vehicle ramps have a nesting design for easy storage
Vehicle ramps dimensions: 36" L x 12" W x 8.5" H
Helpful for performing work on your car or truck at home or the shop
Gives improved clearance for doing work underneath
Makes it easier to change the oil and do many other kinds of tasks
Designed to stay in place for improved safety
Reviews
GregY
They do the Job
When I decided to change the oil in my Honda Accord, I found that, unlike my previous cars, I could not get under the car to reach the oil drain bolt. What to do? A few minutes later, I found that Walmart sells these. I use chocks for the rear wheels and, for extra safety, a set of jack stands (not that these ramps seemed stressed), but the job goes easy with a few more inches of clearance.
tim11111
Bulges under weight
I'm using it to level a Mercedes sprinter which weighs far less than 12000 lbs. The side is bulging out under weight. They are going back.
funflyingguy
see OK , but.....
while i ultimately didnt get these from walmart, i got the same from elsewhere. they are certainly as wide as expected and work well for the wide tires of my veloster and GTI. the height is good, i still need some lead-in 2" high wood to keep my GTI bumper off of the ramps, but this was expected. the runup area of the ramp could and maybe should be alittle longer, to eliminate the 2" wood lead-ins to the ramps. the ramps bend some, with these cars on them. this concerns me some, considering these are fairly light cars. but they hold and show no signs of splitting or cracking so far. i plan to monitor this very closely, as i read a few reviews of these cracking and even collapsing in use. storage is a breeze, since they insert within each other, narrowing their overall profile. i like these, and hope they hold up. would i buy them again? perhaps... for the price, i doubt there is anything better. but i really wished they had a longer lead-in to eliminate the wood i had to use. everyone would benefit from this .....
TXWayne
Not Safe
I decided to go back to changing my own oil and purchased these at my local Wal Mart. Years ago had a pair of heavy steel ramps but had got rid of them. These were nice because much lighter. I was going to start with my daughters 2010 Toyota Matrix, a front wheel drive car that does not weigh that much. I partially backed the car out of the garage and shoved the ramps under the front tires. I slowly eased the car up the ramps and gave it just a bit more power as it got to the top. Suddenly a loud noise and the right side of the car dropped. Turns out the right front wheel applied enough power to eject the ramp and it ended up under the right passenger door with the car hung up on it. I had to pull out the jack and jack the car up enough to pull it out. The rubber foot at the front of the ramp is great for when the car is first getting on the ramp but once the tires are near the top and there is no pressure on that rubber foot it is ineffective. There is nothing to keep the ramp from sliding. Took it back immediately and settled for a floor jack and jack stands, that worked much better.
GB
Great to have for low cars!
Bought them to use for a couple of my vehicles are low to the ground. Makes it soo much easier to work on them and if need to place jacks under them.