Ematic HD TV Motorized Outdoor Antenna with 150-Mile Range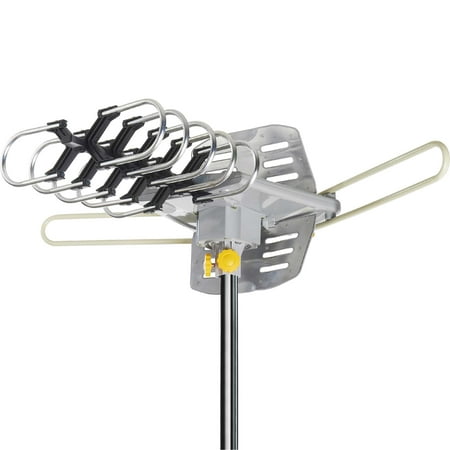 MSRP :

$29.99





Sale :

$30.14

Sold & shipped by Walmart
Product Description

Additional Information

Reviews
Product Description
The Ematic HD TV Outdoor Antenna improves your signal to receive your available channels in crystal-clear HD. Designed to receive digital TV UHF/VHF signals within a 150-mile range. Enjoy High Definition television without spending on cable or satellite. This outdoor antenna has motorized rotation allowing you to fully rotate the antenna 360 degrees using the included remote control.
Additional Information
Ematic HD TV Motorized Outdoor Antenna with 150-Mile Range
Reviews
chazz71
Unexpected performance in Eloy, AZ
I had been using an indoor antenna for my bedroom Sony that received at most 23 channels, usually 19 and changing constantly. I hoped this antenna would give me steady reception of the Phoenix network stations. I mounted it on the same mast as the old antenna hooked up to my living room antenna which gets 48 channels, adding a 5' section of 1" pipe. After completion of the installation, I turned the control box on and started the auto program function on the Sony. Almost immediately it started to find stations. I couldn't believed how many it was adding up. By the time the progress bar got to the end, it had found 85 stations. I checked out each and every station, whether 1080i, 720p or 480p, they all were perfect pictures. A majority would still come in even if I turned off the preamp. I'm about 70 miles SE of Phoenix and 50 miles NW of Tucson. If I rotate the antenna 180 degrees, I can probably add 15-20 more channels from the Tucson area, giving me over 100 channels with this wonder of an antenna. The above ground height is approximately 25 feet. You can't go wrong, especially for this price.
Edward
This antenna works, it is​ the real deal.
I live over 90 miles from the TV stations, and my signal is crystal clear true HDTV TV. Indoor antennas did not work well for me, and this one picks up more stations with no digital cutouts like I experienced with all of the indoor models I have tried. I'm impressed the rotate function still works 2 years later. Works wonderful and the weather does not affect it at all.
Henderson
Great antenna, works well, picks up lotsa channels
I've used this as a backup to cable TV while riding out hurricane Irma in my area. It picked up all local channels and works well. This antenna is a very light weight and easy to assemble, if you have any skills of all. I have it mounted inside my attic for protection to the elements and still works very well.
MisterMike
Antenna works, but...
Assembly was quite easy, but when erected on 1" pole, the two steel inside flat backup nuts interfered with the close tolerance allowed for the 1" pole to slide inside the rotor. I had to drill a hole through the pole and insert a 2" bolt to secure the antennae to the pole. A 3/4" pole is too sloppy. Then, after erecting the pole to a height of 15 ft. it didn't have any power to the rotor. After disassembling the works, I discovered the supplied cable had a crush mark near the end fitting, when I cut 12 ft off and attached a new fitting, reassembled and erected the unit, it worked. Sadly, the remote gets confused on which direction to turn the antennae, it has a mind of its own and will turn randomly regardless of the buttons pushed. The antenna works quite well, it picks up the Tucson stations from Mesa, AZ
Harris
Beats the hurricane!
I finished installing the antenna one week before Hurricane Harvey hit Texas. I installed it on a short pole, sitting only 4 inches above ground. Plugged it into my master bedroom TV and discovered 102 HD channels. Routed the 2nd output to my living room TV. My TV cable went out, post Harvey, and I simply flipped to the antenna for all of the local news along with every OTA network. Perfect picture and I'm at least 50 mile from Houston.