Ematic Full-Motion Articulating, Tilt/Swivel, Universal Wall Mount for 17"- 55" TVs with 6-Foot HDMI Cable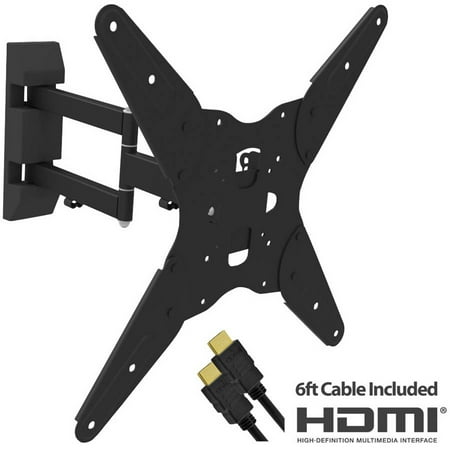 MSRP :

$22.99





Sale :

$19.99

Sold & shipped by Walmart
Product Description

Additional Information

Reviews
Product Description
The Ematic 17-inch to 55-inch TV Wall Mount Kit safely mounts your TV to your wall. The adjustable arm lets you get the best view possible. It includes all mounting hardware for easy installation. A 6-foot HDMI cable is also included.
Additional Information
Ematic Full-Motion Articulating, Tilt/Swivel, Universal Wall Mount for 17"- 55" TVs with 6-Foot HDMI Cable:• Designed for LCD monitors and displays up to 55" and 88 lbs• Made from high-quality aluminum alloy for added strength and durability• Fully compliant with VESA 75mm x 75mm, 100mm x100mm, 200mm x 100mm, 300mm x 300mm and 400mm x 400mm mounting standards• Completely adjustable for optimal viewing: 15-degree tilt up and down with 180-degree swivel left and right• Full-motion TV wall mount collapses down to 2.36" from the wall and extends up to 15.7" from the wall• 2-piece design allows for fast and easy installation and removal• Hardware kit with mounting guide included• Ematic full motion wall mount for 17"-55" has a 6-foot HDMI cable included
Reviews
GalaxiBunni
Heavy Duty Adjustable TV Mount
This is a great mount for small to larger TVs. It's highly adjustable, so if you're in bed or in the living room, you can put it at whatever angle you need. It makes your room like seem less cluttered. Also if you have cats, it gives you piece of mind they aren't going to be knocking it over. You do need to make sure however, that you have a TV that you can use this mount on. If it is a much older flat screen, this will not work with it. Installation wasn't too hard. I "helped" the hubby with it. He did all the hard work. He is fairly familiar with doing such things so he didn't really need the instructions. With a drill, it makes it a lot easier. We put it together in about a half hour. I love how it only uses one stud, as with our older house the studs seem at odd spacing which makes even hanging towel racks a challenge. I like that you get a bonus HDMI cable. Who doesn't need that? Plus it came with an unexpected level.
tkmcnair
Perfect TV Mount
This TV mount was easy to install and it works perfectly! I liked it so much I have since ordered another one for the bedroom, along with inexpensive shelves and wire covers. The TV Mount is most affordable through Walmart - $20 less than other sites. The mount with double shelf unit and paintable wire covers totaled $60 with free shipping. Not bad at all. The ease of installation was what I found best. I installed a TV mount three years ago that was not only very expensive but a total nightmare! It was heavy, wide and used two studs! Just horrible experience. This one has the nuts and bolts bagged in such a way as to be very accessible - almost like a sectioned off zip lock bag - that was quite nice. Only one stud is needed and the unit was secured easily by one person. It is a bit stiff at first and you would want to move the arm a few times to loosen us just right. Excellent product!
sayno
Ematic Full Motion Articulating Tilt/Swivel mount
We needed a swivel mount for our presentation Monitor, it needed to be moved to an angle to catch customers attention in our store, Our old mount did not swivel or tilt so this mount looked like a great idea to allow us to demo our products at the checkout counter area. Our monitor is a 21 inch Viore. To mount the swivel wall unit was relatively easy, this took our IT guy about 20 to 30 minutes to install and the kit had more than enough nuts & bolts to do the job. We mounted it onto the Slate wall next to the counter and with all of our Customers being able to view it from where they stand. The angle is a perfect fit for tall or small customers to see, and because we try and do a presentation video and the counter while customers are waiting this will be a good lead in to customers asking questions about other products & services that we offer. My recommendation of this mount is Positive and I like the way it allow us to move it into position to view and then move it out of the way for us to walk around next to it. It is a great value and compared to other mounts it runs about ½ to price. I would definitely rate it highly for it's use.
AllTheGoodNamesTaken
Different than shown on box
I got this product because I have a tv that needs to point in two different directions. I have an oddly shaped room where we watch tv in one direction but need to point the other way to play the Wii so we have room to move. This tv mount has a full swing to the left and right. It also goes up and down and then tilts up and down so you can really point it in any direction! It feels really rugged right out of the box so I wasn't afraid my tv would fall off when I put it on. On the box it shows on X shaped mount but it is really a square ( see pic below). It comes with hardware including a little level!
MommyMinski
Great Buy, Difficult Set Up for Beginner
Works great but as a novice at installing wall mounts it was a bit tricky for me. To complete this project you will definitely need a power drill, a stud finder and 2 people for a larger television. The instructions were pretty good except for 2 mislabeled screw sets, the correct ones were there they were just switched (no big deal). The problem I had was mounting the holder to the tv this was so difficult for me this was my first time putting a wall mount together and it was like figuring out a puzzle trying to make it all fit. I had it wrong so many times, even upside down. Due to the placement of my tv mount holes my mounting job did not look like the picture, but the great part was you can customize it to fit any tv. They even give you multiple sets of screws to fit whatever kind of tv you have. This wall mount even came with a small set of tools to perfect your job, like the mini leveler was a bonus. The tool set addition makes this product even a better bargain. The level of difficulty was high, but I am a novice. This project took me 2 hours start to finish, I don't think it will take the average person as long as me. The swivel feature is great but I had to oil and loosen the joints before mounting everything because it was really stiff. Mounting my tv has given me my dresser space back in room and it looks great. It is even tilted down a bit so my television looks bigger and brighter, love this.