Xo Vision Single-din In-dash Fm/mp3 Digital Media Receiver With Usb/SD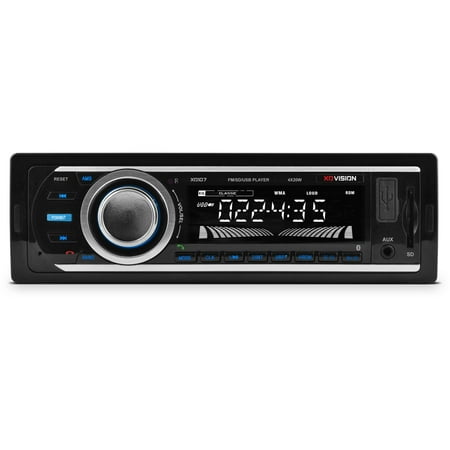 MSRP :

$19.84





Sale :

$16.19

Sold & shipped by Walmart
Product Description

Additional Information

Reviews
Product Description
Upgrade your vehicle audio system with this XO Vision XD107BT Car Stereo Receiver. The MP3 and FM radio delivers high-quality sound when you hit the road. Bluetooth lets you wirelessly stream music from your smartphone to the in-dash car stereo and it also functions as a speakerphone. Playback your favorite music from removable storage devices using the USB port and SD card slot. The XO Vision stereo receiver with Bluetooth is compatible with Apple iPhone, Android smartphones, Samsung Galaxy devices and more. The AUX-in also allows you to playback audio from an iPod, iPad or MP3 player. This model has a half-size DIN depth for a simple installation.
Additional Information
Product Features
Remote control app for android
©2015 XO Vision. All Rights Reserved. The XO Vision brand and products are owned by Shaghal, Ltd. The Bluetooth word mark and logos are trademarks owned by the Bluetooth SIG, Inc. and are used under license by Shaghal and Hopwell. Hopwell is licensed to use the XO Vision brand by Shanghal. The Android robot is reproduced or modified from work created and shared by Google and used according to terms described in the Creative Commons 3.0 Attribution License. Android is a trademark of Google, Inc. iPhone is a trademark of Apple. Samsung Galaxy is a trademark of Samsung.
Reviews
LoriM40
Awesome, awesome product!!
This car stereo receiver is an awesome product!!!!! My husband's car is an older model Toyota, so the technology was completely outdated, he has now entered the 21st century! I am so very in love with this product, you can listen to the fm radio channels you love, you don't have to keep up with CD's at all, it's easy to link the bluetooth to answer your phone wile driving and talk completely hands free. We downloaded all of my husband's favorite CD'S to an sd card and a thumb drive also so that it's easy for him and no CD case at all. Now installation is very easy to do yourself you may just have to buy the little kit at Walmart for your particular car make and model as I have included in the picture. It lights up blue, which is nice when you are on a long trip. I love, love, love this product. If you have any questions I haven't answered please feel free to ask.
CompleatWebAholic
Inexpensive FM Receiver with Great Sound!
I recently received an XD107BT MP3 Player and FM Receiver by XO Vision. I installed this receiver as a replacement/upgrade in a used auto I was fixing up. If you have any mechanical aptitude, the installation of this receiver will be easy. Just make sure your unit is well grounded or you might get engine noise or static background noise during playback. Also keep in mind that the quality of sound during playback will also depend on the quality of your car speakers. What attracted me to this unit was its inexpensive price and some of its features. You can play music from USB drive, an SD card or use the line in jack to connect an MP3 player or smartphone. You can also stream music wirelessly (Bluetooth) and use your car stereo as a speakerphone. I don't text or talk on the phone while driving so I didn't test this feature with my phone. The XD107BT also has 4 channel audio output, 18 station memory and a small pocket size remote control. The output power is rated at 4 x 20 max power or 48 watt RMS. If you want an inexpensive car receiver with a few extra "bells and whistles" and decent sound quality then the XD107BT by XO Vision is an excellent choice.
Pumpkin91509
Easy To Navigate
Let me start off by saying that this does not have a slot for CDs. I think I may be one of the last who use CDs and now this stereo has brought me into the modern age of bluetooth and memory sticks. So, yes, it can connect with a blue-tooth, a memory card, even a memory stick, USB port. What surprised me most about this stereo is that it comes with a remote!! It was totally unexpected! The thing I dislike most and haven't figured out how to work is to keep the display on the clock at all times. it keeps changing back to the radio station, but if that is the worst thing about this stereo, then I can easily live with it. The controls themselves are simple to use, while not as big as I would like they are still easy to navigate. The remote is handy and saves me from having to reach up to the dashboard. If you don't know much about installing radios then I recommend getting a professional to install it so you don't break it. We intalled it in a 2001 Chevy Silverado and it fits just fine. We had to buy a plastic face plate thing to fill in the gap because the stereo is a rectangle and the space it went into was taller than the radio.
snoozin99
This Stereo is Loaded and this Years Best Buy!
This Stereo is Loaded and Years Best Buy! This is a very nice stereo, unbeatable for the price, it works Amazingly Well and it's loaded with tons of options! I'm not a Bluetooth user but it's great to have the option, this stereo has some serious power options! You can use your SD Card to listen to your favorite music, you USB Flash Drive Plugs in and works seamlessly. I use the flash drive personally and as well the Auxiliary cable to play all my favorite music from my iPhone! I've been using ITunes for a long time, I downloaded all my music to my phone and use the auxiliary cable to listen in my car as well, it's really convenient and straight up great, with all the options it's hard to find a reason not to purchase this stereo, the FM radio works super good! The remote it comes with is a great benefit as well, this stereo has every option that a super high priced stereo would have and is just straight up loaded with every option, you just can't miss on this one. Overall: For the price of this stereo & all its options, as well as its looks, it's literally a super good buy, and worth every penny! I highly recommend! Love it!
lopezl
Simple but very nice stereo
I received this XO Vision XD107BT Car Stereo MP3/FM Receiver with Bluetooth for free in exchange of an honest review. When I seen this receiver online ,to me it look very simple. When I received this receiver I was surprised for it's price it's a very good looking receiver. This is a am and fm stereo. When we receive it my husband did take about an hour to hook it up with our 98 Toyota corola. This receiver comes with many features. This receiver let's you play music from a USB drive. If you have music save on your SD card this receiver will also played it. This also comes with a AUX where you can plug it. It comes with an SD slot to put in your memory card and listen to music. This stereo also comes with Bluetooth. You can also used your stereo as a speakerphone. This receiver is compatible with iphone,Samsung Galaxy and mostly all cell phones. It comes with a 18 station memory. It comes with 4×20W max power. It has 4 channel audio output. It also comes with remote control. To me this is a great MP3 & fm receiver. May not look real fancy but it works. It has many features. That's the reason I recommend this receiver to everyone.