Ematic CD Boombox with AM/FM Radio, Bluetooth Audio and Speakerphone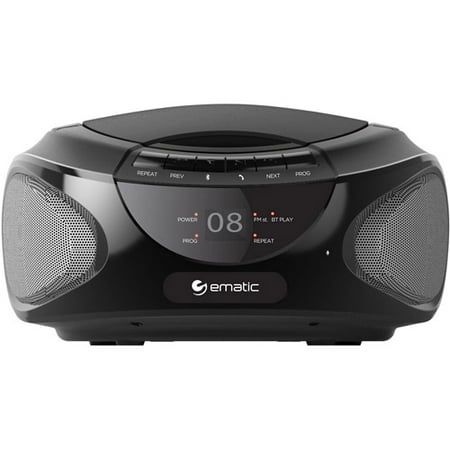 MSRP :

$28.42





Sale :

$24.98

Sold & shipped by Walmart
Product Description

Additional Information

Reviews
Product Description
The Ematic EBB9224 CD Boombox with Bluetooth Audio and Speakerphone lets you enjoy great sound from CDs, your smartphone or the radio whenever and wherever. Connect your phone, computer or other Bluetooth-enabled device to stream music. The built-in microphone lets you take calls from anywhere in a room. The line-in function lets you enjoy full-quality sound even on your devices without Bluetooth. The built-in carrying handle and portable design makes this speaker perfect for the on-the-go user.
Additional Information
Ematic CD Boombox with AM/FM Radio, Bluetooth Audio and Speakerphone:
30'-plus Bluetooth range depending on environment
Answer calls and functions as a speakerphone
Enjoy movies and games from your laptop, tablet or smartphone loud and clear
Line-in for use with devices without Bluetooth
Line-out for earphones or connect to a larger stereo system
Portable boombox with AM/FM radio bluetooth audio and speakerphone
CD, CD-R and CD-RW player
Ematic boombox with carrying handle
Telescoping antenna
Bluetooth 2.0
Can be powered by 6 x C batteries (not included)
In the Box: power cord, owner's manual
Reviews
cheygail
Crisp clear sound
This boombox has easy to figure out controls on the back. On one side is a slider switch for OFF-RADIO-BT (Blue tooth)-CD/AUX. There is also a wheel type volume control. On the other side in the back is a tuning wheel for radio stations and a switch control for AM and FM radio. On the top of the back, there is a telescoping antenna that folds down compact. In the middle of the back are the power cord attachment, a place to plug in headphones, and a place to plug in an auxiliary unit. On the bottom of the boombox is the battery compartment, which takes 6 C size batteries. The front of the boombox has a section that lights up a dot, to show you what setting you are in. The top front area, has push button controls for the CD function. There is an area on the front that displays which track of a cd is currently being played, and when it is stopped, will tell you how many tracks are on that cd. To open the CD part, you just press down on the dot on the lid, and it opens right up. The sound is GREAT !!!! It is very crisp and clean. the volume goes from very quiet on the low settings, to pretty loud on the higher settings. The sound coming through the headset when I had it connected, was awesome, I could hear background instruments and tones, that I can't normally hear when playing the same disc in other players. The radio stations come in loud and clear, rather the antenna was up or not. The blue tooth easily found my blue tooth output from my computer and tv. The issue I ran into there was, when using the blue tooth, it kept causing me to lose my wi-fi internet connection. I also tried that out at another house with more updated equipment, and the same thing happened there. To get my wi-fi internet connection back, all I had to do was take the boombox out of the BT mode, and wait a couple seconds for it to reconnect. When not on the internet, and watching a movie, it was fine, and I was impressed by how clean and clear the sound was. I could hear all the talking very well, while it seemed to keep the background music and sounds in the background, making it more enjoyable to watch the movie. The boombox is about 4 1/2" tall, 10" wide and 7" deep, making it easy to fit into relatively small area's on my desk. It weighs about 1 pound, which makes it ideal to take along with me, just about anywhere I want to go. Overall, I am very impressed with this boombox, in looks and function. I do wish it had worked out better with my internet connection, but that was not an important issue to me.
Dontliketowastemoney
This is a really nice Boombox.
I've had several Boom Boxes over the years but none of them were like this one. The Ematic CD Boombox with AM/FM Radio, Bluetooth Audio and Speakerphone is great.First of all I love the color the electric blue is really nice. I picked it up by the handle and to me it is very light weight. The first function I tried was the Radio and I got great reception for all the Radio channels I wanted to listen to. Then I tried using it with one of my CD's and the sound was crystal clear.All the functions are clearly displayed on the CD Boombox which makes it user friendly. However it does come with printed instructions on how to do the various functions and instructions on how to use it safely.You also have the option of plugging the CD Boombox cord into an outlet or using batteries to power it up.My husband wanted to take it to his job, and our son wanted to take it to his room, but this one is just for me.Over all I was quite pleased with the CD Boombox and now my husband and my son plan to get their own for Christmas.
Pumpkin91509
Surprising!! I absolutely love it!!
I was expecting a radio that was a tad bigger, but I was very surprised when I turned it on and heard the quality of the music!! For such a little boombox it sure packs a big punch. The base in the sound is not very noticeable ( because there is no sub woofer) , but that is okay for its size. It fits perfectly on top of my fridge in the kitchen. This radio would be perfect as well for an office setting. If I have one complaint it would be that there is no indicator as to what station I have put the radio on. The CD plays without skipping and it is very crystal-clear. I have not yet used the Bluetooth feature but that was also very surprising. Radios sure have come a long way! The last radio I purchased was over 10 years ago and you can sure tell the difference in size and features. My old radio/ boombox was twice the size. This would be a perfect boombox for a child or teenager!! Despite the lack of the screen telling me what station the radio is on, this is an excellent boombox!! The one I have is all black, and it looks quite expensive even though it is not. I would definitely have another one in the house! Maybe the bathroom!!
songoflove
Bluetooth Audio is the STAR OF THE SHOW!
Ematic CD Boombox with AM/FM Radio, Bluetooth Audio and Speakerphone, Blue The Ematic EBB9224 CD Boombox with Bluetooth Audio and Speakerphone, Bluetooth Audio is the STAR OF THE SHOW, you can listen to your favorite songs and live concerts from YouTube and more, once you connect your device to Bluetooth (remember to disconnect Bluetooth from device after each use), I really like this cute little boombox, did I say cute? Perfect in size not to big not to small; the volume on this box will not disturb your neighbors, I notice when listing to a live concert on YouTube I could hear all the instruments playing and could feel the vibe of the live concert, perfect for a small balcony porch or any space. Radio works find can pick up local stations with antenna without static, CD works great with options buttons for repeat, PREV, Pause, Next and PROG the PROG button allows you to program up to 10 tracks to play in PROG sequence, you can cancel PROG status by just pressing the STOP button this is a fun option especially when you just want to hear your favorite songs on the CD rather than having to listen to all CD tracks; It comes with an AC power cord and it has an earphone jack. The speakerphone works with Bluetooth it also has an Aux in and can be used as amplifier for your audio device.
Kansas112
A Good Compact Boombox!
The Ematic CD Boombox with AM/FM Radio, Bluetooth Audio and Speakerphone is surprisingly the size. I was pleasantly surprised by how small it is. It only weighs about 4 pounds. This makes it easier than ever to carry anywhere or you can place one in each/any room of your house without being big and bulky. Listen to your favorite, desired music! Amazingly, the sound and functions are parallel and even greater than some larger boomboxes. It comes in red, blue and black. It comes with Bluetooth. You can connect whenever and wherever. It has a built in microphone. You can take calls from the office/home. Also, comes with a CD player and AM/FM radio. You can listen to movies, games from laptop, smartphone ... It has a 30ft range. Of course that depends where you are. The music sounds very clear and crisp with the use of the antenna. It doesn't sound boomy at all. It's balanced well. You can hear the smallest of detail. Very good range and a good pace. Tone is excellent when using your Bluetooth. You can use six C Batteries and comes with a one year warranty. My only preference is that I would like it to tell me the radio station on the screen, in front. This is a dynamic Boombox! And very sturdy! And for that price, it's an excellent buy!