DP Video 2.5" HD DashCam with Night Vision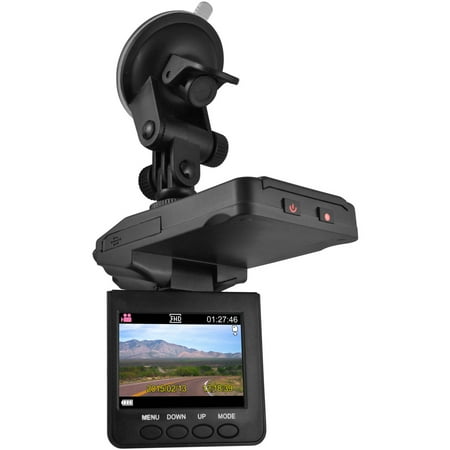 MSRP :

$21.53





Sale :

$12.99

Sold & shipped by Walmart
Product Description

Additional Information

Reviews
Product Description
Record your drives with this DP Video 2.5" HD DashCam with Night Vision. The automatic starting and looped recording makes sure you never miss a moment. This car camera with screen also features night vision for bright and clear images. The device has a 5 megapixel camera and records video at 720p. It also features a 2.5" swivel LCD display and a CMOS HD image sensor. This model has USB connectivity and a rechargeable battery. The card slot supports up to 32GB SD memory cards (sold separately).
Additional Information
DP Video 2.5" HD DashCam with Night Vision:Car dash camera with 2.5" swivel LCD screenRecords 720p video5 megapixel camera.25" color CMOS HD image sensorNight visionSD card slot supports up to 32GBUSB connectionAutomatic video recording when vehicle is startedDisplays real time and date display on screenHigh-speed recordingCycled recordingRepeat storage by sectionPower Input: DC 5VRechargeable batteryBuilt-in microphone
Reviews
JustUS2FL
Very good for the price
Video is very good, night time is OK, sound sometimes a bit hard to hear voices, I think because of background noise. It is a bit difficult to get the "Stop Light" color all the way through the intersection with out loosing some of the "Front end of your car" or how close or far away you stopped behind the car in front of you. I like to see the light color as I am leaving the intersection. But knowing if you have "Crossed the intersection line while yellow or green" is probably more important.
Odlaw
So many 5 star reviews, what a disappointment
I purchased 6 of these as gifts. I knew for $18 bucks I better test them. Video quality is poor - you can ignore the 720p rating. After the agonizing wait for the files to copy to my computer then you try to enlarge the video on playback it goes from poor to horrible. Audio might as well be non existent. It's that bad. Does not run on battery, if you unplug it it shuts off. 2 out of the 6, if you attempt to playback the video on the device it locks up hard when the video ends, you have to do a battery pull to reboot it. The data transfer rate is just unacceptable - all it will do is 1.0 MB/sec connected to a usb 2.0 port that should do 60 MB/sec. and trying to play them from the device while connected to a computer is very slow with lots of buffering. I have no idea why there are so many 5 star reviews...maybe these folks have no experience with HD video? Spend a little more money and get something better.
Smi
So many 5 star reviews, what a disappointment
Battery don't last very long so have to have it hooked to the car charger on long drives
RobertTheCat
Avoid! Generic Dash Cam! JUNK!
Bought this item when it was listed as the Pilot Automotive Dash Cam and was $20 at the time. This is a Generic dash cam, which can be bought in bulk online for dirt cheap. Video isn't great, fact they call this HD is funny. Never saw a more grainy video. Audio is rubbish, might as well not hear anything. Battery life is a joke, had it for 2 months, and the battery was dead, I had to plug it in to use it, then the battery started to puff up, but still worked, just wouldn't hold a charge. After about 7 more months, it started having major problems recording, taking pictures ect. Videos would end up corrupt. Then it just stared to freeze and lock up. It ended up giving up the ghost and just flat out died. I would avoid this item as its rubbish and will not last. Good review it may have, but I can bet they are made like one month after use.
brlengineer
Sucks
The dash cam is a total bust. It will show video on the screen but will not record. It will not recognize the 32GB memory card at all even after formatting. It cant be the card as it works fine in the computer. The owners manual is a joke. The numbers of the buttons to push in the instructions is one off for the numbers in the descriptions of the button functions. There is no mention of tech support anywhere.