Sprout Channel Cubby 7" Kids Tablet 16GB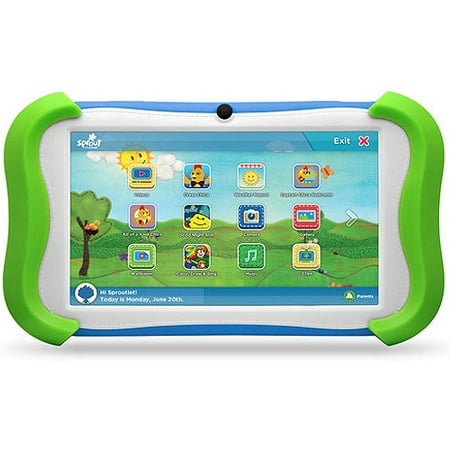 MSRP :

$78





Sale :

$57.99

Sold & shipped by Walmart
Product Description

Additional Information

Reviews
Product Description
Create, watch and play with the Sprout Channel Cubby Kids 7" Tablet. Packed with over 40 Sprout Channel episodes, SproutOnline.com games, coloring pages, video clips, crafts, recipes and more! Your child can play and learn with their entire favorite Sprout Channel characters including Chica, Bob the Builder and Barney. This Android 4.4 tablet is safe for kids and lets you easily manage and customize your child's experience.
Additional Information
Sprout Channel Cubby with WiFi 7" Touchscreen Tablet PC:Technical Specifications:
1.2GHz Quad-Core processor
16 GB tablet has 1GB DDR3 of system memory
7.0" touchscreen, 1024 x 600 resolution
Sprout Channel Cubby Kids 7" Tablet has a built-in 802.11b/g/n WiFi and Bluetooth
Additional Features:
Back 2MP webcam and front 2MP webcam
Android 4.4 tablet has an HDMI port
16GB onboard storage memory, additional memory via microSD card slot
G-sensor
16 GB tablet has up to 8 hours of runtime on a full charge
Software and Applications:
Android 4.4 OS (KitKat)
Gmail, Google Maps, Play Books, YouTube, Movie Studio, Play Games, Vudu, Play Newsstand, Google+, Cubby Mode Apps
File Manager, Chrome browser and Google Play (for applications)
Media Formats: Popular media formats
What's in the Box:
Sprout Channel Cubby Kids 7" Tablet, battery, silicone bumper, USB cable, Quick Start Guide and AC adapter
What's a Tablet PC?
Tablet PCs are compact, ultra-portable entertainment devices that let you read email, surf the Internet, read eBooks, view photos, play games, listen to music and watch video files. Most tablets are based on a smaller operating system, which allows you to purchase and download additional applications from supported stores. Tablet PCs do not have a CD/DVD drive and will not run Microsoft Windows or its applications. Tablet PCs function as a secondary device for casual entertainment purposes, and are not meant to replace a computer. They are ideal for use around the home and on the go with WiFi or 3-4G mobile broadband connections (pay as you go, contract may be required for service).
Reviews
Thenilo
Wow! Friendly and educational kid tablet.
I am very impressed by the hardware. I've owned/seen several tablets in this price range but this one is the best. The quality and texture are great and it doesn't feel cheap. My son is 6 years old. This is now his favorite tablet. He already has the ipad mini (restricted apps), so the transition to this tablet was seamless. He instantly knows how to navigate and play games or shows. I'd say any kid that already used a tablet or smart phone will do the same thing. This tablet is pre-loaded with great goodies like games and kids tv shows. It is already customized for kids straight out of the box. This saved me time installing apps and researching if the apps are appropriate for kids. The pre-loaded shows are also a big plus! In addition it has the standard google apps like Gmail, Google Maps, Play Books, YouTube, Movie Studio, Play Games, Vudu, Play Newsstand, Google+, Chrome browser and Google Play (under parent mode). I easily transferred most of his favorite games and apps from his ipad mini to cubby. Overall, it exceeds my expectations. As a parent from set up and especially having the peace of mind that I know what my son is watching and has access to. I couldn't ask for more. The only comment I have is that the booting up takes few minutes, which is not a big deal to me.
DBmom11
My 2 year old loves it!!
My son is just about 2 years old and he loves playing so much with this tablet. His favorite part is the music videos; he loves to jam to them and watch over and over again. We have limited his use to 20 mins a day or so, I was surprised how long he actually sat still and watched the videos and played with the tablet. He never sits still!! I was also surprised how fast he learned to use it and navigate to what he wanted to do. It's very easy for kids to use which I love. All the content is perfect for his age so I don't have to manage what he is watching, it's all about the Sprout Channel shows and characters which is a fav among kids his age. This is the first kid tablet we have used and we do love it. It really keeps him engaged the entire time and it helps him learn at the same time. Over all as a mom, I think this is not only a great toy to keep your extremely active toddler engaged but it helps him learn at the same time. I would recommend this to a friend for sure!!
Shy
Not New, Refurbished
I love the way they are set up, its awesome but mine broke by themselves while sitting on the table, my kids only played on them once. The screens just wouldn't work anymore and even though it says you are getting them new its really refurbished.
SF2003
Great Tablet for kids
We have a 2.5 year old daughter that we wanted to get her a tablet: this is our experience. What the product delivered: • Child control (an easy way to lock down the tablet) • Durable • Good looking – (I want it to be attractive laying on the table and for the kids to like it) • Small – the size of my regular ipad is just to large…I wanted something much smaller • Relatively cheap – I didn't want to give my child a $500 device • Getting started was easy - the device comes even comes fully charged, with number of games pre-loaded • Wifi/technology/camera: Wifi/performance was very good (no complains). Camera is there but cannot be compared to higher end tablets (that being said, I don't think my kid needs anything better) • Memory – 16GB - enough for most things we'll ever need on this tablet. How we use the tablet: We only allow our child to use the tablet after dinner for around 30 min. I wish there was a feature where it would just turns off after X time and can't be turned on for Y time [Correction] – There is a way to set this functionality that I am now researching. We utilize it for mostly educational games + youtube. My daughter loves to sing and look at youtube and we've utilized it with separate login. Although my daughter is young, there are lots of games offered in the Android environment that are educational and fun. I would definitely recommend this product. It's a great alternative to Ipad (keeps you in apple world) and Kindle (keeps in you amazon world) and lets you utilize the Android environment. This device can be utilized by kids and adults (just turning off parent control).
Irritatedmom
Why buy insurance???
I'm a little upset. I'm actually beyond irritated me and my husband purchased this for our daughters second birthday loved that it was aimed at children her age came with games and a timer for me to monator how long she was on it. But did purchase the two year insurance because it covers everything water is what sold me. And she's three now so I did have to use the warranty no biggy right? Wrong was first gave the run around and then when I figured out who to go through they told us that that model was discontinued and they'd have to send the next model fine sounds like a win right well what I was sent is garbage! Maybe a nice model for a teenager but my daughter is three. All the built in games gone! All the parental locks gone! The built in shows gone this thing is completely useless in my eyes I liked that she didn't have to be on wifi to use her tablet. We used it for car rides now she has to hooked to wifi at all times if I wanted this I would've given her my old tablet!!!