Ematic 7" Portable DVD Player with Color Headphones and Carrying Case Bundle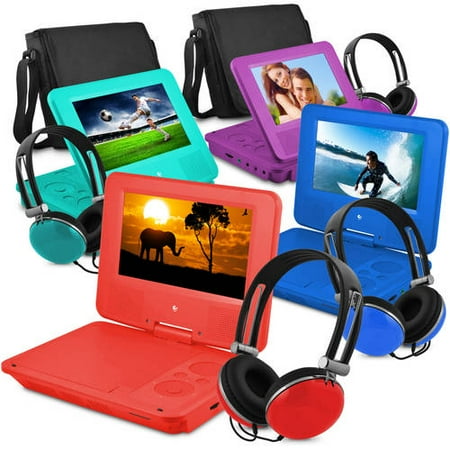 MSRP :

$59.99





Sale :

$49.99

Sold & shipped by Walmart
Product Description

Additional Information

Reviews
Product Description
Watch your favorite movies and TV shows no matter where you go with the Ematic 7" Portable DVD Player with Color Headphones and Carrying Case, Bundle. This personal DVD player makes it easy to enjoy your favorite movies, videos, music, and pictures on the go. The 7-inch screen tilts and swivels to provide an optimum-viewing angle. Enjoy crystal clear audio thanks to the headphones that are included. The matching bag protects your DVD player while traveling and provides additional storage, too. The player features multi-language on-screen displays and a built-in rechargeable battery. The Ematic 7" Portable DVD Player with Color Headphones and Carrying Case, Bundle comes with a seven-inch portable DVD player, an AC/DC power adapter, a carrying bag, headphones, and a user's manual.
Additional Information
Ematic 7 Inch Portable DVD Player with Color Headphones and Carrying Case, Bundle:
7 inch 480 x 234 LCD screen
Portable DVD players feature 180-degree screen tilt and swivel
7 inch rechargeable portable DVD player bundle has a built-in stereo speaker
Multi-language on-screen display
Supports PAL or NTSC
Built-in rechargeable battery on this personal DVD player
Frequency response: 20Hz to 20KHz
Video output: 1Vp-p/75Ohm, unbalanced
Audio output: 1.4Vrma/10kOhm
Audio S/N: >80dB
Ematic 7 inch Portable DVD Player with Color Headphones and Carrying Case power source: DC 9V to approximately 12V
Operating temperature: 32-104 degrees F
Portable DVD players package includes a 7 inch portable DVD player, an AC/DC power adapter, a carrying bag, headphones, and a user's manual
Reviews
FredGram
PERFECT PORTABLE DVD FOR CHILDREN
I ordered two as gifts for my Grandsons! I opened them, plugged them in and turned them on to ensure they would be a perfect working order when the children opened them for Christmas. Items are made of a sturdy durable and easy to wipe off plastic. Screen rotates and the picture quality while viewing is exceptional - I was pleasantly surprised! Ease of use and buttons are practical - ergonomic! I played a DVD movie...listened to the sound, which was excellent and then plugged in the headphones!! Again, excellent sound and I was surprised...thinking I would get no more quality than earbuds!! The headphones color match the DVD...so there will be no argument which belong where! I also played a music CD - just to ensure that would work as well...it did!! I am very pleased with the purchase, the price and the deliver to the store (where I picked up). I am sure my Grandsons (ages 7 and 12) will be very happy with the Ematic 7" portable DVD player with headphones...even better a carry case to haul it with them, wherever they go!!
MANNING
GREAT GIFT
I WAS LOOKING FOR A PORTABLE DVD PLAYER WHEN A FRIEND TOLD ME ABOUT THE PORTABLE DVD PLAYER OFFERED THROUGH WALMART.COM. I SELECTED ONE NOTICE THE PRICE HAD INCREASED, BUT WAS STILL CHEAPER THAN THE OTHER WEBSITES AND STORES IN THE LOCAL AREA. THE PACKAGE ARRIVED A DAY AHEAD WHICH WAS GREAT AND INCLUDED EVERYTHING AS ADVERTISED. I IMMEDIATELY CHARGED IT UP AND EVER SINCE JANUARY 6TH IT HAS BEEN IN USE. ANYONE LOOKING FOR A PORTABLE DVD PLAYER WITH HEADPHONES AND CARRYING CASE THIS IS FOR YOU. THE ONLY DOWNSIDE IS YOU DO NOT GET A CAR CHARGER, SO I USE MY NAVIGATION SYSTEM CHARGER WORKS JUST FINE.
crystal
GREAT GIFT
The object to portable is so that u can take them in the car and on trips and not have to plug them up. wish they would put in the add that these require constant charging therefore they are not portable. the item takes 5 hrs to fully charge and 2 hrs of movie time then they have to be charged for 5 more hrs . So you really only get to watch one movie and then your back to waiting if you don't have four pluggins in your car. lol wish i would have known that before i bought would have found something else.
ArmyWife16
Good for road trips!
I bought both teenage daughters one and they enjoyed watching movies on our Christmas road trip. I returned a different brand for my 4 year old and purchased another one like this for her as well. The sound is not all that loud with the earphones but they could still hear it! One daughter put her own earphones in and it was louder. Worth the price and sanity for me while driving them to their dad's every other weekend!
Angela
2 Thumbs up!
Perfect size for on the go!! Purchased this for when we go on long trips and plane rides, just wish the carrying case had a place to put the headphones, but other than that, it's great!