FunTab 7" Kids Tablet 8GB Memory 50+ Games / Apps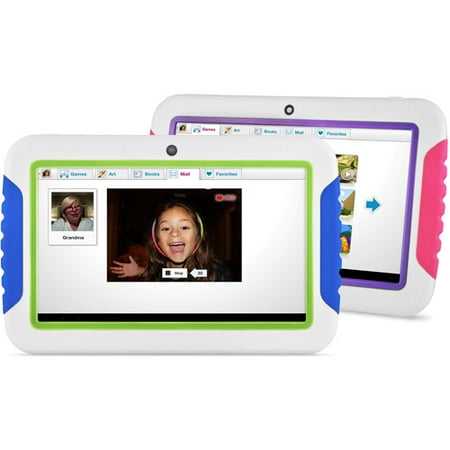 Sale :

$25

Sold & shipped by Altatac
Product Description

Additional Information

Reviews
Product Description
The Ematic FunTab Internet Tablet comes preloaded with the award-winning Zoodles Kid Mode, giving your child access to a variety of educational games and content. The kid-safe interface adapts to your child's age and skill level and provides progress reports for parents to review. Video mail lets your child stay in touch with family members far away. The rubberized texture provides increased durability and a secure grip.
Additional Information
Ematic FunTab with WiFi 7" Touchscreen Tablet PC:Technical Specifications:1.2GHz processor512MB DDR2 of system memory and 4GB on-board storage memory7.0" touchscreen, 800 x 480 resolutionBuilt-in 802.11b/g/n WiFiAdditional Features:Back webcam and front webcamMini-USB 2.0 port4GB on-board storage memory, additional memory via microSD card slot3-axis gyroscopeSoftware and Applications:Android 4.1, Jelly BeaniStory Books, Video Mail, Art Studio, GamesWeb browserMedia Formats: Popular media formatsWhat's in the Box:Tablet, USB cable, OTG cable, battery, earphones, Parent's Guide, User Manual, eMusic offer and AC adapterWhat's a Tablet PC?Tablet PCs are compact, ultra-portable entertainment devices that let you read email, surf the internet, read eBooks, view photos, play games, listen to music and watch video files. Most tablets are based on a smaller operating system, which allows you to purchase and download additional applications from supported stores. Tablet PCs do not have a CD/DVD drive and will not run Microsoft Windows or its applications. Tablet PCs function as a secondary device for casual entertainment purposes, and are not meant to replace a computer. They are ideal for use around the home and on the go with WiFi or 3-4g mobile broadband connections (pay as you go, contract may be required for service).
Reviews
CuteEverythingcom
My daughter LOVES this tablet!
If you are looking for a tablet for a child and your main concerns are that it needs to have child protections and not be overly expensive, then this may be the perfect tablet for you. The main thing to note is that this is a real Android tablet, so many different apps can be loaded for any need or interest. It also comes pre-loaded with dozens of popular and helpful kid-friendly Android programs -- everything from Angry Birds to a calculator to Where's My Water to email. Further, the Funtab comes with a suite of educational programs and protections which allow concerned parents to limit, monitor and gauge their child's use and academic progress, which I really like. Like all good tablets, it has a rechargeable battery system, so no batteries needed (very important to me!). One note to parents, the tablet does need to be charged for six hours prior to its first use, and the wifi needs to be configured as well. So, if you have wifi at your home, just make sure Santa opens, charges and sets up the tablet before the big day. The tablet is made with colorful plastics, which is fun for kids, but I thought adding a black one to the choices may help the children feel more grown up, too. I would suggest treating it carefully so the screen doesn't get scratched. We are getting a no-bubble screen protector to ensure it stays clean. I'm not sure how well it comes across in the video, but my daughter is just thrilled with all of the features and capabilities the Funtab offers and has used it non-stop ever since we received it.
kayparent
good for toddlers
Good
ConsumerinIllinois
Save your money
Flat screen televisions, computers and many other electronics have proven they can be made durable and price to fit the needs of the most consumers outside of the upper class. Most important those cheaper priced electronics are durable and will last at the least 1 year. The FunTab is not one of these. This purchase was a big mistake! Within 4 hours of use the power button fell out of the tabet. After a full charge it lasted approximately 36 minutes. It takes approximately 1.5 hours to fully charge. Using it while charging will significantly increase your recharge time to approximately 2 hours. The camera can only be use when the environment is fully lighted. Such as Noon on an uncloudy day. Even then images are difficult to view. I could go on, but I think the best summary is either save your money or spend the extra to purchase a quailty tablet for your child.
Angelfaye
good tablet...
My daughter got this and she played with it for about 2 hours and the battery died. I plugged it in and let it charge, and the same thing, it died 2-3 hours later. It was dropped from about 2 feet and the side where the volume rockers are cracked open and the buttons came out. So I would have to say this is not very well made. She can no longer play with it unless she is completely sitting down and not moving. It's great for the price but I'm in no hurry to run out and fork out another 62.00. It fits it's purpose.
BEWARE
Wasted $80!
This item was not new! It was used. I was going through pictures on son's tablet and found pictures and videos of someone else and their family. The tablets aren't very durable because my daughters power button is missing. I'm guessing she dropped it somewhere and it came off, but my home is carpeted, so for it to come apart so easily isn't good.