PureGuardian H910BL 14-Hour Nursery Ultrasonic Cool Mist Humidifier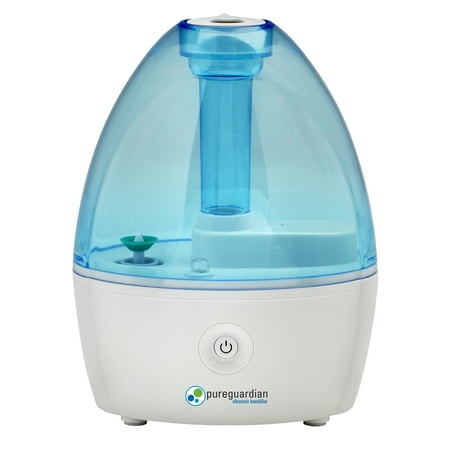 MSRP :

$29.99





Sale :

$20.99

Sold & shipped by Walmart
Product Description

Additional Information

Reviews
Product Description
The 14-hour PureGuardian H910BL Ultrasonic Cool Mist Humidifier guards against problems caused by dry air in the home. Unlike other machines that grow slimy mold on the water tank surface, Silver Clean Protection is embedded to fight the growth of mildew on the surface. Thanks to ultrasonic technology, it disperses a fine mist into the air and is ultra-quiet. It also works well for tabletops due to its compact size. It has a low water indicator light that lets you know when it's time to refill the water tank. A night-light feature makes it a wonderful addition to kids' rooms and nurseries. The PureGuardian 14-hour ultrasonic humidifier creates a better home environment for those suffering from colds, allergies and dry skin.
Additional Information
PureGuardian? H910BL 14-Hour Nursery Ultrasonic Cool Mist Humidifier
Reviews
ndlest
Great Humidifier for small areas!!!!!
I must admit upon unboxing the PureGuardian 14-hour Ultrasonic Humidifier I was somewhat apprehensive as to how well the product would work, due to it's small size and light weight, however after using the Pure Guardian Humidifier I must say I was thoroughly pleased with the ease of use and performance of this product. The Humidifier is super quiet and has a built- in soft blue night light that can be turned on or off at the press of a button located on the front of the unit. Once powered on, the unit immediately begins to disperse a fine mist and the easily removable nozzle located on the top of the unit changes the direction in which the mist will flow. The units 23 Gallon tank is easy to fill and will run about 8-12 hours depending on it's settings. Not only has The Tank on the humidifier been treated with Silver Clean to fight mold and mildew build up,but There are NO filters that need to be cleaned or replaced on this humidifier. In addition to the night light feature The Pureguardian Humidifier comes with a small cleaning brush, has a hi/lo mist setting, a refill light indicator and an Auto shut off feature. This is Great product for small areas and is backed by a 1 year limited manufacturers warranty.
rgoodpa1
relief from congestion and cold symptoms
This is being used almost every night in the room where our Grandchildren sleep. It's easy to fill and will last all night. By moisturizing the air, babies experience relief from congestion and cold symptoms. The vapor from the humidifier helps to loosen the mucus clogging their nose, throat, and chest, making it easier for their bodies to recover from sickness and keeping them more comfortable as they fight off a cold or infection. Additionally, the moist air produced by a humidifier helps to relieve skin problems. Chapped lips, dry eyes, and itchy skin can all irritate babies who live in dry climates or whose climate becomes dry during the winter.
Dave40
Works great...
This humidifier works really well, and I like the LED light...looks nice at night. I have it sitting beside my bed on the nightstand. This humidifier is surprisingly small, I thought it might be for a kids room or something but I've used it from dusk til dawn when I get home from work to when I leave to go to work in the morning and the water usually lasts 12-14 hours depending on if it's on high or low. It's also very quiet. I highly recommend this humidifier because of the quality and price, you can't beat it.
momof31129
It's compact but works great!
I have never used a humidifier, that means I have nothing to compare it to. It worked exactly how I hoped it would. The challenging part for me was to find a place to put it while it was running. It is suppose to be on an even and flat surface. Do not place ii on wood furniture, flooring or any surfaces that will be damaged by water. Do not place on carpet or towels. It must be at least 6 inches from any wall or objects for proper air flow. Once I got the placement figured out the rest was easy. As soon as I turned it on the mist started. It has a 360 degree spout so you can control the direction of the mist. The little button the front control the settings "modes" is a smiley face. There are 4 settings, a low and high speed with or without the night light. The night light is super nice as far as I'm concerned. When the tank is low on water it shuts off. The LED light turns from green to red, then it will shut off. The box states its a 14 hour humidifier, and I think that's about right. It has ran for about 12 hours for us, but we never get the tank completely full of water. Honestly the air in my grand daughters room feel so pure and clean after using this humidifier, I was sold. We have been using the humidifier for a few weeks now, it still works great. It does come with detailed instructions on how to clean, and recommends distilled water if you have hard water. It also comes with a cleaning brush that stays attached when not in use under the tank. It has a silver clean technology embedded in the tank to fight the growth of mildew and mold. There are no filters. I am highly recommending this Ultrasonic Humidifier.
Lovestoshop7
Very nice little unit
This unit is SUPER tiny (please see pic). It says it holds enough water for 14 hrs. though which is plenty for my use. I put it in my living room with a few drops of essential oil for a light scent throughout my house. It was super easy to put together and add the water. It is nice looking and would hardly take any room in your home. I recommend this unit for any home.