Primo Top Loading Hot / Cold Water Dispenser, White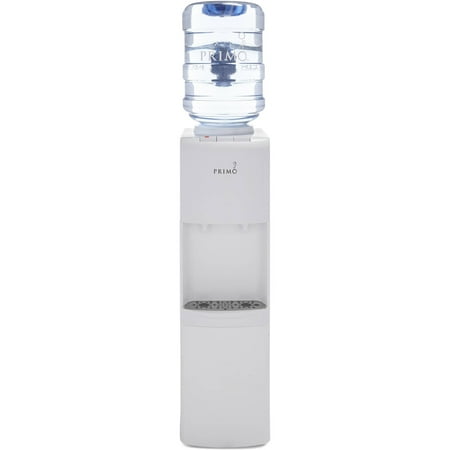 MSRP :

$129





Sale :

$118

Sold & shipped by Walmart
Product Description

Additional Information

Reviews
Product Description
The Primo Hot/Cold Water Dispenser in White allows you to enjoy fresh and safe hot or cold water instantly in your home or office. Enjoy the convenience of drinks at just the right temperature whenever you want them. The Primo water dispenser has a high-flow mechanism that dispenses cold water twice as fast as competitors' models so you can fill up cups or other containers more quickly. It also produces near-boiling temperatures for preparing coffee, tea, soups or other instant or hot meals. With no filters to replace, the dispenser is convenient and low-maintenance. The spill tray is removable and dishwasher-safe, as well. The Primo Hot/Cold Water Dispenser accepts all three-gallon and five-gallon bottles for versatility. The top-mounted push-button controls are easy to use, and a child safety latch prevents little ones from dispensing hot water. This is also an Energy Star water dispenser, saving money on power costs.
Additional Information
The hot water tank can be powered down if needed, and a leak-proof design prevents messes. The designer styling and contemporary white finish match many homes or offices.

Primo Hot and Cold Water Dispenser, White:
Leak-proof design
Top-mounted push-button controls
Child safety latch on hot water button
No filters to maintain
Power-down switch for hot tank
Primo water dispenser accepts all 3-gal and 5-gal bottles
Removable, dishwasher-safe spill tray
Includes coupon for free Primo Water (water bottle not included)
CSA-listed
Primo water dispenser is ENERGY STAR-qualified
Features attractive designer styling in contemporary white finish
Cold water for drinking
Hot water to make instant beverages, soups, and more
ENERGY STAR®
Products that are ENERGY STAR-qualified prevent greenhouse gas emissions by meeting strict energy efficiency guidelines set by the U.S. Environmental Protection Agency and the U.S. Department of Energy.
Reviews
WaterSaver
Great product!
We decided to ditch the monthly water delivery service and get our own cooler. We've been using this now for about a month. The water comes out cold! It's great. Putting the bottles in place can be challenging at times, due to the fact that the machine has a piercing rod (?) that you have to line up with. Other than that it's a great $$$ saver! We went from spending $50-60 a month on water to $10 a month. Worth the initial investment.
Jwats
Great unit for the price. Ice cold and piping hot
This unit was very easy to set up and get started. After letting it run for an hour I wasn't impressed with the cold water as I like ice cold water and it was not very cold...hot was piping hot tho. After about a month of using it I found out there is a brass flathead screw on the back side of the unit that can be turned to adjust to temp of your cold water and their website says only do a 1/4 turn at a time or it can actually freeze and damage the unit. After 2 1/4 turns it is ice cold now and I'm very pleased. It would be nice if the manual old you about the adjustment screw tho. Otherwise excellent buy, it is almost completely silent when running too
wenzel121
Not working out of the box
Set this up - very easy, loaded a 3 gal water bottle, waited an hour, went to make a cup of tea with the hot water, pushed the red safety switch back and pushed the button down - NOTHING! Ok, hot water doesn't work, cold water worked great. Hmmmm, do I live without hot water? Or return the cooler. Ok about an hour later, I go to the kitchen and there is about a gallon of water on my hardwood floor! The hot water was dripping out of the spout, overflowed the tray and ran on my floor. No matter what I did I couldn't stop the dripping! I had to remove the bottle and drain the water cooler in order to stop it. I have a rented cooler that this was replacing so I put the partial bottle back on that and it worked fine. So I know there wasn't a problem with a leaking bottle. I wish I had checked this out on other sites than just walmart. Lowes has several reviews for this cooler and they aren't nice.
Angie
Very happy
I purchased this cooler to replace my delivery service. I am very happy with the cooler. It arrived almost a week earlier than expected (during Christmas time). The setup was easy. I just ran some vinegar water through it just in case, but other than that , no real setup. This cooler has both hot (super hot!) spout and a cold spout. Each spout has it's own on/off switch so you can operate the hot and cold independently (to have room temp water from either spout). The water has a very fast flow coming out of the spouts (much faster than my old unit). The cooler does have the probe so if you are using bottles without the spill proof cap expect to have some amount of spillage. (I purchased a reusable bottle cap with a probe flap from Amazon. Well worth $12. Works great!). The spill catch basin has a float that allows you to see if that is getting full. Buttons on the top of the unit instead of spigots gives this a very sleek look. I do wish it came in black to match my other appliances, but that is really my only complaint and for the price, convenience, and money savings gained with this purchase, I'll deal with it. Overall, very happy with this purchase.
jumprope333
Great Value
Can't beat it for the price! I was so tired of buying water bottles every week!. I researched several and decided on this one based on price and reviews. It is just what I expected.... Water is cold! Haven't tried the hot water..... Have only had this for 3 weeks but am very satisfied. I bought the empty 5 gallon bottle at walmart for $5.00 and fill it up for 75 cents! My kids love having cold water available all the time! It's super easy to set up and once you get the hang of it putting the water bottle is a piece of cake!