Primo Bottom Loading Hot/Cold Water Dispenser, Black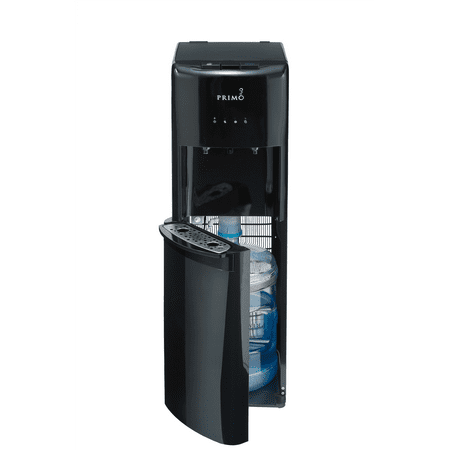 MSRP :

$185.78





Sale :

$149

Sold & shipped by Walmart
Product Description

Additional Information

Reviews
Product Description
The Primo Bottom-Loading Hot/Cold Water Dispenser provides quick and convenient refreshments for a home or workplace. The design makes it easier to insert new water jugs, eliminating heavy lifting and spills. This Primo hot/cold water dispenser has two spouts and stainless-steel tanks. One is for hot water, useful for making tea or hot cocoa, while the other is for cold, refreshing drinking water. Indicator lights let you know when the unit is heating or cooling water and when the water bottle needs to be replaced. The bottom-loading water dispenser also has a child safety latch that keeps kids from opening the compartment. This unit has fast-flowing spouts and it uses a 2.0 compressor cooling system. It also has a stainless-steel drip tray with float.
Additional Information
Primo Bottom Loading Hot/Cold Water Dispenser:
Bottom loading eliminates lifting, flipping and spilling
Dual spout
Fast-flowing
Icy-cold and piping hot
2.0 compressor cooling system
Stainless steel hot and cold tanks
Child safety latch
Indicator lights for on, cooling, heating and replacing bottle
Energy saving on/off switches
Stainless steel drip tray with float
UL certified
ENERGY STAR rated
Tank capacity cold/hot: 51 fl oz/34 fl oz
Color: black
1-year limited warranty
Reviews
IBuyEverything65
Nice Unit
I've only had the product for (1) but I love it so far. I selected this unit because the top loader units are too top heavy and my pets might knock them over. I like that you can shutoff the hot & cold tanks individually. I like the drip container has a full indicator. I absolutely the color because it fits the decor' in my kitchen.
Janel
Excellent product
Thankful for this. Love how easy it is to change the bottle. Hot water comes out very hot for tea soup etc. very cold water and cool water and no guessing if bottle is empty because of the red warning light
Rouvaun
Brains over Braun
It is amazing how many people would try to save a few dollars when purchasing a water cooling system for their home and purchase the old fashioned top loading dispenser! Primo bottom loading water coolers are fantastic! Nothing could be easier when having to change out a very heavy 5 gallon water bottle, not to mention the spillage caused when changing the bottles out when you own a top loader! We now own two Primo dispensers and purchased them after firing Sparkletts! As we get older and weaker, if you purchased a top loading water dispenser, your back will pay the price for trying to save a few dollars! The way I look at purchases of this sort, I always look to the future, and realize that even if it costs more now, you only have to pay for it once, and in the long run you are dollars ahead, by saving the wear and tear on your body! I take my hat off to those bottom loading Primo purchasers that have the foresight and common sense to put their health and welfare ahead of being basically cheap!
viseo32
Good Unit - Note on what bottle top type
Looks great, like bottom feed so no flipping bottles - please know while it does take screw and non-screw tops (has basically a straw) non-screw seems best so unit straw cover top will snap on bottle and "seal" rather than just set on top of bottle. both do work. gets hot enough for tea, nice an cold to drink (not brain freeze cold though). I would buy again - but buy the separate non-screw top 3, 4,or 5 or gal bottle. Will get new bottle in a few month when time to replace - refill water under $.40 a gal at WM if they have a water refill station at your WM. Under $2 for the next 5 gallons. No bottle jug is included.
Mary
I would recommend it!
It is a good and stylish dispenser for the price. Most important is we don't need to lift a 5 gallons of water. Another good feature is the hot water with safety red button for kids. The set up was very easy the cold water worked right away the only problem was the hot water didn't work at first. So my husband called primo costumer service number wherein I thought it's going to be a long wait but I was wrong we didn't wait at all. The costumer service just asked few question and after she told us what to do the hot water work right away. We were so pleased how well trained the costumer service was. Thanks primo! By the way some of the reviews said that the dispenser is loud. It does make noise when you dispense water and it sometimes make a noise for a few second but it's not loud at all.