Creative Bioscience 30 Day Diet Rapid Weight Loss Pills, Veggie Ctules, 60 Ct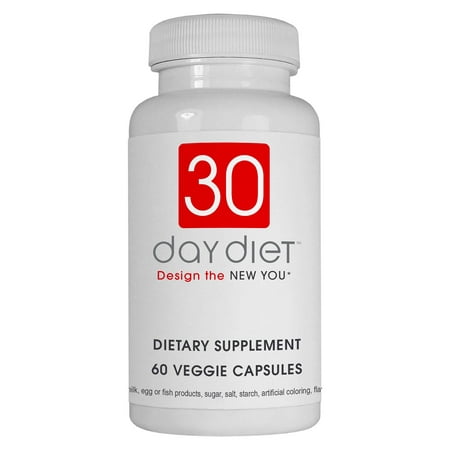 MSRP :

$17.47





Sale :

$15.59

Sold & shipped by Walmart
Product Description

Additional Information

Reviews
Product Description
This weight loss diet supplement is designed to help dieters lose weight in a rapid and safe manner. The 30 Day Diet Dietary Supplement Capsules, in a 60ct container, contain a blend of protein, fruit and vegetables, dairy and grains that are formulated to give the body what it needs to lose weight and stay healthy. With this weight loss diet supplement, dieters can eat 1500 calories per day over three meals and two snacks. Over the course of a month, effective use of the 30 Day Diet Dietary Supplement Capsules can help dieters make significant progress toward their weight loss goals.
Additional Information

30 Day Diet Veggie Capsules, 60 Count:
Gluten-free
Does not contain: soy, wheat, yeast, lactose, milk, egg or fish products
Gluten free capsules do not contain: sugar, salt, starch
Does not contain artificial coloring, flavoring or preservatives
www.30day30nightdiet.com
www.creativebioscience.com
These statements are referenced from the SPINS Topline Data Report 2011-12
Reviews
VJB
NoWayJose
This product does nothing, I took it faithfully as instructed for 2 weeks ... nothing happened. No energy ... no appetite suppression... no weight lost ... INFERIOR QUALITY OF INGREDIENTS.
Maryland88
Great kick start to healthy living
Started the pills 4/30 and today is 5/9 and I have lost 11 pounds ......I do not follow the diet that comes with the pills however I do stay within the calories outlined in the instructions.....nothing special I eat regular food and just watch my portions (I keep track with my fitness pal)..I drink a gallon of water a day and worked out only 3 days a week....will update on week 2.....FYI....no it's not water weight.......the pills are not that hard to get down, I like that you only have to take two in the am and that's it. I personally feel the pills making me have this full feeling right after taking them so waiting 30 min to eat is no biggie
Jess8384
Worked for me!
I only followed the program for 20 days but lost 17 pounds! It really works if you follow instructions!
Mika
I LOVE this product!
I started on Monday April 6th and it is now Monday April 13th and I have lost a total of 8 pounds!!! The meal guidelines are a little hard to follow but I modified it to my own liking and drink nothing but water and I just shed the pounds in no time. I have only worked out once since starting and I am still losing at least one pound a day and I am a very non active person and I could not be happier!
kay0338
Lots of energy!
There is one thing I'd like to high light about this supplement: * Do not drink any caffeine while taking this product. No soda, tea, coffee, 5 hour energy, etc. It states on the packaging that the product contains caffeine and consuming more could cause high blood pressure. So if you can't last 30 days without any caffeine, don't try this supplement. I took it for the recommended 30 days and lost 11 and a half pounds. I dieted and exercised every day, following my own meal plan. I had no problems with the product, just that it contains a high volume of caffeine!