hCG 1234 Dietary Supplement, 2 fl oz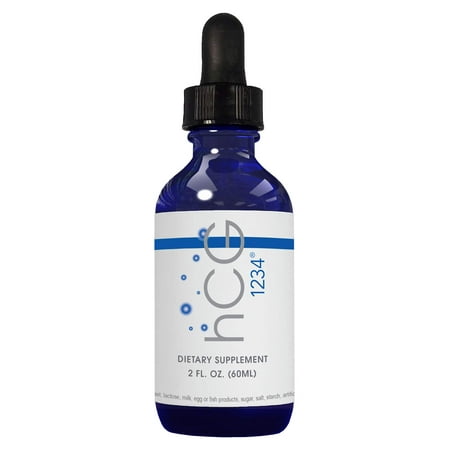 MSRP :

$29.95





Sale :

$17.47

Sold & shipped by Walmart
Product Description

Additional Information

Reviews
Product Description
With more caloric, food, recipe, and service options, hCG 1234, 2 oz drops set the standard for weight loss in the hCG diet sector. Sold throughout 11 countries, these hCG 1234 Drops have engendered a loyal and growing following. Countless numbers of dieters have testified that these weight loss drops have helped them lose weight and decrease their appetites. hCG 1234 is a dynamic diet supplement designed for rapid weight loss. hCG 1234 Drops gives users the opportunity to choose from 500, 800, and 1200 calorie diets for weight loss. Overcome hunger, minimize cravings, and prevent stalling with hCG 1234.
Additional Information
Product Features
Unlimited support
Free online access
Progress charts
Instructions
Recipes
Gluten free
www.creativebioscience.com
www.hcg1234.com
Reviews
Decker5926
This works!
When I started this diet on November 1st 2011, I weighed 275 lbs. I have tried EVERYTHING else with no long term results. I started this diet because my mother went on the injections and did so well in just a short time, but injections are expensive and I don't like shots, so I went the sublingual route and happened upon hCG 1234, took a chance, and got 4 bottles, and oh my god! What a godsend! It is the first and only thing that has worked for me to take the weight off and keep it off. I lost 100 pounds my first 2 rounds and took a break for maintenance for about a year...I have kept it off! I am now in my third (and hopefully last) round, and as of today have lost 115 lbs! I am down to a size 10 and have dropped 10 dress sizes! I LOVE the way I feel! It's a very strict regimen, and takes a lot of self discipline and will power, but, with god as my witness, IT WORKS if you're faithful to it! I've never been one of the skinny girls and have struggled all my life with my weight, but taking off the weight has changed my life, and I have hCG 1234 to thank for it!
nena200013
Gave me terrible headache
Unable to stick to caloric intake and it gave me a horrible 3 day headache when I decided to stop. I do not wish these headaches on anyone. If you already suffer with migrains, I don't advise you to use this product. I have an almost full bottle and I refuse to use the rest for fear of the headaches. I will just eat the 20 dollars I spent for it. I wish I had better reviews for this product, but I don't.
Gabsta
HCG 1234
I will be very honest: I have mixed feelings about this product. After going through all the reviews here on walmart.com, I decided to give this a go. I ordered, it got to me quickly, everything seemed good and I started off optimistic. Of course the 2 loading days were the best whereby you go along with your day worry free eating til your heart's content. My starting weight was 185. After the 2 loading days, I ballooned up to 189. Starting the 500 calorie diet, I made sure to space out my options during the day to leave no room for hunger. eg. Breakfast (9 am): Green tea and an apple, Lunch (12:30 pm): Spinach and turkey, Mid-afternoon snack (3:30 pm): 5 strawberries Dinner (7:00 pm) : Green salad and grilled chicken. (I try not to eat after 8 pm even when I am not on any diet) I kept only to the allowed options on the food list, using seasoning and herbs with juice from lemons as replacement salad dressing. I also drank 2.5 liters of water a day and tried to switch up the options on the list to not hit a stall. All was going well for about 8 days... in those 8 days I went from 189 to 175. This is because the first day I lost 4.5 lbs and went from 189 to 184.5 lbs to almost my original weight and after a good bathroom session (TMI I know but I said I would be honest). Over the next 7 days I proceeded to lose 9.5 lbs and was happy. I took measurements of my waist, hips, etc and they seemed to have gone down a bit so I was happy to be on my way to weight loss! That's until day 9, when my niece gave me a chicken nugget. I said no at first but temptation got the best of me and I ate it. BUT(!!) not without peeling off the fried part first, no dressing, no dipping sauce, nothing, only the chicken. On day 10, I do my standard routine whereby I weigh myself in the morning before I start my day, You will NOT believe it, I weighed 183. On day 10, after following this diet to protocol, except for that one piece of chicken nugget, my weight went from 175 to 183 OVERNIGHT! That was very discouraging. 8 lbs difference over a chicken nugget? I even went to step on my roommates scale and it said the same! I immediately called the hotline and they said that I need to follow EXACT protocol and make sure I am drinking enough water and perhaps don't eat the same food everyday to not have a stall...all things I was doing already (after proper research) but yet I somehow managed to go from 189 to 175 in 8 days but overnight I gained 8 of it back by half ounce of chicken. OBSURD. So the hotline attendant said to have an apple day, which I did on day 11. On day 12, I weighed 182.5. I continued for a couple more days and on day 15, I weighed 179. Diet had totally changed and slowed down. That's why I say I have mixed views about this. I changed nothing for 15 days except that one error, which seemed to throw everything off. Makes me even wonder if this really work or it was just my body in shock by only eating 500 calories a day. Needless to say, I came off it because I don't feel like its the right diet for me. All this anxiety of if as much as smell 'bad' food might make me change weight is not for me. Kudos to you guys who saw amazing results on this and extra kudos to those who even said they cheated and still lost weight. Also be careful because this product stays in your system long after you're off it. Hope this helps to someone who might want an unbiased review... Also, I'm 29 if you wanted to make an age relation.
BarbaraW
Cannot Get Support in Timely Fashion...
I got my HCG1234 a few weeks ago now, and I started using it the day after it arrived with the loading phase. Unfortunately, my bottle tasted VERY strange. I'm not sure if it's supposed to taste that way, but it tasted really bad. I tried contacting Creative Bioscience on their website, and of course, no one really assists me in solving the problem (beyond just saying "that's what it should taste like"). The taste is becoming unbearable, and I have only lost about 3 pounds in 2 weeks! Very disappointed.
JesusSavesAll777
Works for sure
I HAVE LOST 79 pounds with this product! My daily regime is below. IMPORTANT to remain on and track all food intake. Use a digital scale to see and track the daily weight loss (1 pound a day), and record it on the tracking food intake paper. You may have each day: 2 fruits (No Bananas) (dried apples good to take with you for away from home eating.) 2 vegetables (no potato/rice/corn/peas/carrots) lettuce/spinach/tomato/onion/b. peppers/gr.beans. 2 proteins*lean chicken/steak/fish/gr. turkey (3.5 OZ ea. time) 4 crackers 2x a day(good to take w/meds for your stomach) Water/Tea/Coffee all you want! MUST drink minimum 1/2 gallon water. NO milk prod. w/exception of cottage cheese/ plain yogurt may be substituted as a protein once or twice a week. May use 'stevia' sweetener 2x (1 tsp.) a day. NO OIL/NO Sugar. Good idea to take a multi-vitamin before noon for added energy. A more extensive vegetable list can be found online. Good luck, and happy eating. Remember, you're worth it!