Piggy Paint Natural As Mud Nail Polish - 4 PC, 4.0 PIECE(S)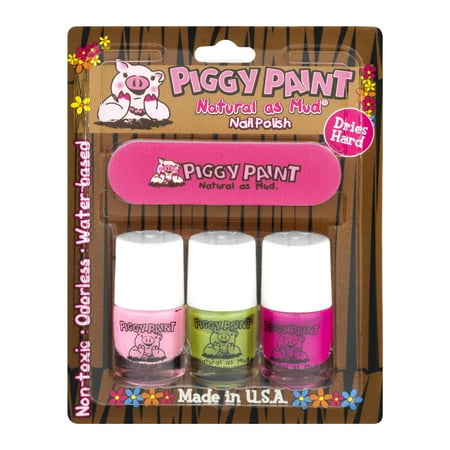 Sale :

$7.06

Sold & shipped by Walmart
Product Description

Additional Information

Reviews
Product Description
The Piggy Paint Nail Polish Set is completely non-toxic, safe to use, and kid-friendly. With Piggy Paint, you can say goodbye to harsh, smelly chemicals and hello to bright, cheery colors. This eco-friendly, natural nail polish set gives you vibrant polish in compact bottles. Use Piggy Paint to paint your nails without having to worry about overwhelming fumes or odors. Cruelty-free, Piggy Paint Nail Polish is never tested on animals. Piggy Paint is completely hypoallergenic, and its water-based formula dries to a hard, durable finish. Piggy Paint nail polish is suitable for all ages and can even be used by pregnant women. Choose a natural nail polish that will add a touch of glamour to your style without harming the environment. It¬タルs as natural as mud.
Additional Information
Piggy Paint Natural As Mud® Nail Polish.
Dries hard.
Non-toxic.
Odorless.
Water-based.
Kid-friendly.
Nail Polish Net Wt: 0.36 fl.oz.
/ 10.5 ml.
Reviews
Alicia
Cute while it lasts.
Colors are cute but it comes off as soon as it's dry. My 2.5 yr old peeled it off with such ease that it took longer to polish her nails than what it lasted on. It's still cute though and she was so excited to have her nails polished like mommy's.
Neisha
Soooo Cute! I love it!
I been wanting to paint my baby girls nails but was concerned about the toxic chemicals in regular polish. I was a little hesitant buying this because of the price, but I am so happy I did! There's no strong smell and the pigment is great!! Baby girl got so many compliments on her nails and I love our Mani pedi bonding time. Will be purchasing more colors soon.
BeautyBuyer
Great non-toxic nail polish
I tried the nail polish for myself (as an adult). The brush was easy to use and the polish went on very easily and evenly. I used 2 coats to get the vibrant color. No smell whatsoever. The polish stayed on for a week without any chips whatsoever so it does have a long staying power. The only reason why I took off 1 star is that it is hard to take off the polish. I used a regular nail polish and I wasn't able to take off the paint entirely even after rubbing my nails for over 10 minutes. I don't know if buying the Piggy Paint nail polish remover makes a difference or not.
Cardlady
Non -Toxic Nail Polish
Excellent for young children and more safe should the little one who might taste it!
bella225
Piggy Paint
really great for little ones, it washes off after a couple of days or baths.