Best Choice Products 61-Key Teaching Electronic Keyboard w/ Light-Up Keys, Adjustable H-Stand - Black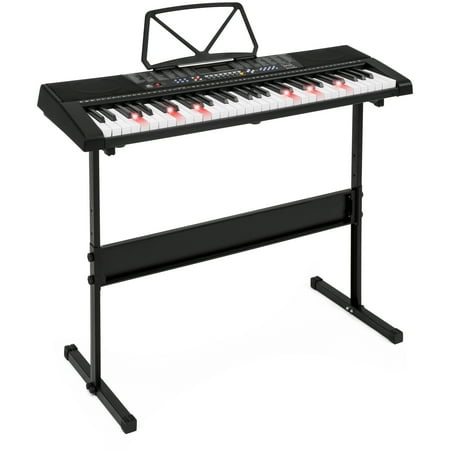 MSRP :

$188.99





Sale :

$84.99

Sold & shipped by Best Choice Products
Product Description

Additional Information

Reviews
Product Description
Learning the piano has never been easier! Perfect for beginners, this electronic keyboard features multiple learning modes and light-up keys to make learning a breeze. Play right away with everything right out of the box, including an adjustable keyboard stand. It also has a built in recorder, playback function, rhythm programmer, and more for many ways to play! FEATURES: 61 keys, 255 timbres and rhythms50 demo songs8 types of keyboard percussion3 teaching modes: One-key, Follow, and EnsembleLight-up keys and recorder with playback functionBuilt-in speakers, rhythm programmer, music player, and LED displayAdjustable keyboard standIncludes music standDIMENSIONS: Keyboard Dimensions: 36"(L) x 12"(W) x 3"(Thick)Stand: 24"-27"(H)Weight: 12 lbs. SPECIFICATIONS: Color: BlackMaterial: Plastic, SteelPower Supply: 9V AC AdapterBattery Type (optional): 6 AA (not included; inserted in the back)Includes: Electronic keyboard, AC adapter, H-Style keyboard stand, Music standAssembly required (with hardware and instructions)
Additional Information
61 keys, 255 timbres and rhythms50 demo songs8 types of keyboard percussion3 teaching modes: One-key, Follow, and EnsembleLight-up keys and recorder with playback functionBuilt-in speakers, rhythm programmer, music player, and LED displayAdjustable keyboard standIncludes music stand
Reviews
Pinkbutterfly07
Great Piano for a beginner like me!
This Piano was way much better and bigger than i expected it was super easy to use and lot's of Demo songs that you can play. This is my first Electronic Keyboard Piano and I love it very much!, The stand was adjustable durable and sturdy it was very easy to attached to the Piano as well. It also comes with the music note stand. I honestly assembled everything without any help from my Husband. Over all i was very happy and satisfied with my new Piano perfect gift for my self!
FAbigail
A good starting keyboard for beginners!
This keyboard offers me pretty much all I wanted in a low price electronic instrument. As a beginner, it is a good piano to play with large selection of tones, rhythms and demo songs. The lighting keys and recorder with playback function made learning a lot easier and fun. I like improvising and experimenting with different tones, and this piano has a lot features to offer. Aside from the mic outlet, I can connect my phone or USB flash disk to play MP3 music. The LED display also allows me to see the current setting to avoid confusion with this piano's huge selection. Speaking of legs, this has no foot pedals so you need to pre-set everything for every song, which doesn't bother me. The only thing I have to consider here is the volume, it has a powerful volume and it defaults to high (not maximum). I have to adjust it to a more tolerable level before I even start playing on it. Other than that, I think this piano is a good starting keyboard for kids and beginners that want to play around for awhile. The piano is pretty lightweight but its decently made. It has a sturdy stand which has 3 adjustable height options, and the non-skid rubber on feet is very effective on tile floors. This instrument will keep me busy for quite a while! I'm having fun playing with my favorite tunes! - I received a free product for my evaluation and opinion.
Trey
Great Keyboad
This is a great keyboard. I have been learning to play the piano but did not have the room or money to purchase one for my home. With this electronic keyboard, I can now play and practice at home. It does not take up much room and it has some great features. It comes loaded up with 255 timbres, 255 more rhythms, tons of different settings like record, repeat, different sounds more than I can list here. I really liked that the keys light up when you press them. It is very helpful for someone like me who is still learning. Also, the headphones are a great feature for a beginner like me. I can privately practice without disturbing anyone else in the house. There is a pretty neat feature that I have been playing with lately and it is the USB port located on the back. The keyboard can connect to a mobile device or mp3 player and play through the keyboard. I have been connecting my tablet and doing lessons from you tube. I would recommend this keyboard. It is a great learning tool, it sounds great, and it comes with a lot of extras. I have really enjoyed the one I bought.
wallymart5
Great piano for a great price
Easy to use piano and easy to set up. The manuel is easy to follow and the piano sounds great.
satisfiedcustomer
excellent
This product was easy to assemble. My nine year old son put it together himself. The cord was easy to find inside the packaging. My child thoroughly enjoys playing on this Keyboard. I would recommend this product for any age.