Freeman P4FRFNCB Framing and Finishing 4-Tool Combo Kit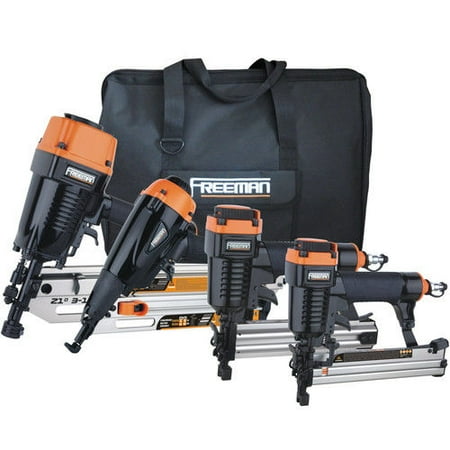 MSRP :

$229





Sale :

$269

Sold & shipped by Focus Camera
Product Description

Additional Information

Reviews
Product Description
The Freeman Tools Kit in Bag contains the things you need to get your nailing jobs done. The 4pc nail gun collection in this Contractor Tool Bag allows you to do a variety of work in different situations with different nailing needs. Included in the Freeman Tools Kit in Bag is a framing nailer, a brad nailer, a stapler and an angle nailer. The framing nailer can be used in structural and exterior work, and the brad nailer can be employed to fix mouldings. The angle nailer can be used to put nails in corners and the stapler can help in fastening thinner construction materials. All of these items can be stored and carried in the canvas tool bag. Many types of nails are compatible with the devices in this Freeman Tools Kit in Bag, including plastic-coated framing nails and glue-collated straight brad nails.
Additional Information
The Freeman P4FRFNCB Framing and Finishing 4-Tool Combo Kit is a contractor's dream. This kit covers all your framing and finishing needs. The Freeman 4-tool combo kit includes a 21 degree full head framing nailer, 34 degree angle finish nailer with quick release nose, a brad nailer with quick release nose, and a narrow crown stapler with quick release nose. Freeman pneumatic nailers are manufactured under the strict guidelines to ensure professional-grade standard, a combination of affordable pricing with high quality products for the ultimate value in tools.
18-Gauge 1-1/4 in. Straight Brad Nailer with Quick Jam Release - PBR32Q
. Holds 18-Gauge 1/2 - 1-1/4 in. glue collated straight brad nails. Anodized aluminum magazine and cylinder for lighter weight and added life expectancy. Finger depth adjustment for easy, precise usage. Tool free quick jam release to easily address nail jams and get back to work.
15-Gauge 2-1/2 in. 34 Degree Finish Nailer - PFN1564
. Holds 16-Gauge 1-1/4 - 2-1/2 tape collated 15 deg. finishing nails. 360 degree tool free adjustable exhaust allows flexibility to redirect exhaust to a convenient place. Tool free quick jam release to easily address nail jams and get back to work. Anti-dust cap to keep internal components dust and debris free.
21 Degree 3-1/2 in. Full Head Framing Nailer - PFR2190
. Holds 2 - 3-1/2 in. plastic collated framing nails. Removable no-mar tip to prevent work surface damage. Single and sequential firing triggers for firing versatility. Magnesium construction for lightweight durability.
Includes
18-Gauge 1-1/4 in. Straight Brad Nailer with Quick Jam Release - PBR32Q
15-Gauge 2-1/2 in. 34 Degree Finish Nailer - PFN1564
21 Degree 3-1/2 in. Full Head Framing Nailer - PFR2190
18-Gauge 1-1/4 in. Narrow Crown Stapler with Quick Jam Release - PST9032Q
Carrying Canvas Bag
Specifications
Air Inlet Size: 1/4 in.
Fitting Type: NPT
Kit Type: Framing/Finishing
Note: For detailed specifications, please see specifications for individual models included in the combo kit.
Number of Tools: 4
Reviews
AudreyG123
Construction quality equipment!
I was very impressed with these 4 nail guns and staple gun. The guns have got the specifications on side of each one as a convenient way to show all the information for each gun. Once hooked up to the compressor they are easy to use. The grips on the handle also make for comfortable grip. An additional safety feature is that it has engaged shooting . They all hold construction grade nails and staples good for building any project. It also came with a convenient tote that holds all equipment and extras. These are Freeman quality products and it shows. They are sturdy and comfortable. No jamming at all. I would definitely recommend this product to my friends and family.
whitt
Great for use on multiple projects.
This 4 tool combo kit was right up my husband alley, he really liked all the things you can do with the different tools. He has been fixing several things around the house now and looking for more. They seem very heavy to me. The review is his comments. These tools are very easy to use with a little knowledge of the operation of air tools. The stapler is excellent for several small jobs he used to replace ceiling tiles for one. The finish nailer is great for putting up paneling and shoe mold. The braid nailer easy to use to fix furniture cabinets and several other projects. He liked the framing nailer the best, can use for multiple projects good for small construction jobs and many household fixes, he liked that it drives nail well and counter sinks the nails, also has a small reservoir to assure a good continuous pressure. These are excellent tools, have never heard of the freeman brand before and am not sure how well they will hold up but they seem to be of a good quality grade and can be used for about any wood project in home or small construction jobs. Comes with a carry bag to put them all in. I was not able to purchase the nails and staples at our local Walmart, maybe should consider if carry the tools to carry them too.
lafren1
This is a great nail gun set
I recently received the Freeman P4FRFNCB Framing and Finishing 4-Tool Combo Kit from Walmart as part of their Spark Reviewer program. My husband and I are by no means professional builders but having an older house we have done our share of renovation work. There is constantly something that needs to be either fixed or renovated. Aside from an electric staple gun we have never used any type of tools that were powered by a compressor. We do own a pressure adjustable compressor that can go up to 100psi so we were very interested in trying out these nail guns. The product was packaged well and arrived quickly. There are 4 guns included in the kit: A 21° 2 to 3 ½ framing nailer A 34° 15 gauge 1 ¼ to 2 ½ inch finish nailer An 18 gauge 3/8 to 1 ¼ inch brad nailer An 18 gauge ½ to 1 ¼ inch stapler Also included in the kit is a very nice compartmentalized storage/carrying bag made out of canvas that can hold all 4 nail guns. Each nail gun has its own manual as well. The one thing the kit does not come with is any nails so we had to make a trip to Home Depot to pick some up. We were both surprised by the cost of the nails. It's not like you can go and just buy a box of nails. These are specialized nails designed to fit in these types of guns and pretty pricey but at least now we have plenty on hand. We actually didn't have any projects going on presently and haven't had the nail guns very long but we were excited to see how then worked. It was super easy to connect each gun to the compressor. A simple push down and click. Each of the guns have a hard rubber tip that needs to be pressed against the wood in order to fire the nail. Included in the kit are some non marring tips (which per the manual helps to prevent marring and denting when working with softer woods along) and a small bottle of oil. You have the ability to adjust the driving depth on all 4 guns (if necessary) if a nail is driving in too deep or not deep enough. You can also adjust the direction of the exhaust on all 4 guns. The 3 smaller guns have the ability to add a belt hook (included in the kit). We used a short 4x4 that we had on hand along with some wood molding, trim and 2x4's and set about testing out the nail guns. The stapler was a breeze and we found it to be super easy to use. It is very light weight and fast. The brad nailer was also light weight, fast and easy to use. The finish nailers weight was a little more substantial but again, we were surprised by how easy and fast this nail gun worked. Of the 4 nail guns the only one I was slightly intimidated by was the framing gun. It's quite large and frankly I was a little nervous to try it. My husband wasn't tried this nail gun first and found that the worked very well. He did have to adjust the driving depth a little to get the framing nails flush with the wood. A little tweaking was all it took. I ultimately tried the framing nail gun and was surprised that it wasn't really as intimidating as it looked. It's a little loud and had a little kick back but if we were doing a big project I imagine that it would come in very handy. All in all we are very impressed with this nail gun kit and we are looking forward to our next project. I would recommend this product to others.
nanamorgana
Framing and finishing
The Freeman P4FRFNCB Framing and Finishing 4-Tool Combo Kit, I highly recommend it because It is easy to understand how it works and very easy to load. Very good quality. They are air tools, one is a 21degree angle and will take up to 3 1/2 in framing nail. Next is a 34 degree 15 gauge Angle finishing nailer taking up to 2 1/2 in finishing nails. Next is the brad nailer, 18 gauge 1 1/4 Brad nailer. Next is a 18 gauge 1 1/4 in stapler. All nails and staples are easy to find.
petefo
Freeman 4 Tool combo air tools
The smallest tool in this set is the Narrow Crown Stapler model PST9043Q 18 gauge 1 1/4". This accepts 1/2" to 1 1/4" staples. It operates on 60 to 100psi. All tools have adjustable exhaust and depth control. Belt /hanger hooks are included but not installed. Has a quick clear feature for jams. Shoots staples quietly and positively. Staples are not included. I purchased a box of generic staple to test the tool. Works great. The second tool is a 1 1/4" brad nailer model PBR32Q. Accepts 18 gauge brands 3/8" to 1 1/4" and requires 60 to 100psi. Has a quick clear jam feature. Tool shoot brads flush , quietly and firmly. Accepts generic brads. The third tool is a 34deg. Angle Finish Nailer. Model PFN1564. Accepts 15 gauge finish nails 1 1/4"to 2 1/2". I purchased a box of 1000 Freeman nails to use on this tool. It requires 70 to 110psi . This tools drove nails perfectly. It's a nice weight and feels powerful. I really like this one. The last tool is a Freeman Framing Nailer Model PFR2190. It accepts 21 deg. Full round head plastic collated nails. It's a hefty 8.6 pounds and is loud and has a bit of recoil (very similar to my Paslode nailer). I purchased a box of 2000 Freeman nails to use in this tool. This is the first time I used plastic collated nails. There's a lot of plastic debris with one sleeve of nails. After some experimenting I was able to drive 2 1/4" nails flush consistantly. It likes to run at the higher end air pressures. It comes with a spare non marring tip, five assorted allen wrenches and a bottle of pneumatic tool oil. All four of these tools have a nice rubberized cover on the handles. The decals on each tool are a handy reference to the nail sizes and air pressure required. This set covers all the bases. Decent quality and value.