Miss Peregrine's Home for Peculiar Children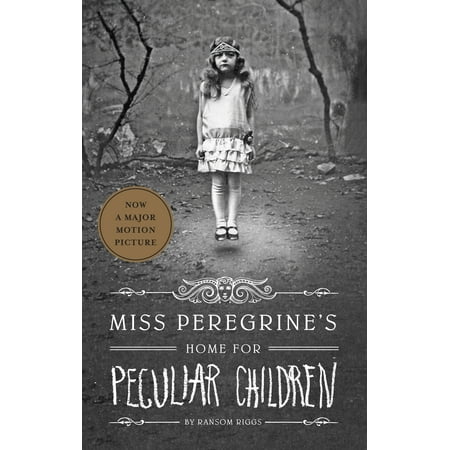 Sale :

$10.99

Sold & shipped by Walmart
Product Description

Additional Information

Reviews
Product Description
Read the #1 New York Times best-selling series before it continues in A Map of Days. Includes an excerpt from Hollow City and an interview with author Ransom Riggs A mysterious island.

 An abandoned orphanage.

 A strange collection of very curious photographs.
 It all waits to be discovered in Miss Peregrine's Home for Peculiar Children, an unforgettable novel that mixes fiction and photography in a thrilling reading experience. As our story opens, a horrific family tragedy sets sixteen-year-old Jacob journeying to a remote island off the coast of Wales, where he discovers the crumbling ruins of Miss Peregrine's Home for Peculiar Children. As Jacob explores its abandoned bedrooms and hallways, it becomes clear that the children were more than just peculiar. They may have been dangerous. They may have been quarantined on a deserted island for good reason. And somehow--impossible though it seems--they may still be alive. 

A spine-tingling fantasy illustrated with haunting vintage photography, Miss Peregrine's Home for Peculiar Children will delight adults, teens, and anyone who relishes an adventure in the shadows. "A tense, moving, and wondrously strange first novel. The photographs and text work together brilliantly to create an unforgettable story."--John Green, New York Times best-selling author of The Fault in Our Stars "With its X-Men: First Class-meets-time-travel story line, David Lynchian imagery, and rich, eerie detail, it's no wonder Miss Peregrine's Home for Peculiar Children has been snapped up by Twentieth Century Fox. B+"--Entertainment Weekly "'Peculiar' doesn't even begin to cover it. Riggs' chilling, wondrous novel is already headed to the movies."--People "You'll love it if you want a good thriller for the summer. It's a mystery, and you'll race to solve it before Jacob figures it out for himself."--Seventeen
Additional Information
Read the #1 New York Times best-selling series before it continues in A Map of Days.

Includes an excerpt from Hollow City and an interview with author Ransom Riggs

A mysterious island.

 An abandoned orphanage.

 A strange collection of very curious photographs.
 It all waits to be discovered in Miss Peregrine's Home for Peculiar Children, an unforgettable novel that mixes fiction and photography in a thrilling reading experience. As our story opens, a horrific family tragedy sets sixteen-year-old Jacob journeying to a remote island off the coast of Wales, where he discovers the crumbling ruins of Miss Peregrine's Home for Peculiar Children. As Jacob explores its abandoned bedrooms and hallways, it becomes clear that the children were more than just peculiar. They may have been dangerous. They may have been quarantined on a deserted island for good reason. And somehow--impossible though it seems--they may still be alive. 

A spine-tingling fantasy illustrated with haunting vintage photography, Miss Peregrine's Home for Peculiar Children will delight adults, teens, and anyone who relishes an adventure in the shadows. "A tense, moving, and wondrously strange first novel. The photographs and text work together brilliantly to create an unforgettable story."--John Green, New York Times best-selling author of The Fault in Our Stars

"With its X-Men: First Class-meets-time-travel story line, David Lynchian imagery, and rich, eerie detail, it's no wonder Miss Peregrine's Home for Peculiar Children has been snapped up by Twentieth Century Fox. B+"--Entertainment Weekly

"'Peculiar' doesn't even begin to cover it. Riggs' chilling, wondrous novel is already headed to the movies."--People

"You'll love it if you want a good thriller for the summer. It's a mystery, and you'll race to solve it before Jacob figures it out for himself."--Seventeen
Reviews
Cheri2057
I bought this book because I'm interested in odd s
This book is fantastic! I did not think it would be this good. I could not put it down. It keeps you interested and has pictures that are real in it. I highly recommend this book.
schmoobie
An unusual read
This is a quirky but enjoyable book. The photos incorporated into the story are fascinating, well developed characters enhance the story. I literally stayed up all night to finish it. I'll be purchasing the sequel.
sizzlecub
Great Read
I'm in halfway though this book and it couldn't be better....Great book and keeps u wanting more. Looking forward into the second book....
Jenc
Great book
Bight this for my daughter, she is really enjoying it!
userfriendly
book
a must read-so sorry I didn't order the 2nd in this series when I got the first-had to wait for it to come. wow read each one the same day I received. Now have to wait for the 3rd in series. It is a book you cannot put down.