Oculus Go Standalone Virtual Reality Headset - 32GB Oculus VR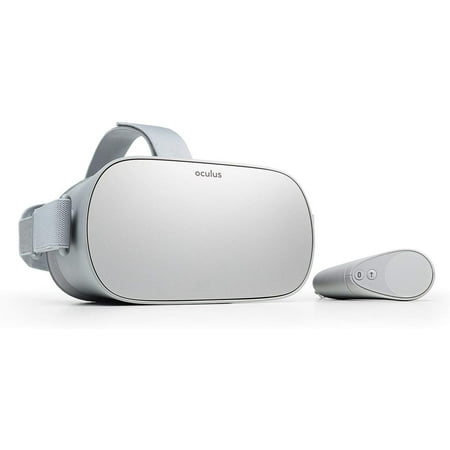 Sale :

$199

Sold & shipped by Walmart
Product Description

Additional Information

Reviews
Product Description
Oculus Go is a whole new way to watch in VR. With crystal clear optics and state of the art 3D graphics, the headset feels more like a personal theater. Just put it on, switch it on, and enjoy the littlest, big screen around. Watch a movie on a 180 inch screen, catch a sold-out concert from the front row, or just hang out with friends from anywhere.
Additional Information
Reviews
dberke12
Life Altering
Having never experienced virtual reality before, I tried this product with a bit of skepticism. How could a glorified pair of goggles make me feel like I was in a different dimension? Let me tell you that using the Oculus Go Standalone Virtual Reality Headset was one of the most profound experiences I have ever had. During the demo, I saw a snippet of an NBA game through Oculus Venue, and having been to a few sporting events in my time, I can say that I truly felt like I was inside of the arena. This device allows you to go places where you never thought you would see in your life - outer space, the moon, the International Space Station, sky diving - the list goes on and on. This is the perfect gift item for anyone! I can't wait to get one of these for myself and continue to have life altering experiences! I am writing this review as part of a contest.
EDB17
Escape reality
As soon as you put the headset on, you're completely transported to anywhere you want to go. I was a bit hesitant as to if it would make me dizzy or if it would be too heavy, but that was not the case at all (however, do make sure you have space around you because you'll feel like moving once you're transported). The free space it has to download offers you a chance to either be transported anywhere in the world or be part of your favorite game or even movie. You can use it anyway you want it: to play games, watch movies, travel anywhere in the world, or even keeping anyone in your family entertained from the comfort of your couch. Consider the Oculus Go as the cheapest travel ticket out there; it will take you places that even planes, trains, or cars can't take you. *I'm writing this review as part of a contest*
Jeremy
A truly incredible experience for a great price
I have never experienced technology like this before. The immersive graphics, incredible sound and imaginative apps transported me to whole new worlds. I explored space, hung out with dinosaurs and stood on the edge of a basketball court. What was once impossible is suddenly commonplace. The Oculus even manages to make the mundane amazing: watching Netflix transforms from a passive and boring activity on a small laptop screen to sitting in a gigantic private theatre. I cannot wait to try out what the developers come up with next! All of this for such a low price is genuinely a steal. This model is comfortable, light and easy to use. I highly recommend for anyone considering! I am writing this review as part of a contest.
DarbyM
Surreal experience, but room for improvement
Despite never having used a VR headset before the Oculus, I still had some expectations as to what the experience would be like due to the marketing material I had seen before. However, I was still surprised by how immersive the experience really was! Even just the introduction video made me gasp in surprise when I turned slightly to my right and was face-to-face with a dinosaur. The wide variety of usages (watching Netflix "with" your friends virtually, interacting with the worlds of movies such as Coco and Jurassic Park [deeply terrifying to me but surely fun for someone], etc.) are highly promising and appealing. However, I think that the experience would be improved even further if the audio came from a pair of headphones rather than an external speaker. It is more difficult to immerse oneself into the VR setting if the sound has to compete with that from the surrounding environment. It would also provide an enhanced surround-sound feel, so as to encourage more interaction with the 360 view (i.e. sounds coming from behind the user that they must turn around to identify). Overall, I think the Oculus is an absolute technological marvel (almost frighteningly so) -- but I do not anticipate purchasing one in the near future due to the price.
jwinner345
Portable and powerful, solid VR experience
This headset is a solid VR headset and a large step above what's available on the mobile VR market at a fraction of the price. First, the headset is solid. The build quality feels like a refined, finished product and can very likely take a beating in a work bag or backpack. The way the headset sits on your head is comfortable (especially for something like me with a large, large nose!). Another really great part of this headset is the fact that it is NOT dependent on your phone! While you need your phone for the initial set up and to download apps/games, there's a screen inside the headset with a resolution specifically tailored for your eyes (instead of relying on your phone screen's resolution). The controller is very solid and the motion tracking from the controller is comfortable and responsive. Not fast or twitchy like other headsets. What you're going to get is a solid VR experience at a good price. While it might not run as heavy workload compared to a VR headset connected to a high power computer, you're going to still get a really, REALLY great immersion experience (watching movies, sports, playing games) on the go without cables or a power cord. Even though I am writing this review as part of a contest, I can definitely recommend this headset to both casual fans and tech enthusiasts.