Oculus Go Standalone Virtual Reality Headset - 32GB Oculus VR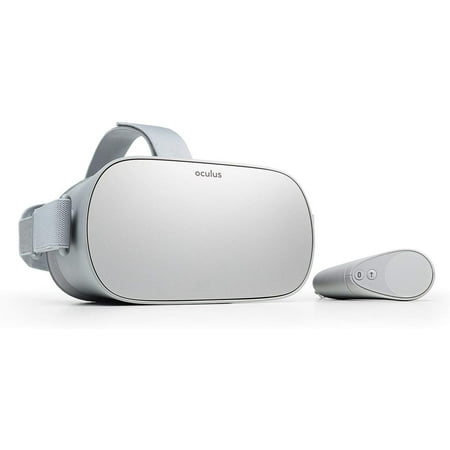 MSRP :

$249





Sale :

$299

Sold & shipped by DemProductSales
Product Description

Additional Information

Reviews
Product Description
Oculus Go is a whole new way to watch in VR. With crystal clear optics and state of the art 3D graphics, the headset feels more like a personal theater. Just put it on, switch it on, and enjoy the littlest, big screen around. Watch a movie on a 180 inch screen, catch a sold-out concert from the front row, or just hang out with friends from anywhere.
Additional Information
Reviews
utternonsense
Simply Amazing!!!
I am new to VR, but this headset has me hooked!!! VR is definitely going to be the future of entertainment. What I like - The immersive experience is amazing!!! You really feel like you are in a new place. It is easy to get lost in the experience. Watching a movie on Netflix is incredible!!! It is like having a giant screen. I'm Impressed by the quality of the video as well. Also, I just love the installed speakers. They also provide 3D sound. You can tell where the sound is coming from, just like in real life. You can't beat the price either!!! For $200 you basically are getting a full entertainment system. What I don't like - Streaming the 3D VR videos are cool, but depending on the video, they are sometimes grainy. The best way to experience VR video is to download it and watch it. I download them to my laptop, and link up the headset over my wireless router. Watching them that way is like being there when the video is recorded. I look forward to seeing where this technology is going to go, but this headset is a great way to introduce yourself to the technology......Oh, one more thing, when I bought it, I was worried about motion sickness (I get motion sickness easily). For most things, I have had no issues. Only one game so far has made me a little queasy. It was a roller coaster game.
mommeeX3
Not impressed VR
At first I was really excited about this product. However, after using it for a couple of hours I was kind of disappointed with the quality of video. It is not crystal clear and is blurry very often. I have mostly free games and apps, but I bought two games that were both about $10 each. The games appear to be pretty decent but overall I'm not impressed with the video quality. In fact, my TV which is 720P in many ways gets a better picture quality. I will be returning this product and hopefully buying it again when it gets upgraded.
GrandmaS
Not impressed VR
I purchased for 12 year old granddaughter who loves it, best gift i purchased for Christmas
Kiki
Not impressed VR
It's the most fun I've had in awhile. Santa's sleigh ride took my stomach away and felt like I was really there!
AB
Great and love the price
I am new to VR and I didn't want the cheap cardboard or plastic looking headsets nor did I want to spend 400$ on the top of the line. This headset was a perfect medium. It's an amazing experience and the Oculus app offers so many games, apps, and experiences you won't get bored. It fits comfortably on my face. Not too heavy. I love it