Digestive Advantage Lactose Defense, 32 Capsules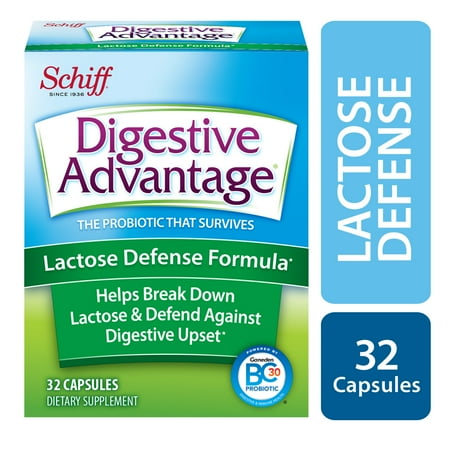 Sale :

$11.98

Sold & shipped by Walmart
Product Description

Additional Information

Reviews
Product Description
Digestive Advantage Lactose Defense Formula supplements contain 2 powerful ingredients to support your digestive health. The natural BC30 probiotics help to restore the natural balance of good bacteria within your intestinal tract and lactase to help prevent symptoms associated with lactose intolerance and to help in the digestion of dairy products.
Additional Information
If not broken down, lactose can cause gas, bloating, and occasional diarrhea. The unique patented daily probiotic in Digestive Advantage Lactose Defense Formula, BC30, is protected by a protein shell which allows it to survive through the harsh conditions of your stomach to reach the intestines where you need it most. It's the probiotic supplement that survives stomach acid 100x better than yogurt and leading probiotics.** *These statements have not been evaluated by the Food and Drug Administration. This product is not intended to diagnose, treat, cure or prevent any disease. **Based on median % survivability of Digestive Advantage probiotic vs. leading probiotic supplements and 19 probiotic yogurts in simulated gastric PH for 2 hours. Survivability and delivery of probiotic cells to the small and large intestines is one of the several factors influencing overall product effect.Contains Lactase which aids in the digestion of lactosePromotes long term digestive and immune health with continued useHelps lessen minor abdominal discomfort, bloating and may help relieve occasional diarrheaBC30, the probiotic in Digestive Advantage, survives stomach acid 100x better than leading probiotics and yogurtsNo artificial flavors. Guaranteed for purity, freshness and labeled potency.
Reviews
Jason
Formula changed?
I used to buy these and have not had issues with dairy since taking these. The product was wonderful... back when they were the green version and directions stated to take them once a day. Now the white version states to take with every meal. I used to take lactaid before I found these (green version). The lactaid wasn't working for me anymore after they discontinued their "ultra" and went to fast acting. That's when I found these and loved them. I ran out of the green version and saw all my local stores no longer carry these so I ordered online and got the white version. I starting having problems with dairy again and then found that you need to take one of these with each meal. Basically the same as lactaid. Looks like I need to find a new lactose defense pill. :-( This makes me quite sad and upset. Schiff, please change the formula back for those that need these. I cannot recommend the white version of these like I used to recommend the green.
Ritz1954
Digestive Advantage for Lactose Intolerance
Fantastic product. Without it, I could never have cheese, milk, ice cream, etc. With it, no problems at all. No cramping, nausea, diahrea
Mike4321
Great Product
I am probably 100% intolerant. I take this caplet each morning before breakfast. The enzyme helps to ensure digestion for those foods with "surprise" dairy. Aside from the lack of discomfort, I sleep much better.
BrucesMom
Great Product
My husband used Lactaid with very poor results. He tried Digestive Advantage Lactose Intolerance Therapy and it worked right from day one. He never went back to Lactaid.
Denise
Product changed
Since they recently changed from the green pill to the white pill and once a day isn't sufficient, has anyone found another once a day product that works?