Mainstays, 4 Element, Infrared Electric Cabinet Space Heater, Black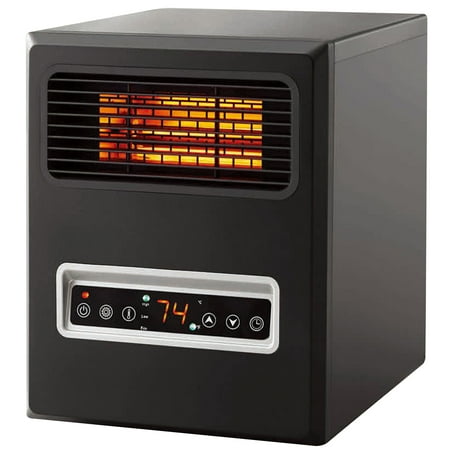 MSRP :

$67.24





Sale :

$34.53

Sold & shipped by Walmart
Product Description

Additional Information

Reviews
Product Description
Stay warm as temperatures drop with the Quartz Infrared Cabinet Heater. This powerful heater warms rooms quickly, with an air filter so you can breathe easy. The quartz infrared heater has an impressive heat output of 5200 BTU/h that can heat a room up to 86 degrees Fahrenheit, with a 12 hour timer for extended use. The unit is crafted for safe use, with an overheating safety shut off, as well as an energy-saving auto mode. The 1500W heater is easy to operate, with an LED digital display and a remote control. Caster wheels make it easy to move the unit from room to room as needed. It plugs into a conventional 120V, three-prong outlet for effortless use.
Additional Information
Mainstays 4 Element Infrared Plastic Cabinet Heater, Black:
Safety feature

Tip-over safety switch
Overheat safety shut off
Cool touch exterior

Controls/setting

Thermostat control
Tilt LED display for easy reading
12 hour programmable timer
Remote control (2 AAA bateries sold seperately)

3 heat settings: ECO/750/1500W
Heat output: 5118 BTU/h
4 infrared quartz elements
Safe heat without reducing humidity
Fully assembled ready to heat
Caster wheels for easy portability washable lifetime filter
Reviews
Markell
Awesome
I absolutely love this heater. I was comparing several, this one was smaller and cheaper than the others, but it's features sold me. First it can be child locked. I have it in my room that I share with a 3yr old! I can't tell ya how important that feature is. Also after it's done heating, it continues to blow air. I think maybe it's cooling it's elements. Either way, it cools it's self down after each heating. Awesome. Also I think it regulates the room temp very well. I have it in 13×20ft room, that is cut off from the house heat, and it seems to keep it at a steady temp. I haven't had it through our cold winter's yet, but honestly if it broke, I'd buy another, for the features alone. I feel I can leave my house with it on. Not that I'm recommending that.
Techy25
Slightly noisey, but a great heater
This heater does a great job of heating a room. I kept mine in Eco mode in the living room and it does as good of a job as the Soleil heater I have in my bedroom - which at the time I purchased it, cost a lot more. It's been great having a heater which has the ability to keep and room comfortable and still be able to help you save $$$ at the same time. 2018 may have started out being bitter cold, but my living room was warm. The fact that this thing also has wheels makes it easy to place wherever I want, or to store it over the summer. The only maintenance I've done is to vacuum the filter on a regular basis. The only bad thing regarding this unit is, its fan is a bit louder than my other heater. But, it's not super loud as some others have indicated. I can easily watch and listen to my tv - which is next to it, hear the radio or hold a conversation with someone. For the price I paid, it was well worth the money.
stixter
Good unit, with flaws
This is a good heater, but it has two notable flaws. 1. When you turn the unit on from an un-powered state, the temperature setting defaults to 86 degrees. Not a likely or useful temperature setting. 2. The lowest possible setting on the unit is 59 degrees. Not really low enough if you're idling a small mostly-unoccupied space. I'd prefer the option to go to hold a room, cabin, garage, etc. at 50 degrees or lower. Otherwise, this is a great unit, especially for the money. Small, light, easy to operate, easy to read controls, remote control, casters. Heats well. Other notables: the fan is pretty noisy, and the controls beep loudly with each button press.
Kimmy
Perfect heater for winter!
This heater definitely keeps me warm at night when it gets really cold in my room! I love that it has two additional safety features so I don't have to worry about catching it on fire. I also love that it comes with a remote so if I wake up hot, I just grab the remote and turn it off! The temperature feature is wonderful too, I can set it to get really hot or low enough to blow a little cooler air. The fan doesn't get hot like all the other heaters, so that's a bonus kid proof feature as well! I also like that it has a timer and will turn on whenever you want, like an hour or so. My favorite is that it has a cool down feature! it will run cool air for air few minutes to cool down the system before completely turning off, which is also a very good safety feature! I will definitely recommend this to anyone! I will buy another one anytime it's needed!
Oscar
Must buy before winter starts. ( Kid safe )
Just bought this today for my dauthers room ( 2 year old ) her room is 15' x 15' ( 300sqft ) and in a matter of 5 min her room was the exact temperature it said so on the heater. It was warm and comfortable her room is normally 68 to 70° but this made it to 80° quick and safe. The heater doesn't get hot to the touch and is super safe for curious kids. I bought 2 for each of our rooms to have one. At night it reaches 55° outside as of now so this is perfect! Recommend it for anyone that wants to stock up now before the cold comes.