Stanley 15A Battery Charger with 40A Engine Start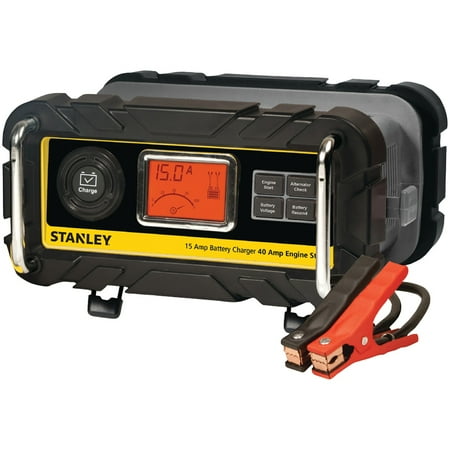 MSRP :

$49.97





Sale :

$45

Sold & shipped by Walmart
Product Description

Additional Information

Reviews
Product Description
The Stanley 15A Battery Charger is fully automatic. Vehicle won't start? Battery needs maintenance? Just connect the battery charger clamps to the battery terminal and press charge. The unit automatically selects charge rate and adjusts from rapid charge to trickle charge to maximize battery life. The 15-amp charger features 40-amp patented engine start to jump start a vehicle in 90 seconds, alternator check to indicate potential alternator issues and battery reconditioning to improve charge carrying capability and extend battery life. One of the most advanced chargers on the market, the 15-amp charger features a digital LCD screen that displays charging status and battery status with easy-to-understand icons.
Additional Information
3A/15A/40A battery charger & maintainer
Automatically selects charge rate & adjusts from rapid charge to trickle charge to maximize battery life
40A patented engine start to jump-start a vehicle in 90 sec
Alternator check indicates potential alternator issues
Battery reconditioning technology helps reverse sulfate buildup on battery plates to improve charging carrying capability & extend battery life
Microprocessor & LCD screen with easy-to-read icons
Reverse-polarity protection
Includes heavy-duty cables, metal clamps & user manual
Reviews
Walmartian
Stanley Products are CHEAP and UNRELIABLE
Unit stop working only after a few uses within the warranty period and Baccus / Stanley Customer Service Dept was terrible. DO NOT PURCHASE.
heyyaIsMad
Excellent Charger for the money
It charges two (2) 6 volt golf cart batteries connected in series with no issue, charges regular 12 volt automobile battery with no issue. Fans are not constantly engaged as reported by many users, only comes online as units' cpu commands fan to be on, and it's a lot more quieter than Schumacher 12Amp battery charger I'm replacing. Charging current is initially set at 15Amps, but later modulates to much lower voltage according to battery's state of charge, make me to believe that it's the true 3 stage charger (1. constant current, 2, constant voltage and finally 3. tickle charge mode). Incorporated voltage gauge measures true battery voltage as confirmed by separate lab-quality multi-meter. Overall, it's much better than Schumacher 12Amp battery charger which broke down in less than few charging cycle. I'm an electrical engineer by trade, have real world experience in designing and testing commercial battery chargers. I think I know when I see a good unit, familiar with optimal and safe charging algorithm in battery chargers,.
Connor
At First I Was Skeptical...
When I started looking at car battery chargers I noticed that this 15A charger from Stanley was significantly cheaper than similar chargers from other brands. It also came with a plethora of features that I was interested in, namely the battery "recondition" feature, and the jump start feature. Since I bought it a few days ago, I've been running this charger around the clock charging and reconditioning various batteries. I tried to charge a Duralast Gold battery that had been sitting in a non-running car for three years. Unfortunately, the battery wouldn't take a charge at all, and read 1.5 volts on my multimeter. I was skeptical, but I figured I had nothing to lose, so I used the "Battery Recondition" feature on this dead battery for about 24 hours. The next day, the battery took a charge! The Stanley charger charged the battery to full capacity, and now it works! I recommend this charger. It charges batteries, and reconditions them too! Just as you would expect, and probably even a little better!
Louvis
Excellent Battery Charger at an Excellent Price
This battery charger does everything it's supposed to and does it well. It has "Battery reconditioning" which sends electrical pulses to break sulfate buildup on the battery plates and help it retain it's normal charge and it actually works. I had a battery that tested low cold cranking amps and after a few times running the battery reconditioning mode it brought that battery back to a good cold cranking amps. It automatically detects battery volts and if it's connected wrong, also quickly charges 12 volt batteries, has float charge that works fine and an alternator check that I tried it seems to work, need to try it on a faulty generator to actually see if it detects any faults. The only thing I have not tried is the engine start since I have not had the need to yet. I would recommend this for someone who is going to need a good inexpensive battery charger not for commercial or industrial use.
GreatBuy
Great 15A Battery Charger with 40A Engine Start!
Great 15A Battery Charger with 40A Engine Start which is well made but, it would been nice if the jumper cable line was a foot & a half longer. I don't have a garage so, I put the charger in the driver seat propped up by many boxes & the window mostly up while the car door is locked to charge my battery overnight. The "engine start" started my car immediately but, my car still needed to be recharged. After the first overnight my battery wasn't holding a charge so, I used the battery recondition button & when I checked my car 2 hours later the car started right up. I've been using the charger daily for maintenance but, I think I'll try every other day since, the battery has been starting my car up immediately & holding a charge. The alternator check, battery voltage check, microprocessor and LCD screen with easy-to-read icons, & how the charger automatically adjusts to float charge are also great features which contributes to the 15A Battery Charger with 40A Engine Start being great. In addition Walmart's $3 protect for two years & the great price contributed to me buying from Walmart.com.