X5SW-1 6-Axles Gyro RC Quadcopter 2.4G 4 CH D rone Compact RC Helicopter With 0.3MP W iFi FPV Camera Photography Video Device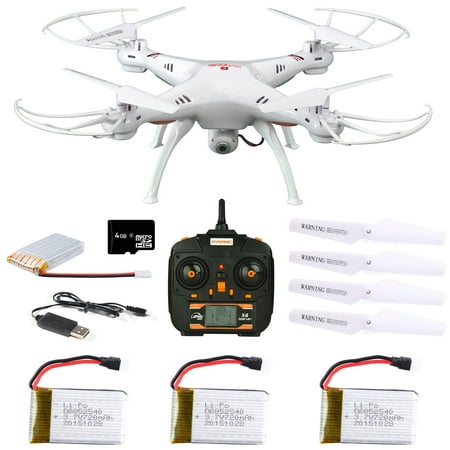 MSRP :

$169.99





Sale :

$46.11

Sold & shipped by Walmart
Product Description

Additional Information

Reviews
Product Description
6-Axis advanced gyro allows up, down, forward, backwards, right and left movementsAdvanced 2016 control board produces a stable and easy to fly experience that's great for beginners and professionalsHeadless mode, emergency return button and 360 degree eversion flips in any directionEquipped with HD camera and 4GB micro SD card; Large LED lights are great for night flyingBatteries quickly charge in 60 minutes and allows 8-10 minutes of flight (10-12 with extended model # DASX4BT-720)
Additional Information
X5SW-1 6-Axles Gyro RC Quadcopter
2.4G 4 CH D rone With 0.3MP W iFi FPV Camera
RC Helicopter With 0.3MP W iFi FPV Camera Photography Video Device
Reviews
lights
Be careful but Wallmart is great
Missing battery and legs .Did not come in a box just styrofoam packing see photos However Wallmart is taking of it Will see if the replacement is othe same
rustymercury
missing bat
i got this for my son for christmas he loves it would not buy again because of the problem i had with it, i never got the 3 additional batteries that was to come with it i had called walmart for about a month and just got tired of fighting with them and gave up they said that its not their fault so i quit calling them i tried to call the company that made it and could not get a right number for them when i looked them up on the web and could not find then so another month went by
CWaters5
Junk Drone!
I would give this a 0 review if possible. I bought it for my son as a Christmas present since reviews were mixed with good and bad(more good). Took us hours to get it to sync 1st off. Then the drone will not fly just flips over to one side!!! I have contacted customer support through email(that is the option for help), with NO REPLIES!!! Do not waste your money on this pc of junk. We have bought other drones that were way less expensive and had absolutely zero issues! Don't do like I did and listen to the few people who had a good experience...take my advice and believe all the bad reviews.. they are a true picture of what you are getting!
UpsetDad
Do not buy!
You get what you pay for! The item arrived and my son was excited only to be disappointed to find out the product was broke due to its cheap components (not even 1 flight). The contacts for the battery connector located on the drone broke when plugging in the battery so now its nonoperational. The remote is cheap plastic, and not durable. I tried returning the product but the phone # provided from circuit city sends you to a FULL voicemail service so there is no way to get in touch or your money back with the strict return policy they have. I would not recommend this product, look elsewhere.
Bill
came defective.. cost $$$ to return..
had to give this a 1 since 0 wasnt an option.. came defective... didnt want to bind until 3 or 4 attempts and then wouldnt fly forward no matter how much I trimmed it.. What makes it worse is you buy thru walmart but have to return defective products to NY at your expense, for shipping and insurance and fee's for them to sign for delivery(their condition.. not something I did) I have drones so its not that I dont know what Im doing.. It didnt want to bind to the controller and it wouldnt fly responsively at all, no matter how I tried to adjust the trims... The unit I purchased came with a battery and 3 additional batteries... Only 1 would take a charge.. the other 3 when plugged into the charger (and a charger I have from a previous drone) would indicate they were fully charged, yet when put into the drone would give the message batteries were low and needed charged.. Returning is a pain since this comes from circuit city and not walmart and there are no more brick and stone circuit cities around.. You buy on walmart but must return to circuit city AT YOUR EXPENSE, and returns must be insured and sent signature required... in other words to return a defective piece of junk is gonna cost you out of pocket a chuck of change... dont waste your money on this online item... go into walmart and buy what they sell in house or better yet go to a reputable dealer and get what you want that will actually work as its intended..