Dreft Laundry Stain Remover, 22 Oz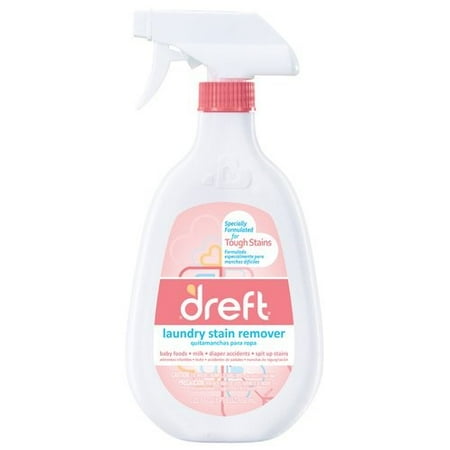 Sale :

$5.83

Sold & shipped by Walmart
Product Description

Additional Information

Reviews
Product Description
Laundry Stain RemoverDreft Laundry Stain Remover is specially formulated for tough stains on infants' and children's clothing, bedding and blankets. Its advanced cleaning system can safely remove stains and odors caused by formula, spit-up, food, diarrhea and more. Safe for all colorfast fabrics and effective at all temperatures. Dreft does not harm the flame resistance of children's sleepwear.
Additional Information
Dreft Laundry Stain Remover, 22 oz:
Advanced cleaning formula helps lift stains and odors
Safe on infants and children's clothing and fabrics
Specially formulated for tough stains
Does not harm the flame-resistant capability of sleepwear
Ideal for colorfast fabrics
Baby stain remover comes in 22-oz spray bottle
Reviews
Nanee
Amazing
My fave stain remover. The absolute best!!! Works way better than shout in my opinion.
MamaEsquire
The white bottle is THE BEST!
My absolute fave stain remover for my 7 month old. Get out the really TOUGH stains- like carrot baby food-like a champ! They have recently come out with a clear plant based Dreft stain remover (clear bottle), but it does not work nearly as well. I'm stocking up on the white bottles just in case l!
Dennis
Dreft Laundry Stain Remover.
The product works. Best stain removed we have ever used.
Karen
The Best!
This is by far the best stain remover I have ever used. After Woolite changed their scent to something awful, I switched over to Dreft for my delicates. While shopping online, I noticed this product and decided to try it. I used it on a Shabby Chic bedspread that had rat urine stains on it from sitting in storage. After washing it. I was laying it outside to dry in the sun, when I noticed the stains had not come out in the wash. So while it was drying, I just sprayed the stained area and later when I went to bring the bedspread in, I couldn't find the stains! So I tried it on two shirts that had hard stains on them through several washes, and they disappeared before I had a chance to wash them again! I am glad that Dreft detergent isn't harsh on my clothes, but strong enough to get out the everyday stains, and even more glad that Dreft has a product for those really hard, set-in stains. Just a tip-I love the fragrance so much that I buy the Dreft fragrance pellets and add a capful to my Ivory Snow free and clear fabric softener bottle. Just wait a little bit for the pellets to disolve and gently shake the bottle. Now everything comes out clean, and smelling wonderful :) No sense in having a great smelling detergent if your fabric softener smells completely different!
Jenny57
Not what it used to be
I have bought the Dreft stain remover for 3 years because it is the ONLY thing I have found to remove all stains!! And then they changed the formula to the plant based ingredients and it does NOTHING. I will not be buying this again. Please bring back the old formula!!