Watch Box Large 20 Men's Black Leather Display Glass Top Jewelry Case Organizer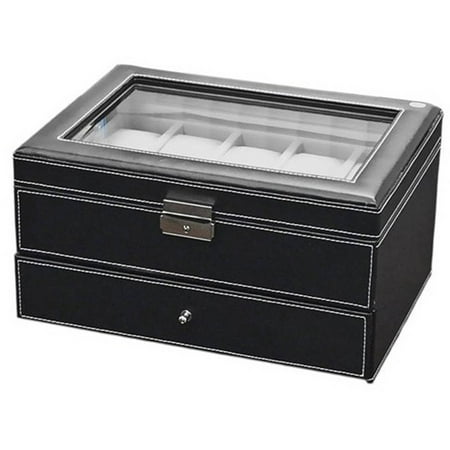 Sale :

$46.99

Sold & shipped by Walmart
Product Description

Additional Information

Reviews
Product Description
Features:20insertslotsand20removablepads.Idealforwatchesandjewelrydecoration.Bestfordisplayingyourwatchesandjewelriesinashoporthedressingroomtable.Glassscreentodisplaythewatchmoreclear.Perfectwaytokeepwatchesorganised,protectedanddustsfree.Description:Yourwatchesarestoredproperlyandspace-saving,andalwaysremainhandy.Itoffersoptimalsecurity.Finishedwithsmoothlinesandbeautifulcraft.Speciifcations:Material:SyntheticPUleather,suede(Inside)BoxDimensions:approx.28x20x16cmSingleSlotSize:approx.9x5cmColor:BlackPackageincludes:1xWatchBoxNote:Pleaseallow1-3cmerrorduetomanualmeasurementandmakesureyoudonotmindbeforeordering.Thecoloroftheactualitemsmayslightlyvaryfromtheaboveimagesduetodifferentcomputerscreen,thanksforyourunderstanding.
Additional Information
20 insert slots and 20 removable pads.
Ideal for watches and jewelry decoration.
Best for displaying your watches and jewelries in a shop or the dressing room table.
Reviews
MissDee24
Thought it was a good buy
Purchased this for my boyfriends upcoming birthday. Package has been in the box since i purchased and picked up. I open today and the bottom drawer door panel was hanging off. the lining was coming apart. cheap and not very happy with this purchase. Have no time to order another one when his birthday is in 2 days. will be contacting walmart asap
Verymeticulousperson
Very pretty
I like this item slot! It looks just like it does on line. Trust me when I say You will be very pleased. Once this item arrived I placed all the other watches inside, then I tried locking it just so I can see what it all looks like and if it all works fine , and it doea. Although the lock works I found I do not find a need to use it! Your choice
Jeanie
just what I needed and wanted
Then item what I thought it would be --better even
Anonymous
Damaged item
Damaged item received from Walmart
Zack
Flimsy product, you get what you pay for.
Cheaply made. Flimsy, drawer Dosent line up well. Can't fit big faced watches in bottom drawer, won't close (bad design). Made for lady watches. Flimsy product, you get what you pay for. Good thing I got it at discounted price for $25, original price was $90 and it would of went back for that price.