Best Choice Products Electronic Piano Keyboard 61 Key Music Key Board Piano With X Stand Heavy Duty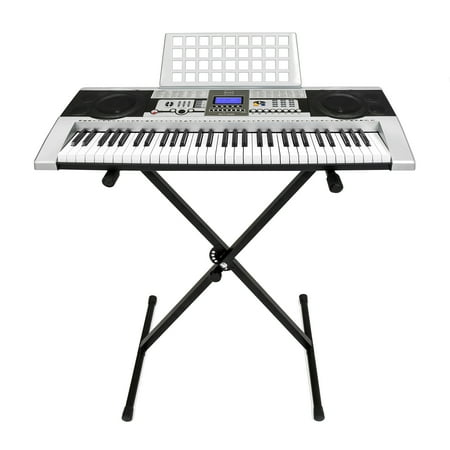 MSRP :

$199.95





Sale :

$79.99

Sold & shipped by Best Choice Products
Product Description

Additional Information

Reviews
Product Description
"Learning the piano has never been easier! This 61-key electronic keyboard set comes with everything you need right out of the box, including an adjustable X-style stand and music note stand. With multiple learning modes, a recorder/playback function, and a rhythm programmer, get ready to play your way! FEATURES: 61-key keyboard with X-style stand LCD display and an intuitive control panelKeyboard split featureTeaching modes for one-key, follow, and ensembleMany other features like recorder and rhythm programmerX-Stand is adjustable with rubber feet and gripsStand fits 49, 61, and 88-key keyboardsDIMENSIONS: Keyboard Dimensions: 37.2"(L) x 4"(W) x 14.5"(H)Stand: 37.2"(L) x 4"(W) x 12" to 38"(H)Foldable Stand Adjusts from 12" to 38" (H) with 7 Quick-Lock PositionsWeight: 14.3 lbs.SPECIFICATIONS:Color: Silver, BlackMaterial: PlasticNumber of Keys: 61100 Timbres/100 Rhythms8 PercussionsTempo/Volume ControlSingle Finger/Finger Chord/Chord TimbreSync/Fill-in/MetronomeRhythm Programming FunctionRecord & PlaybackSustain/Vibrato/Tune/TransposeSplit Keyboard One-Key/Follow/Ensemble10 Demo SongsOutput: L/R Speakers, Headphone JackPower Supply: DC 12V, 500mA (AC Adapter Wall Plug)Some assembly required (with instructions) "
Additional Information
61-key keyboard with X-style stand
LCD display and an intuitive control panel
Keyboard split feature
Teaching modes for one-key, follow, and ensemble
Many other features like recorder and rhythm programmer
X-Stand is adjustable with rubber feet and grips
Stand fits 49, 61, and 88-key keyboards
Reviews
ctb77474
Absolutely Awesome
I was a little nervous because my son is 18 and I was afraid he might think it was cheap looking. But the price was too good to pass up so I went for it. I was so excited when I saw what it looked like. Very impressive! The stand was just as mentioned "heavy duty". The sound is great and the best part was my son was thrilled! He is really enjoying his gift and doesn't skip a day playing. Now if I can only find myself a pair of earplugs! LOL
EPBaines
Love it!
We purchased the piano for our nephew and he loves it!
FaithfulPlus
Bringing back happy memories!
Believe it or not, I bought this keyboard as a Christmas gift for my 95 year old mother. She is beginning to suffer from dementia and really needed something to help her stay occupied and alert. She used to play a large home organ, but hasn't had any sort of piano around in at least ten years and I thought she might like to re-accquaint herself with her talent. When we presented it to her she could hardly believe her eyes. She sat down immediately and began playing Christmas carols which surprised us all. It was wonderful to see that time had not robbed her completely of all of her motor skills and memories. There are many aspects (bells and whistles) of this product that she may never learn or use, but the ones she can use have encouraged her so much. The tones and quality are excellent and well worth the money--just seeing the pleasure on her face is priceless. I recommend this for any age...even for those in their second childhood!
RichardS
Good keyboard for my limited needs.
I sing tenor in a church choir. I used to play the violin so I can find one note at a time on a keyboard. I was able to use this keyboard to prepare to sing a very difficult choral work recently. I was surprised to find that this model cannot be operated with batteries. And there is no MIDI output. There is a USB output which is good enough for me. I have not worked with MIDI at all, but if you need to, this keyboard does not provide that output. The stand is solid and does secure to the keyboard. But the directions that came with the stand were not much help in regard to securing it to the keyboard. But then I am one of the few persons on earth apparently who actally reads directions for things like that. The piano and organ sounds are good. There are many, many features that I likely will never try. But it is always good to have some kind of keyboard available in any home. The price was good and the unit has a good sound.
Shirely
Two Stars
The stand was broken and cheap quality I ho they will send me a new stand