Full Size Electric Guitar + 10 Watt Amp + Gig Bag Case + Guitar Strap Beginners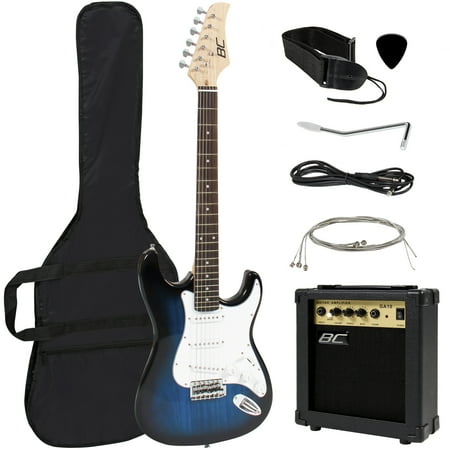 MSRP :

$199.95





Sale :

$87.99

Sold & shipped by Best Choice Products
Product Description

Additional Information

Reviews
Product Description
"Get ready to rock! This full size electric guitar set has everything beginners and pros need right out of the box. Whether you're just learning the basics or you've mastered every chord, this guitar set is good for rockin' and rollin' all night long. FEATURES: Body & fingerboard constructed of hardwoodNeck: Hardwood with truss rodClassic-styled 22 fretsAmp controls: audio output, volume, treble & base, and driveSingle coil x3 pickupIncludes: Guitar, Carrying Case, Strap, 10W Amp, Tremolo Bar, Set of Extra Strings, PickDIMENSIONS: Guitar Dimensions: 39.5""(L) x 10.5""(W) x 2""(H)Amp Dimensions: 10""(L) x 3.25""(W) x 10.5""(H)String Dimensions: 25.59"(L)Weight: 5.55 lbs.SPECIFICATIONS: Material: HardwoodIntended Position: Right-handPower: 10WNo Assembly Required"
Additional Information
Body & fingerboard constructed of hardwood
Neck: Hardwood with truss rod
Classic-styled 22 frets
Amp controls: audio output, volume, treble & base, and drive
Single coil x3 pickup
Includes: Guitar, Carrying Case, Strap, 10W Amp, Tremolo Bar, Set of Extra Strings, Pick
Reviews
AngryDragon
do not buy
this is the worse guitar i have ever had the displeasure of owning, this guitar not only sounds horrible but it also plays horrible, the tuning is never right and when you get it right, it goes out of tune with a single strum of a string, i have own a Harmony guitar in the past and had no problems with it, but all i get with this are issues, stay away from this guitar unless you want headaches and disappointment
Tommy
Superior Product
I find this product to be exceptionally well put together with accessories needed for the beginner in electric guitar. I have used acoustic since I was 13 years old, but as a senior citizen with neuropathy from diabetes, I felt the switch to electric guitar was a necessary move on my part. I was totally astonished to find this product advertised for such a low price (I have looked at many possibles), but was ecstatically pleased when it arrived and I found that it was easy to hook up, transport and maintain. I was also pleased that the tone and sound (including volume) was sufficient for songwriter's night gigs or open night gigs at bars and restaurants, and could be used alone or in conjunction with other systems to provide a good level of sound with good pitch and tone.
Barna
A Pretty Decent Guitar
The Guitar has a very appealing look and works well (aside from being a little hard to tune and stay tuned. Not the greatest strings, but they are playable. Amp works well and is fairly loud. Overall pretty good; however, the guitar straps are uncomfortable, the gig bag does not have pockets for extra supplies, and both zippers broke as soon as they are pulled. The first zipper fell of when it was opened. I thought that I may have pulled too hard, but once i tried the other one slowly it still broke. So overall it is a pretty decent guitar and only needs the bag and strap replaced and thats not even completely necessary.
mommarup
Good guitar for beginner.
Gift for 12 yr old son. He really likes the guitar. He has played it everyday since Christmas. Picks were included. Color matched the pictures. Only thing a little negative is that it is heavy for a small teenager.
gcmotherof3
Great starter guitar
I thought this was an awesome combo set, including the guitar and amp with case. my 11 year old son was really pleased.