Full Size Electric Guitar + 10 Watt Amp + Gig Bag Case + Guitar Strap Beginners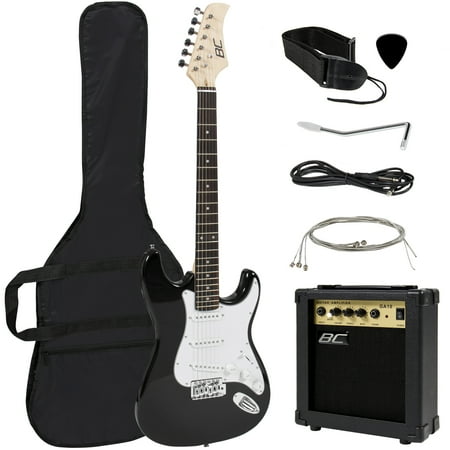 MSRP :

$199.95





Sale :

$87.99

Sold & shipped by Best Choice Products
Product Description

Additional Information

Reviews
Product Description
"Get ready to rock! This full size electric guitar set has everything beginners and pros need right out of the box. Whether you're just learning the basics or you've mastered every chord, this guitar set is good for rockin' and rollin' all night long. FEATURES: Body & fingerboard constructed of hardwoodNeck: Hardwood with truss rodClassic-styled 22 fretsAmp controls: audio output, volume, treble & base, and driveSingle coil x3 pickupIncludes: Guitar, Carrying Case, Strap, 10W Amp, Tremolo Bar, Set of Extra Strings, PickDIMENSIONS: Guitar Dimensions: 39.5""(L) x 10.5""(W) x 2""(H)Amp Dimensions: 10""(L) x 3.25""(W) x 10.5""(H)String Dimensions: 25.59"(L)Weight: 5.55 lbs.SPECIFICATIONS: Material: HardwoodIntended Position: Right-handPower: 10WNo Assembly Required"
Additional Information
Body & fingerboard constructed of hardwood
Hardwood neck with truss rod
Classic-styled 22 frets
Amp controls: audio output, volume, treble & base, and drive
Single coil x3 pickup
Includes: Guitar, Carrying Case, Strap, 10W Amp, Tremolo Bar, Set of Extra Strings, Pick
Reviews
surprisedmom2
Great gift idea
This guitar was excellent for the price. I purchased it online and gave to my daughter on Christmas she was really excited. It play amazing and the amp worked great.
missthang57
Best purchase ever
The guitar and amp is an excellent item to purchase, but the only item in the whole package that did last but a few days was the neck strap on the guitar case/carrying bag it came loose was not securely sewed on.
neena928
More than I expected!!
I am very happy with this purchase! It was a Christmas present. The guitar arrived earlier than expected which was really nice! The guitar is a good weight, my son is six and it's heavy for him, but it doesn't bother him. It is a REALLY NICE GUITAR! The amp does give off a humming sound, buy if you adjust the settings it will stop. WOULD DEFINITELY RECOMMEND THIS! YOU CHILD WILL LOVE IT!
irishcolleen13
Great Sound
My 15 year old grandson thought it was the cool. The speaker is small which was a relief to his parents. Overall, it was a great buy, very nice looking and something that even a teenager would like.
TheVanillaMiner
Some ups some downs
I worked outside for my father for a good many weeks while the guitar was on sale, and when I got it, I had mixed emotions. After a few days, the gig bag started to rip and now theres a big hole in it. Its still usable, but it isnt really well made. Also the bag isnt really protective. Its more decorative. The strings on it and the other ones were both junk, my local guitar shop guy told me that himself, but strings are moderately priced, and most of the time they last a while, so thats not much of a deal. The amp is lower end, and the cable that plugs into the amp and the guitar started to show copper wire around 2 weeks after purchase. It still works, but it should have lasted longer. And the stand on the amp didnt hold up at all, the plastic on it broke and now it wont angle so the sound comes at your face. But other than that its a good purchase, i would just suggest to just buy the guitar alone, and buy the amp separately, instead of the kit, but that may get expensive, so check out those options and compare them to this product and decide for yourself. My local guitar shop guy told me that the guitar itself is great quality though, but there are more expensive guitars out there, its a great guitar to start out with. Another side note, not relating to the quality of the guitar, but for beginners, how to learn how to play it fast. I suggest buying Rocksmith 2014 with this for PC, Xbox 360, PS3, PS4, Xbox One and other game consoles. Although it is expensive, the cable that comes with it counts as $20 dollars of it, and it actually surprisingly works! I started playing the game in late june or early july this year and I learned pretty quickly, to the point where I am now thinking about combining lessons and the game together to speed up the learning process even faster. Now it wont turn you into Guns N Roses overnight, but its pretty effective.