Best Choice Products Beginners 38'' Acoustic Guitar with Case, Strap, Digital E-Tuner, and Pick, (Natural)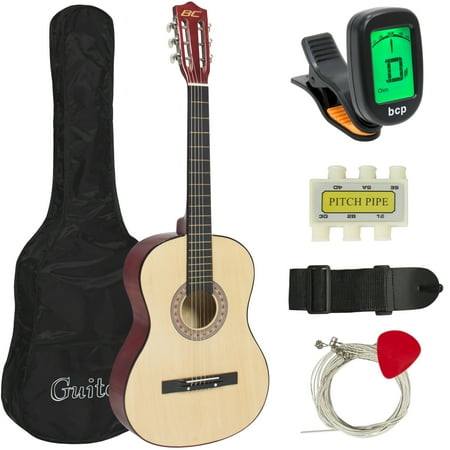 MSRP :

$74.95





Sale :

$43.99

Sold & shipped by Best Choice Products
Product Description

Additional Information

Reviews
Product Description
Jam out in style with an acoustic guitar starter set made for aspiring musicians and pros alike. With an all-wood construction, steel strings, and a glossy, smooth natural finish, you'll be proud to play on a guitar that gives stellar sound with every strum. Whether you're just learning the basics or you've mastered every chord, this guitar set is good for rockin' and rollin' all night long. FEATURES: 38" acoustic guitar with 19-fret boardAll-wood construction with steel stringsSmooth glossy finishIntended for right-handed usersComplete with a case, pick, pitch pipe, shoulder strap, digital E-tuner, and extra replacement strings DIMENSIONS: Overall Dimensions: 38"(L) x 3.25"(W) x 14"(H)Weight: 4.7 lbs. SPECIFICATIONS: Color: NaturalMaterial: WoodCase Material: NylonIntended for right-handed useIncludes guitar, case, pick, pitch pipe, shoulder strap, digital E-tuner, and extra replacement stringsNo assembly required
Additional Information
38" acoustic guitar with 19-fret board
All-wood construction with steel strings
Smooth glossy finish
Intended for right-handed users
Complete with a case, pick, pitch pipe, shoulder strap, digital E-tuner, and extra replacement strings
Reviews
TootieRamsey
Solid instrument
I purchased this guitar for my 8-year-old daughter to begin her career as an acoustic rock star. ;) I wasn't sure about the quality given the price was so low. It's actually a pretty nice guitar and perfect for beginners. It comes with a gig bag (lightweight case) and that's fine, as well. A pick the size of Rhode Island is also provided. It gets the job done, but why it is so huge is a mystery to me. The provided tuner isn't really in tune, so I just tuned the guitar with my own tuner. The strap confuses me because there's only one strap button on the guitar, so I'm not sure how to connect it. The important thing is that the guitar is a great value for beginners, as you don't know if they're going to stick with it or try it and leave it behind like many kids do. I'd recommend it for sure.
StewartSB
Do not let price fool you with this product.
I am a beginner guitarist who saw this cheap product as a means of learning how to play. Upon receiving the guitar, I saw how much of a mistake I had made. The guitar is very cheap, and the frets were scratched up with the paint already peeling. The strings are as little and cheap as they get, so I took the guitar to a music store to get new strings. The man looked at me with pity, as he said the guitar cannot even have different strings, for the neck is already stretched too far. This guitar also does not keep its tune the moment you play a chord of press down on a string. I was very excited about getting a guitar for such a cheap price, yet this product is not a true guitar that one can learn to play on. My recommendation is to find a pawn shop that will sell you a used, proper guitar for cheap. This guitar will most likely end up in the trash for many people.
yvette2013
my teenager
My 15 yr old daughter is very happy with her beginners guitar very good price for beginners well worth the price.
eatmorepossum
Poor Craftsmanship
The first thing I noticed was that the strings were too far off the neck. requiring a considerable amount of effort to get the strings down to the frets. Hard enough for me - an experienced guitar picker - next to impossible for my 9 year old friend who wants to learn to play. Far worse was the inaccurate location of the frets. For example; The low E string (largest string) should provide an A note when pressed down on the fifth fret. It sounded a little off so I dug out my electronic guitar tuner. Sure enough - the E string on the fifth fret gave an A# (A sharp, which is slightly higher than the A). I did the same test on the second string which was tuned to a true A. Pressed down on the fifth fret, it should provide a D note. It provided a D# which I was expecting. Both these tests indicate that the fifth fret was too near the guitar body. Totally impossible to tune a guitar with this problem. Incidentally, my guitar was really pretty. Sometimes instruments are used for interior decorating and for that it would be excellent at a very low price. a
DEBBIE
Excellent for what we paid
WE got this guitar set half off on the Walmart website. We've only had it a week but, so far, it has been an excellent product.