Best Choice Products 38in Beginner Acoustic Guitar Bundle Kit w/ Case, Strap, Digital E-Tuner, Pick, Pitch Pipe, Strings - Natural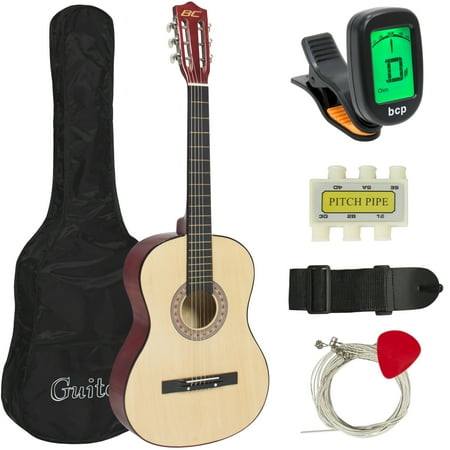 MSRP :

$88.99





Sale :

$38.97

Sold & shipped by Best Choice Products
Product Description

Additional Information

Reviews
Product Description
Jam out in style with an acoustic guitar set that's perfect for aspiring musicians. With an all-wood body, synthetic wood fretboard, steel strings, and a classical guitar shape, it produces a bright sound with every strum. The set comes with everything you need, including a pick, digital tuner, pitch pipe, shoulder strap, an extra set of strings, and even a nylon case so you can play on the go! FEATURES:38in acoustic guitar made to deliver a full-bodied sound with 19 frets and a smooth, attractive finishClassical guitar shaped body made of sapele wood to produce a bright and beautiful toneComplete set includes a guitar pick, shoulder strap, pitch pipe, digital tuner, extra strings, and nylon caseIdeal for beginners, and great for pros that need a low-risk travel guitarReady to start playing right awayDIMENSIONS:Overall Dimensions: 38"(L) x 3.25"(W) x 14"(H)Weight: 4.7 lbs.SPECIFICATIONS:Neck Material: Sapele WoodFretboard Material: Synthetic WoodCase Material: NylonIntended for right-handed useIncludes: Guitar, Case, Pitch pipe, Guitar pick, Shoulder strap, Digital tuner, Replacement stringsNo assembly requiredBCP SKU: SKY433
Additional Information
38in acoustic guitar made to deliver a full-bodied sound with an all-wood construction, 19 frets, steel strings, and an attractive finish
Ultimate guitar starter kit includes a guitar pick, shoulder strap, pitch pipe, digital tuner, and an extra set of 6 strings for replacement
Right-handed guitar with accessories is ideal for beginners and pros, and is ready to use out of the box
Comes with a nylon carrying case perfect for storage and portability
Overall Dimensions: 38"(L) x 3.25"(W) x 14"(H)
Reviews
GothManDave
Yes? No, Maybe?
For a $40 beginner guitar I didn't expect the quality to be great, and it lived up to that expectation. Its very lightweight and light on quality. Out of the box the strings where so loose that they where literally dangling off of the neck and after tightening they needed to be stretched and re-tuned to get them to hold tune for any length of time. The freight board is not very well finished. The fret wires are covered in wood stain from the neck. There are no fret markers to indicate 1st, 3rd, 5th etc which isn't the best for an absolute beginner. After taking some time to setup the tuning it plays OK. Came with a nice tuner and a bag to keep it clean. There only seems to be a peg to attach the included strap at the body end. Great beginner guitar for a young kid or if you want to see if their going to stick with guitar before spending a lot of money.
CindirellaGirl
Guitar was an Amazing Gift
My Grandson LOVED IT !!!!!! Said it was the BEST CHRISTMAS PRESENT EVER !! Even though he doesn't know how to play other than what little bit he learned in the 6th grade. He is now Serving his first year in the NAVY at ANNAPOLIS!!! But he loves the Guitar !!
KristenRights
Accessories are a P.O.S.
The guitar is great, sounds great and all. Perfect size for my giant 8 year old! However the straps that come with the guitar hook to....... nothing? What is the point of this!!!!!!!! Am I supposed to hot glue the thing together? I bought this guitar because of the straps and accessories it came with. The case was also ripped upon arrival???? It wont hold anything because of the massive hole in the bottom - perfect addition just in case you want to lose all accessories that come with but dont work anyway. This is supposed to be from "Santa" so now I have to convince my son to give it back so I can exchange it somehow? Lastly there is random red permanent mark on the inside of the guitar that is driving me crazy to look at and some scuff marks and water marks? The guitar is fine so I would have ignored the minor scratches etc. if it wasnt for the terrible terrible no good very bad accessories. It came so close to being great buy, but fell so short. :/ Not a huge fan of this company and the exchange process is going to be horrific.
eatmorepossum
Poor Craftsmanship
The first thing I noticed was that the strings were too far off the neck. requiring a considerable amount of effort to get the strings down to the frets. Hard enough for me - an experienced guitar picker - next to impossible for my 9 year old friend who wants to learn to play. Far worse was the inaccurate location of the frets. For example; The low E string (largest string) should provide an A note when pressed down on the fifth fret. It sounded a little off so I dug out my electronic guitar tuner. Sure enough - the E string on the fifth fret gave an A# (A sharp, which is slightly higher than the A). I did the same test on the second string which was tuned to a true A. Pressed down on the fifth fret, it should provide a D note. It provided a D# which I was expecting. Both these tests indicate that the fifth fret was too near the guitar body. Totally impossible to tune a guitar with this problem. Incidentally, my guitar was really pretty. Sometimes instruments are used for interior decorating and for that it would be excellent at a very low price. a
StewartSB
Do not let price fool you with this product.
I am a beginner guitarist who saw this cheap product as a means of learning how to play. Upon receiving the guitar, I saw how much of a mistake I had made. The guitar is very cheap, and the frets were scratched up with the paint already peeling. The strings are as little and cheap as they get, so I took the guitar to a music store to get new strings. The man looked at me with pity, as he said the guitar cannot even have different strings, for the neck is already stretched too far. This guitar also does not keep its tune the moment you play a chord of press down on a string. I was very excited about getting a guitar for such a cheap price, yet this product is not a true guitar that one can learn to play on. My recommendation is to find a pawn shop that will sell you a used, proper guitar for cheap. This guitar will most likely end up in the trash for many people.