Best Choice Products Beginners 38'' Acoustic Guitar with Case, Strap, Digital E-Tuner, and Pick, (Black)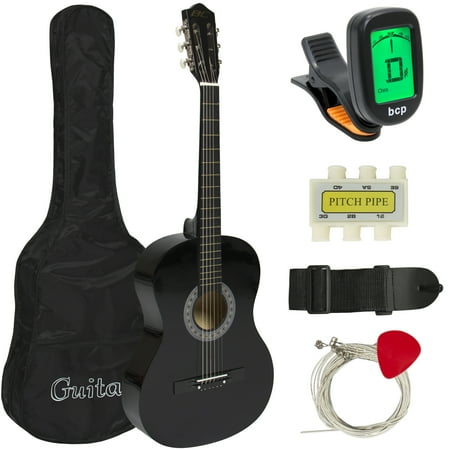 MSRP :

$74.95





Sale :

$39.99

Sold & shipped by Best Choice Products
Product Description

Additional Information

Reviews
Product Description
"Jam out in style with an acoustic guitar starter set made for aspiring musicians and pros alike. With an all-wood construction, steel strings, and a glossy, smooth pink finish, you'll be proud to play on a guitar that gives stellar sound with every strum. Whether you're just learning the basics or you've mastered every chord, this guitar set is good for rockin' and rollin' all night long. FEATURES: 38" acoustic guitar with 19-fret boardAll-wood construction with steel stringsSmooth glossy finishIntended for right-handed usersComplete with a case, pick, pitch pipe, shoulder strap, digital E-tuner, and extra replacement strings DIMENSIONS: Overall Dimensions: 38"(L) x 3.25"(W) x 14"(H)Weight: 4.7 lbs. SPECIFICATIONS: Color: BlackMaterial: WoodCase Material: NylonIntended for right-handed useIncludes guitar, case, pick, pitch pipe, shoulder strap, digital E-tuner, and extra replacement stringsNo assembly required "
Additional Information
Some of our items are handcrafted and/or hand finished. Color can vary and slight imperfections are normal for metal as the hand finishing process as we feel, adds character and authenticity to those items. The New Beginners Acoustic Guitar with a Guitar Case, a Shoulder Strap, a Tuner and a Black Pick is a lovely instrument that you'll be proud to own.
New Beginners Acoustic Guitar With Guitar Case, Strap, Tuner and Pick Black:
Full wood construction
Shoulder Strap
Extra set of strings
Great gloss finish
Easy to use tuner
Sturdy carrying case
38 inches in length
Steel strings
38" acoustic guitar is perfect for children and beginners
Handcrafted and/or hand finished items may vary in color.
From Best Choice Products
Reviews
Yummy
Do NOT listen to the comments below!
I was so skeptical to buy this guitar due to the negative comments below. Let me just say that I am VERY pleased with everything about this guitar. Note that this is not a guitar for a professional. This type of guitar is meant for beginners to see if they even like playing! Therefore, the price that you pay is incredible for just that reason. The guitar string to stay out of tune after about 30 mins of playing. But, it's nothing to learn how to tune the guitar back how you want it! There are a few minor (UNNOTICEABLE) paint jobs issues. But again, you're not paying 200-700$ for this guitar. You're paying less than 40$! It really is a steal of a deal for the price you pay. If you're one of the negative nancy's down below, then by all means, buy a better a guitar. But, for those who just wanting to get their feet wet, by this guitar! My son (age 8), my sister (age 14) and myself have all played on the guitar and no string have popped. So, my only advice is learn how to tune the guitar and you should be fine. Point is, don't let the negative comments below scare you away from this guitar! It's a perfect way to see if you even like doing this, before you spend hundreds of $$s.
DD2000
Beginners guitar...LOL!!!!
Right now in my life, I am trying to start new things and one of them is teaching myself to play the guitar. Being a beginner, I am not trying to spend a lot of money on a guitar until I know that I will truly like it. When I find this guitar on Wal-Mart website, I was excited because the guitar looks great and the very low price was what I was looking for. Needless to say that I was highly disappointed in receiving this guitar. It is a very lite weight and cheaply made. When I opened the guitar box I immediately smelled fresh spray paint on the guitar and the paint deco was done very sloppy. Lastly, the guitar strings are very thin. The only reason I gave this guitar a two star rating is because customer service was very nice and gave me a complete refund the same day. Also, they told me to keep the guitar and donate it to charity.
Reberandy
Guitar
I really like this acoustic guitar...perect for 16 yr. Old...he is practicing, every day..what a great buy..and shipping was fast..
Guitar Lady
Beginner's Acoustic Guitar
This product is awesome, great look, and works very well. It makes learning guitar so easy and efficient.
Kdeck
Perfect for beginners!!!
Purchased this for my daughter a few weeks ago. She immediately sought out lessons on the internet and hasn't put it down since. It has a very good sound to it, and stays in time well. I highly recommend for the price!!!