Best Choice Products 0.3CF Electronic Digital Lock Keypad Safe Box Home Security Gun Cash Jewel Black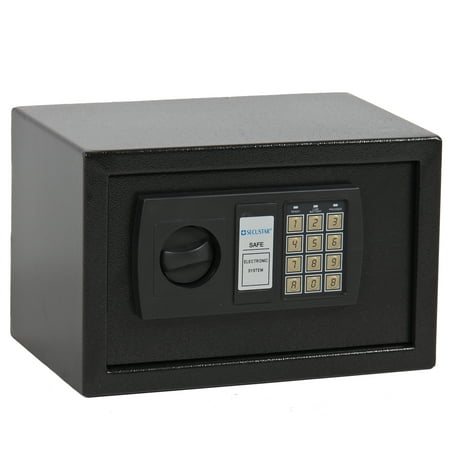 MSRP :

$77.99





Sale :

$34.94

Sold & shipped by Best Choice Products
Product Description

Additional Information

Reviews
Product Description
Best Choice Products is proud to present this brands new electronic digital safe. This safe is a "must have" for security conscious business managers. It's perfect storing money, jewelry, hand guns, and any other valuables. It's great for convenient stores, restaurants, bars, hotels/motels, small cash businesses, pawn shops, etc. PLEASE NOTE: Our digital images are as accurate as possible. However, different monitors may cause colors to vary slightly. Some of our items are handcrafted and/or hand finished. Color can vary and slight imperfections are normal for metal as the hand finishing process as we feel, adds character and authenticity to those items.
Additional Information
FEATURES: Program up to 8 PIN digit code Opens with secret PIN code or included keys (lock is hidden from view) Constructed of 1/8" thick solid steel Heavy-duty chrome steel dual 3/4" pin bolt throw system (not just latch) Inside tamper-proof hinges Hidden lock with two keys Door measures 2" thick Carpet padding on inside bottom 2 pieces of 2 1/2" anchor bolts are included Outside dimensions: 8" high x 12 1/8" wide x 7 7/8" deep Inside dimensions 8" H x 12" W x 7 1/4" D Requires 4 AA batteries Mount on floor or wall Retails for $149.99
Reviews
sandi
This is a great Safe for gun safety,
My son will soon be issued his gun for his job. He needs a safe box to store his weapon in while not wearing it. This Serenelife will serve his purpose and serve it well. It comes with predrilled holes so he can bolt it in his closet. It is a good size; it will fit his gun with some extra room. Its walls are reinforced, and it looks like it should be heavier than it is. It takes 4 AAA batteries to operate the digital panel in the front. There is a button on the inside of the safe near the batteries area, you press it, and set your code. In case you forget the code or the batteries die, you have two keys to open the safe. You can open the safe alone with just the combination lock, or you can use the keys. To use the keys, you need to take off the silver button that is in between the combination area and the handle to open the box. The two keys are not regular keys; they are the type with the circle bottom. They will override the combination lock. It is nice he has the choice of how to open it. For now he is storing his important papers in it.
IAM4REALYAHOO
ONLY PURCHASE IF YOUR SECURITY LEVEL NEEDED IS LOW
THE ITEM IS SMALLER AND LIGHTER THAN EXPECTED. ONE HIT WITH A SLUG HAMMER-BANG-IT WILL POP OPEN. OR THE METAL MATERIAL MIGHT SPLIT. I WOULD ONLY SUGGEST THIS ITEM IF THE LEVEL OF SECURITY IS VERY VERY LOW. OR, PERHAPS, IF YOU LIVE IN A VERY LARGE HOUSE AS I DO AND THIS ITEM CAN BE SECURELY HIDDEN. OTHER HAT THAT, THE ITEM IS OKAY (FOR ME) FOR THE MOMENT.
JohnsonCountyTeacher
Very sturdy lockbox and What I was looking for.
I liked that you could use a code or key to access the box. It was small enough to keep in the closet and handy for what I wanted to use it for. I was pleased with this product.
BigPayne
Great and small
This safe is small and lightweight but you can screw it into the ground. I like it I just wish it was a little bigger. But I would definitely recommend!
Lemontree23
It Will Do...
This very inexpensive safe was pretty much what I expected. The interior size actually 'feels' bigger than I'd envisioned and I can fit a zippered bank envelope into it perfectly! Bolting the safe to the basement floor and wall was more challenging than we thought it would be - we may revisit the installation to get it secured better into the concrete as it's not really secured well. The safe has a decent amount of weight to it and the dual entry - combination or keyed lock, is a good thing. Overall, I will probably purchase another safe before too long, but this one did not disappoint for the price.