weBoost 470108 Drive 4G-M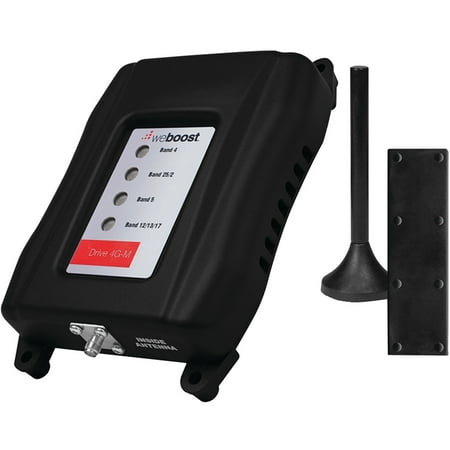 MSRP :

$429.99





Sale :

$379.99

Sold & shipped by Walmart
Product Description

Additional Information

Reviews
Product Description
Keep a constant connection on the go. Drive 4G-M from weBoost wirelessly connects every device in your vehicle to a stronger, more reliable signal while helping preserve battery life. Staying connected is essential, but it can be difficult on the road. Hills, trees and distance from the signal source all affect call quality — not to mention streaming services and GPS systems, all while draining your phone's battery as it searches for service. Drive 4G-M lets you use multiple devices simultaneously for complete wireless connectivity. It substantially improves your cellular signal strength, giving you the reliable voice and data coverage you need on all cellular-connected devices in the vehicle. The kit includes booster, antenna, power supply and mounting magnet.
Additional Information
weBoost 470108 Drive 4G-M:
Dynamic-gain mobile signal booster kit
Allows use of multiple devices simultaneously
For smartphones, tablets and laptops
Boosts signal, including 4G, for all U.S. and Canada cellular carriers
Extends cellular signal range
Provides reliable cellular signal and more consistent data speeds
Faster data downloads
Up to 2 hours additional talk time in weak-signal areas
Max FCC-allowed output power
Installs in minutes
U.S.-based tech support and customer service
FCC-certified to 2014 technical specs and industry Canada certified
Includes all components needed for installation, booster, antenna, power supply and mounting magnet
Reviews
Irving the big trucker.
If you bought this at a Love's for your semi get OTR antenna
Bought it at a Love's and didn't work straight out of the box. The magnet antenna will not do anything in a semi. I went online and ordered the OTR antenna for this and it worked like a charm! I saw instant improvement on the first run. The only thing is, you have to really look for that sweet spot between the antennas and the module. I found mine and worked better than expected. Ran YouTube music and GPS along with my ELD from Tulsa Oklahoma to Greenwood Mississippi and didn't lose signal once! I even took some back roads.
Real
Fantastic
With the proper installation works as advertised. I love it!
JBro
Will be returning not what I expected
I use it for work out in west Texas , and hate it . I thought it would help with service and yes it does when it works . It's constantly blinking red I'm always turning it off turning it on . Why have it if I have to do that I mite as well fight with my phone instead of fighting/restarting two electronics
Franco
Drive 4G-M
As a truck driver, I needed to have signal all the time and I was dropping calls left and right, now I have good signal reducing dropcalls almost to none
Oscar Torres
It works even in places I never expected it would work
I work out of town in places where reception is bad. I work out in the desert and i never lose contact with my beloved one or coworkers thanks to weboost