weBoost 470108 Drive 4G-M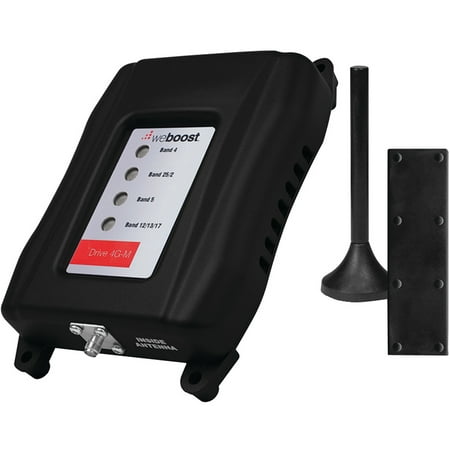 MSRP :

$429.99





Sale :

$379.99

Sold & shipped by Walmart
Product Description

Additional Information

Reviews
Product Description
Keep a constant connection on the go. Drive 4G-M from weBoost wirelessly connects every device in your vehicle to a stronger, more reliable signal while helping preserve battery life. Staying connected is essential, but it can be difficult on the road. Hills, trees and distance from the signal source all affect call quality — not to mention streaming services and GPS systems, all while draining your phone's battery as it searches for service. Drive 4G-M lets you use multiple devices simultaneously for complete wireless connectivity. It substantially improves your cellular signal strength, giving you the reliable voice and data coverage you need on all cellular-connected devices in the vehicle. The kit includes booster, antenna, power supply and mounting magnet.
Additional Information
weBoost 470108 Drive 4G-M:
Dynamic-gain mobile signal booster kit
Allows use of multiple devices simultaneously
For smartphones, tablets and laptops
Boosts signal, including 4G, for all U.S. and Canada cellular carriers
Extends cellular signal range
Provides reliable cellular signal and more consistent data speeds
Faster data downloads
Up to 2 hours additional talk time in weak-signal areas
Max FCC-allowed output power
Installs in minutes
U.S.-based tech support and customer service
FCC-certified to 2014 technical specs and industry Canada certified
Includes all components needed for installation, booster, antenna, power supply and mounting magnet
Reviews
markbb99
Made a huge difference!
I bought the unit about 4 weeks ago - I regularly drive 150 miles each way from TN across rural KY to IN. I like to stream live radio and in the past year i know exactly where it will drop out and in the places where it's pointless to start a voice call as I will need to re-dial every couple of minutes. I'm on T-Mobile but my car (Range Rover Evoque) has a heated front windshield which means even a GPS won't work on the dashboard. This has made such a huge difference - I can make phone calls without the call being dropped, and can stream live radio in LTE on T-Mobile on the entire drive without it dropping out. I've always been skeptical about boosters but wish I had tried this before. I had always bashed T-Mobile but their coverage has improved like crazy and the heated windshield of the car made reception so much worse. Now I feel like I owe T-Mobile an apology!
Tim555
Sunroof challenges
I have multiple vehicles with boosters in them I just installed this one in a 2015 F150 with the full sunroof tech service said may have a problem with the feed back do to antennas seeing each other . I mounted the small rubber antenna with silicone to the back passenger corner of the roof and put the booster underneath the back passenger seat, I put the in cab antenna in the left-hand side of the passenger seat ,there is a cab Vent between the cab and pick up box that you can put the antenna cable through. I was traveling out of town it worked great it took me from one bar to three bars I did have a couple times in the city that the 12 and 15 Light went red I just unplugged and plugged it back in and they went green. It is not as strong, nor can it be do to the huge two row sunroof, that is why with tech help we selected that model, yes it is worth it.
Wk80517
Drove across the country 5500 miles
I just got back from a trip where I drove up North 5500 miles through Canada, New Brunswick, Maine, then worked our way back home to Colorado. I discovered many areas where the cell signal was not good at all or very weak. Each time in those areas, I would reach down and flip the switch to My weboost, IT MAKES A BIG DIFFERENCE! It increased the strength enough to make calls and reach family. So far Im very happy and glad I made the purchase before my trip. Its nice to stay in contact with family. If you are planning on going places where cell service is not good at all, which I found was more than you think, I recommend getting one for your car or truck. It worked great for us on the trip.
Irving the big trucker.
If you bought this at a Love's for your semi get OTR antenna
Bought it at a Love's and didn't work straight out of the box. The magnet antenna will not do anything in a semi. I went online and ordered the OTR antenna for this and it worked like a charm! I saw instant improvement on the first run. The only thing is, you have to really look for that sweet spot between the antennas and the module. I found mine and worked better than expected. Ran YouTube music and GPS along with my ELD from Tulsa Oklahoma to Greenwood Mississippi and didn't lose signal once! I even took some back roads.
Trucker Steve
Works well easy to install.
Bought this about a week and half ago, im an otr trucker. I got tired of being in remote areas trying to place a call out to dispatch or road rescue. The mag base antenna on my truck was a bit tricky to install as most of the body is built out of fiber glass. While this isn't the end all signal problem solver it will most definitely help you out and give you a fighting chance. If you are an otr trucker i highly recommend the otr version for easier mounting then trying to find a spot that has ferrous metal. Im excited to see how well this will perform at my house as i live in the in the middle of farming country and signal is touch and go at best. All in all im satisfied with it.