weBoost 470101 Home 4G Residential Cellular Signal-Booster Kit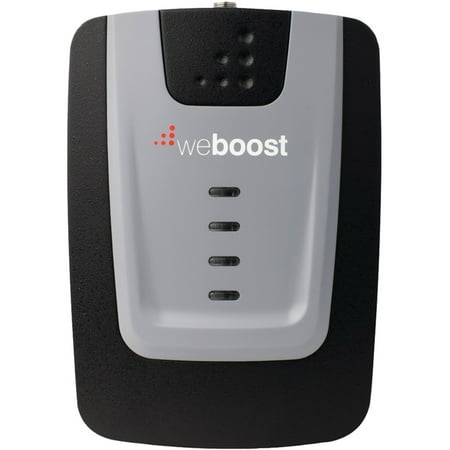 MSRP :

$449.99





Sale :

$399.99

Sold & shipped by Walmart
Product Description

Additional Information

Reviews
Product Description
Whether you're streaming movies, checking email or making a call, Home 4G from weBoost gives you a stronger, more reliable signal where you need it most. Stop walking from room to room — or even outside — to find a stronger, more reliable signal. The weBoost Home 4G is designed to significantly improve your coverage in one to two rooms in your home so you no longer have to worry about dead spots. It works especially well in modern, energy-efficient buildings known to contain materials that weaken cell signals. Best of all, Home 4G will not only boost your signal on your own cellular-connected devices — including tablets and laptops — it will also work for everyone else you invite into your home. The kit includes all components needed for installation — booster, indoor and outdoor antennas, power supply and two lengths of coaxial cable.
Additional Information
weBoost 470101 Home 4G Residential Cellular Signal-Booster Kit:
Dynamic-gain indoor wireless signal booster kit
Improves indoor cellular voice and data signals
1-2 room coverage
For smartphones, tablets and laptops
Boosts signal, including 4G voice and data, for all U.S. and Canada cellular carriers
Faster data downloads
Up to 2 hours additional talk time in weak-signal areas
Max FCC-allowed output power
Installs in minutes
U.S.-based tech support and customer service
FCC-certified to 2014 technical specs and industry Canada certified
Includes booster, indoor and outdoor antennas, power supply and 2 lengths of coaxial cable
Reviews
SigTech
In all honesty I was impressed, at first
After receiving my WeBoost and installing it per the instructions I was extremely satisfied, for a few weeks anyway. For some reason my "one bar" outside was converted to "three bars" inside for the first few weeks and I had no issues. After the first few weeks though I started dropping calls and now I'm at a point where I have to walk outside just to talk on the phone. My Data boost followed the same downward path. The WeBoost unit was installed in February/March and seemed to go downhill around May/June so, I'm thinking" maybe spring had something to do with it, leaves on the trees...? Right now I'm just waiting for Fall and Winter to see if the situation improves. Here's the strange part, even when people are telling me "I can't hear you, I can't hear you" I hear THEM perfectly fine. Me hearing others has NEVER been the problem, it's others hearing ME that's not working out so well. In the end I still believe in the product, I'm just waiting to see if bare trees will resolve the issue. If it does then I will have to extend the antenna above the treetops I guess.
E.H.
Woohooo we have 4g!!
I am completely skeptical of anything that claims it will work in the woods. There is no cable, no landline, no internet where I live on top of the fact the closest cell tower is 12 miles and I'm surrounded by iron ore hills. 3g and 1 bar maybe 2 if you stand in the right spot was the norm. We gambled on a weboost because of the gaurantee. We now have 4g and 1 to full bars! On top of that we can use our hotspot on our phones to use the laptop and firestick!! I can't thank you enough!
VGrif
Signal Booster for a vacation rental in a remote area
We have a vacation rental on the bank of the Tennessee River. It is a beautiful but remote location. Some of our guests are required to stay connected with their jobs via internet. In order to provide a strong constant connection via their smart phone hot-spot I installed the weBoost Home unit 470101. This signal booster allows a strong internet connection in every room of our 1600 sq.ft. lakeside cottage. Problem solved!
Kelly
I would not buy this produce again
I use my mobile phone for business and needed something that would help it come in clearly inside the building. This piece of equipment did not work for me. It is expensive, you need to run cables through the house and after all of that, it did not work for me. I would not spend the money or the time, drill the holes and run the lines again.
cabin
Greatly improved my cell service
I was lucky to have one bar on my cell phone in our cabin and would need to go outside to get a usable connection . I now have a good 4 bar signal on my cell with great reception . Instruction were simple and I had it installed within a hour . Setting the antenna was simple . Our cabin is bordered by USA Forrest on two sides . We have a 1800 sq.foot cabin with a full basement . I was pleased to find that my basement service was just as good as my upstairs . We use a cell phone connection for our alarm system so I improved both my cell phone signal and alarm signal . I am extremely pleased with my booster . The price of the purchase is quickly forgotten after you experience the improvement of service .