weBoost 470101 Home 4G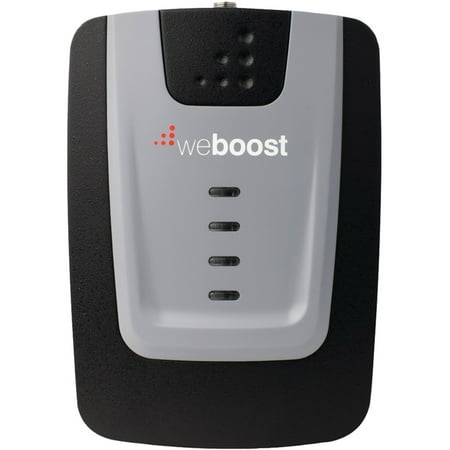 MSRP :

$449.99





Sale :

$399.99

Sold & shipped by Walmart
Product Description

Additional Information

Reviews
Product Description
Whether you're streaming movies, checking email or making a call, Home 4G from weBoost gives you a stronger, more reliable signal where you need it most. Stop walking from room to room — or even outside — to find a stronger, more reliable signal. The weBoost Home 4G is designed to significantly improve your coverage in one to two rooms in your home so you no longer have to worry about dead spots. It works especially well in modern, energy-efficient buildings known to contain materials that weaken cell signals. Best of all, Home 4G will not only boost your signal on your own cellular-connected devices — including tablets and laptops — it will also work for everyone else you invite into your home. The kit includes all components needed for installation — booster, indoor and outdoor antennas, power supply and two lengths of coaxial cable.
Additional Information
weBoost 470101 Home 4G:
Dynamic-gain indoor wireless signal booster kit
Improves indoor cellular voice and data signals
1-2 room coverage
For smartphones, tablets and laptops
Boosts signal, including 4G voice and data, for all U.S. and Canada cellular carriers
Faster data downloads
Up to 2 hours additional talk time in weak-signal areas
Max FCC-allowed output power
Installs in minutes
U.S.-based tech support and customer service
FCC-certified to 2014 technical specs and industry Canada certified
Includes booster, indoor and outdoor antennas, power supply and 2 lengths of coaxial cable
Reviews
StephenWagner7
This thing saved my life, lol!
In about 1 hour, this product took care of a massive problem I've been dealing with for 3 years. I live in a deadzone, and run my business out of my house. While I do have an office line, clients regularly call my cell phone. For the last 3 years I've been dealing with missing calls (phone doesn't ring), dead cell batteries (from trying to contact the cell towers), and dropped calls (couldn't hear what they were saying anyways). After unpacking this device, I installed the outdoor antenna in my upstairs window (where there is a small amount of service), ran the coax down the ventilation shafts in to my office in the basement. I now have full LTE+ service (all bars), in my basement, as well as 75% reception on my main floor (previously 10%). I no longer have to charge my cell 3 times a day (I barely go through 20% of the battery now), and I haven't missed a call since. I was hesitant at first, but wow... I had absolutely NO idea that this device would work as well as it does...
Boonies Dwellar.
A great product.
I tried satellite com company, hard wired phone company, wifi, cable was unavailable so I bought a WEBOOST to get back into touch with the rest of the world. Went from no or weak signal to full bars on my cell phone & have never been dropped off line on my Jetpack since.
Big Country
Our only way to get cell service out here in farm country.
We purchased a WeBoost Home 4G after moving from Indianapolis to Brighton, Il (Pop. 2200) back in November, 2016. Cell service is less than desirable with any carrier out here. We purchased our WeBoost 4G Home booster. The trees on our property that surround our home range from 60-100ft tall. I installed the booster on a 20' section of galvanized fence railing and attached the bottom of the pole to a satellite tv mount with dish removed. I then attached guy wires made of 550 paracord from the pole to trees in my yard. Our signal strength, using iPhone field test mode, has dropped from an average of -119 to -78 inside our home within range of the indoor antenna in our dining room. We have had to take a few steps back as far as technology to live out here but thanks to WeBoost, cell phones are no longer on that list.
JohnByrum
I finally have internet access. Woo Hoo
My home has no access to the internet so twice a month I would find a good day to use my phone hotspot sitting outside and pay my bills. I finally broke down and purchased the weboost to see if it would help. The signal went from -117 or worse to somewhere in the -80 range. With that increase, I felt comfortable ordering a cellular hotspot and installed it beside my indoor antenna. Now I have Internet and can finally hook up my direct tv and smart TVs in the house. No more waiting to get to work in order to google something. So beyond happy with this product!
Hozer
I would definitely buy this product again!!!
I bought the Home 4G to use with my 5th wheel RV. One of the places we enjoy camping has very limited cell service with Verizon. Inside the RV we would only get 1 bar if even that and calls would get dropped all the time. After starting to use this system our reception improved to 3 bars and at times 4. We never go camping without this system now.