weBoost 470101 Home 4G Residential Cellular Signal-Booster Kit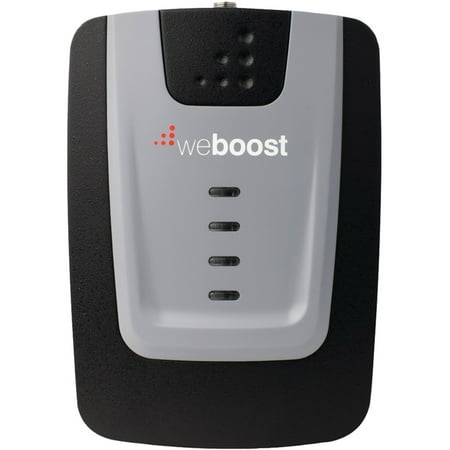 MSRP :

$449.99





Sale :

$399.99

Sold & shipped by Walmart
Product Description

Additional Information

Reviews
Product Description
Whether you're streaming movies, checking email or making a call, Home 4G from weBoost gives you a stronger, more reliable signal where you need it most. Stop walking from room to room — or even outside — to find a stronger, more reliable signal. The weBoost Home 4G is designed to significantly improve your coverage in one to two rooms in your home so you no longer have to worry about dead spots. It works especially well in modern, energy-efficient buildings known to contain materials that weaken cell signals. Best of all, Home 4G will not only boost your signal on your own cellular-connected devices — including tablets and laptops — it will also work for everyone else you invite into your home. The kit includes all components needed for installation — booster, indoor and outdoor antennas, power supply and two lengths of coaxial cable.
Additional Information
weBoost 470101 Home 4G Residential Cellular Signal-Booster Kit:Dynamic-gain indoor wireless signal booster kitImproves indoor cellular voice and data signals1-2 room coverageFor smartphones, tablets and laptopsBoosts signal, including 4G voice and data, for all U.S. and Canada cellular carriersFaster data downloadsUp to 2 hours additional talk time in weak-signal areasMax FCC-allowed output powerInstalls in minutesU.S.-based tech support and customer serviceFCC-certified to 2014 technical specs and industry Canada certifiedIncludes booster, indoor and outdoor antennas, power supply and 2 lengths of coaxial cable
Reviews
Archer
It definitely boosted my signal. Download speeds 30x
Installed outdoor in the window first and saw a small improvement. Moved it outside and signal went way up.
N/A
Nearest town is 45 miles...better signal than metro Detroit!
I took over my fathers house in the rural Upper Peninsula of Michigan (nearest town is 45 miles away = 31 miles straight-line, but lots of National Forest between). Cell phone coverage was awful! ("Can you hear me, now?" Yeah, right!) Now, with my weBoost my cell signal is strong enough that I can actual use my laptop for work all-day-long! I can host conference calls, share my screen, download large AutoCAD files. This is awesome! And, my job allows me to "work from home", so I can literally work from just about anywhere! Super easy to setup, so I actually travel with it. Sitting in North Carolina right now and my signal is great. I'm going to try this on my bosses sailboat in a few weeks. He has a Goal Zero Yeti so we can get solar-powered 110V AC power on the boat. Some of the best money I ever spent. Chris Gilbert P.S. Yeah, I looked into satellite internet; and even the phone company DSL but even that was so expensive that my weBoost will pay for itself in just over 6 months.
Wichallenger
Missed calls
I kept getting missed calls and dropped calls because of bad signal in my mobil home. Since I installed my Weboost I no longer have that problem.
StephenWagner7
This thing saved my life, lol!
In about 1 hour, this product took care of a massive problem I've been dealing with for 3 years. I live in a deadzone, and run my business out of my house. While I do have an office line, clients regularly call my cell phone. For the last 3 years I've been dealing with missing calls (phone doesn't ring), dead cell batteries (from trying to contact the cell towers), and dropped calls (couldn't hear what they were saying anyways). After unpacking this device, I installed the outdoor antenna in my upstairs window (where there is a small amount of service), ran the coax down the ventilation shafts in to my office in the basement. I now have full LTE+ service (all bars), in my basement, as well as 75% reception on my main floor (previously 10%). I no longer have to charge my cell 3 times a day (I barely go through 20% of the battery now), and I haven't missed a call since. I was hesitant at first, but wow... I had absolutely NO idea that this device would work as well as it does...
Chris
Excellent product, would definitely recommend
Use it to boost cell service in house. Very happy with this product, no more dropped calls