weBoost 470101 Home 4G Residential Cellular Signal-Booster Kit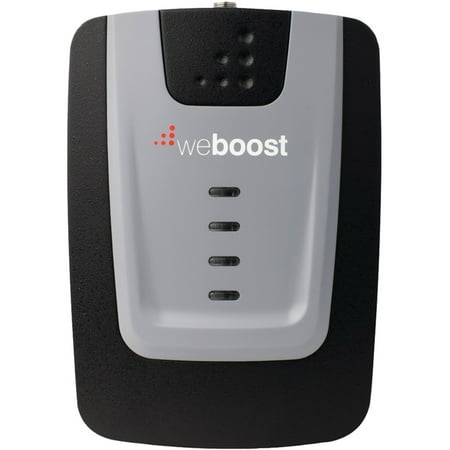 MSRP :

$449.99





Sale :

$399.99

Sold & shipped by Walmart
Product Description

Additional Information

Reviews
Product Description
Whether you're streaming movies, checking email or making a call, Home 4G from weBoost gives you a stronger, more reliable signal where you need it most. Stop walking from room to room — or even outside — to find a stronger, more reliable signal. The weBoost Home 4G is designed to significantly improve your coverage in one to two rooms in your home so you no longer have to worry about dead spots. It works especially well in modern, energy-efficient buildings known to contain materials that weaken cell signals. Best of all, Home 4G will not only boost your signal on your own cellular-connected devices — including tablets and laptops — it will also work for everyone else you invite into your home. The kit includes all components needed for installation — booster, indoor and outdoor antennas, power supply and two lengths of coaxial cable.
Additional Information
weBoost 470101 Home 4G Residential Cellular Signal-Booster Kit:
Dynamic-gain indoor wireless signal booster kit
Improves indoor cellular voice and data signals
1-2 room coverage
For smartphones, tablets and laptops
Boosts signal, including 4G voice and data, for all U.S. and Canada cellular carriers
Faster data downloads
Up to 2 hours additional talk time in weak-signal areas
Max FCC-allowed output power
Installs in minutes
U.S.-based tech support and customer service
FCC-certified to 2014 technical specs and industry Canada certified
Includes booster, indoor and outdoor antennas, power supply and 2 lengths of coaxial cable
Reviews
Arkansas
I would buy this again and again
Had one bar half the time for service in my house now I have 3 bars of LTE. Can stream videos with now buffering !
SigTech
In all honesty I was impressed, at first
After receiving my WeBoost and installing it per the instructions I was extremely satisfied, for a few weeks anyway. For some reason my "one bar" outside was converted to "three bars" inside for the first few weeks and I had no issues. After the first few weeks though I started dropping calls and now I'm at a point where I have to walk outside just to talk on the phone. My Data boost followed the same downward path. The WeBoost unit was installed in February/March and seemed to go downhill around May/June so, I'm thinking" maybe spring had something to do with it, leaves on the trees...? Right now I'm just waiting for Fall and Winter to see if the situation improves. Here's the strange part, even when people are telling me "I can't hear you, I can't hear you" I hear THEM perfectly fine. Me hearing others has NEVER been the problem, it's others hearing ME that's not working out so well. In the end I still believe in the product, I'm just waiting to see if bare trees will resolve the issue. If it does then I will have to extend the antenna above the treetops I guess.
Jim
This product lives up to it's name.
We live in a very rural area in Tennessee we're cell service was spotty to no service at best, for all cell devices. We took a chance and purchased a Weboost system for our house, we bought the one that covers 1500 square feet, we now have full service on our phones, and it works well with other cell services. I would highly recommend this to anyone, and I have, and they are very satisfied with theirs too, again I would not be afraid to buy this product again.
the cro
changed my life
i live in a valley in the woods, very poor reception. always had to drive 2 miles to make a call. i can now sit in my cabin and call, text and e-mail. zero to three bars in an instant, changed my life!
N/A
Nearest town is 45 miles...better signal than metro Detroit!
I took over my fathers house in the rural Upper Peninsula of Michigan (nearest town is 45 miles away = 31 miles straight-line, but lots of National Forest between). Cell phone coverage was awful! ("Can you hear me, now?" Yeah, right!) Now, with my weBoost my cell signal is strong enough that I can actual use my laptop for work all-day-long! I can host conference calls, share my screen, download large AutoCAD files. This is awesome! And, my job allows me to "work from home", so I can literally work from just about anywhere! Super easy to setup, so I actually travel with it. Sitting in North Carolina right now and my signal is great. I'm going to try this on my bosses sailboat in a few weeks. He has a Goal Zero Yeti so we can get solar-powered 110V AC power on the boat. Some of the best money I ever spent. Chris Gilbert P.S. Yeah, I looked into satellite internet; and even the phone company DSL but even that was so expensive that my weBoost will pay for itself in just over 6 months.